My husband recently came across some recipes in the newspaper by Ella's Kitchen.  Being the dutiful husband that he is he tore them out for me to look at.  The one that jumped out at me was the recipe for banana bread because as you know if you have read any of my previous posts, I am always on the hunt for healthy and nutritious breakfasts…knowing how not very healthy and un-nutritious most breakfast cereals are for coeliacs (the 'free-from ones aren't even fortified with vitamins???!!)…
I made it once, making a few changes to get it gluten-free.  It was lovely, but in my view needed a few more tweaks to get it perfect…and a little more nutritious for the most important meal of the day!  So here is my 'tweaked' recipe.  Thanks to Ella's Kitchen for the original idea!
By the way, I made a double batch and then realised that I didn't have enough eggs!  I therefore used 3 eggs in my double batch and my flaxseed 'egg alternative'.  This worked out really well so if you wanted to avoid eggs I am sure it would work fine without them altogether!

Total cost = £1.94 (without chocolate chips) – price checked at Tesco – breakdown    at bottom of post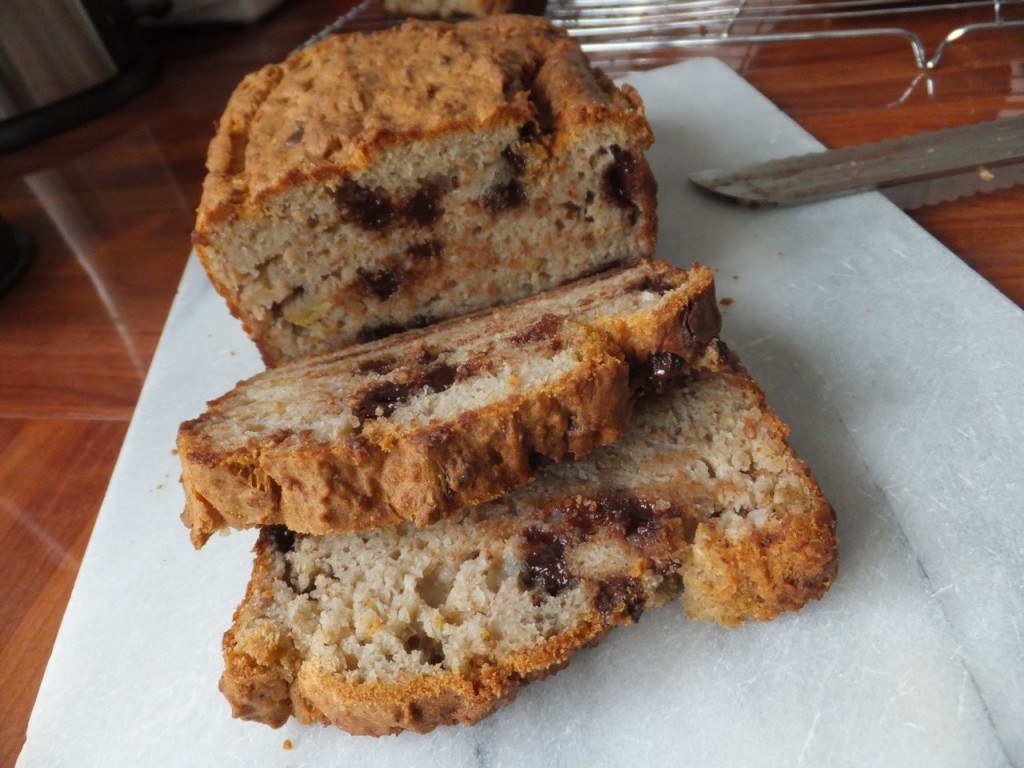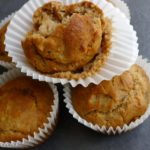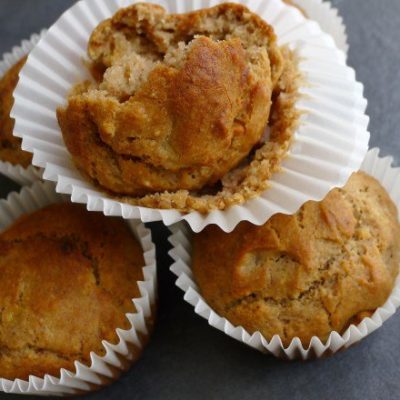 Beautiful brilliant banana bread or muffins
Gluten, dairy, soya, yeast and refined-sugar free. Can be egg and nut free with a few changes
Ingredients
3

very ripe medium sized bananas

mashed

3

tbsp

apple juice

smoothie or other fruity juicy stuff!

100

g

dairy-free spread

you could use butter if you weren't avoiding dairy

2

eggs

or 2tbsp flax seeds 'whizzed' in a handheld chopper with 6tbsp water till creamy

200

g

gluten-free self-raising flour

50

g

ground almonds

Half tsp baking powder

Half tsp cinnamon

approx 50g dark chocolate chips - check ingredients. I used Silverspoon but see note below
Instructions
Preheat the oven to 180 degrees and grease a 900g loaf tin with dairy free spread (or line a muffin tray with muffin cases).

Cream the spread until light and fluffy then add the eggs and continue to whisk for a further minute or so.

Fold in the bananas, juice and all other ingredients until combined. Do not over-mix because the bread will be tough

Place the mixture in your prepared loaf tin or muffin tray and bake in the oven for approx. 1 hour for the loaf and half an hour for the muffins. Test it is done by inserting a skewer. It should come out clean...if not put back in the oven for a while longer before testing again

Allow the loaf or muffins to cool for 10 minutes before turning out onto a wire rack.

This recipe freezes really well and as a special treat for weekends I added approx. 50g dark chocolate chips (Silverspoon ones are gluten-free and dairy-free, although say they may contain traces of milk...so depends on the level of allergy/intolerance)! Just place a slice of the loaf or a muffin in the microwave to heat for approx. 30 seconds straight from the freezer...
Update, 22 June 2013.  I have been tweaking this recipe to make it even more healthy and to get maximum nutrition from it!  So, if you want my new 'super' recipe then do the following…
1) Substitute 50g of the margarine with 50g coconut oil
2) Remove 15g flour and replace with 15g of maca
3) Add 1tbsp ground flax seeds, if using all eggs
4) Add 1tsp cinnamon, rather than half a tsp…so that you don't taste the maca!
Cost breakdown
Everyday value bananas = 14p each, total cost = 42p
Tesco value apple juice = 65p per litre, total cost = 3p
Tesco soft spread = £2.99 per 2kg, total cost = 15p
Tesco free-range medium eggs = 23p each, total cost = 46p
Doves Farm GF SR flour = £1.70 per kg, total cost = 34p
Tesco ground almonds = £1.99 per 200g, total cost = 50p
Tesco baking powder = £1.08 per 170g, total cost = less than 1p
Tesco ground cinnamon = 85p for 65g, total cost = 2p