…no that is not an analogy for my latest baking exploits, although I guess it could be!  It is a reference to a new company in the market that makes flavoured icing sugars and cocoa.
Back in November I responded to a Tweet from then asking if anyone was interested in testing their new products.  After receiving confirmation that everything was gluten-free and dairy-free, using only natural flavourings, I agreed to give them a go.
Sugar and Crumbs sell 30 different flavoured icing sugars ranging from raspberry and white chocolate to key lime.  They also sell 5 different flavoured cocoa powders; chocolate, cherry, coconut, lime and orange.  You can purchase all of these from their beautiful website which has an online shop.
I was sent 3 flavours of icing sugar, tropical fruit, banana split and orange zest, along with 1 coconut flavoured cocoa.  My initial reaction was that these were not flavours (except the orange) that I would normally consider…especially the coconut cocoa given that my husband hates coconut and I am not a huge fan!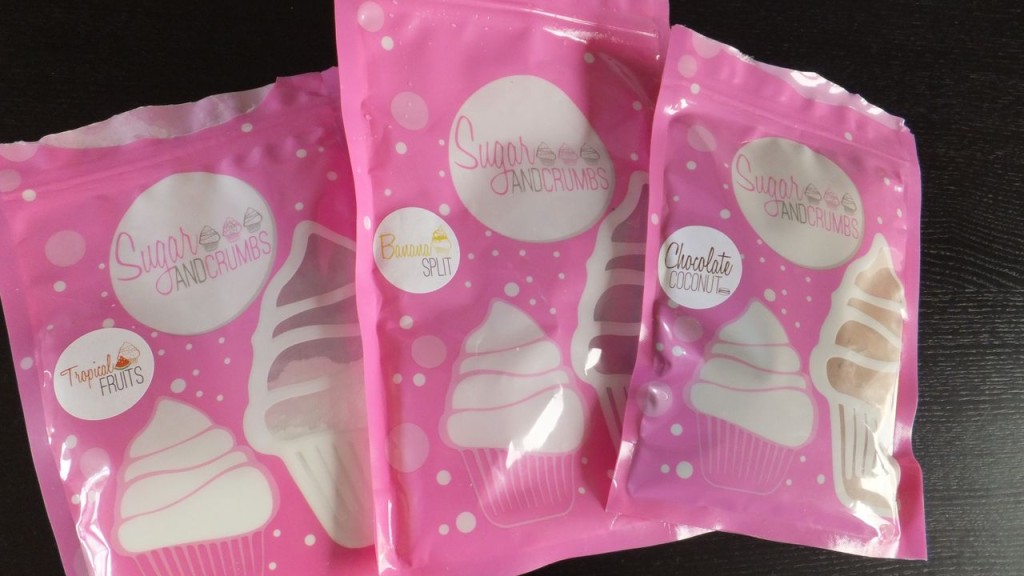 However, brushing my preconceptions aside, and getting Christmas out-of-the-way, I began to consider what to do with them.
Since I had a birthday cake to make, I decided to try making chocolate orange buttercream icing with the orange icing sugar, mixed with some cocoa.  The result was a delicious icing that was incredibly quick and easy to make and was full of flavour.  No need to mess around grating the zest of an orange with this one!  As you can imagine, it didn't last long…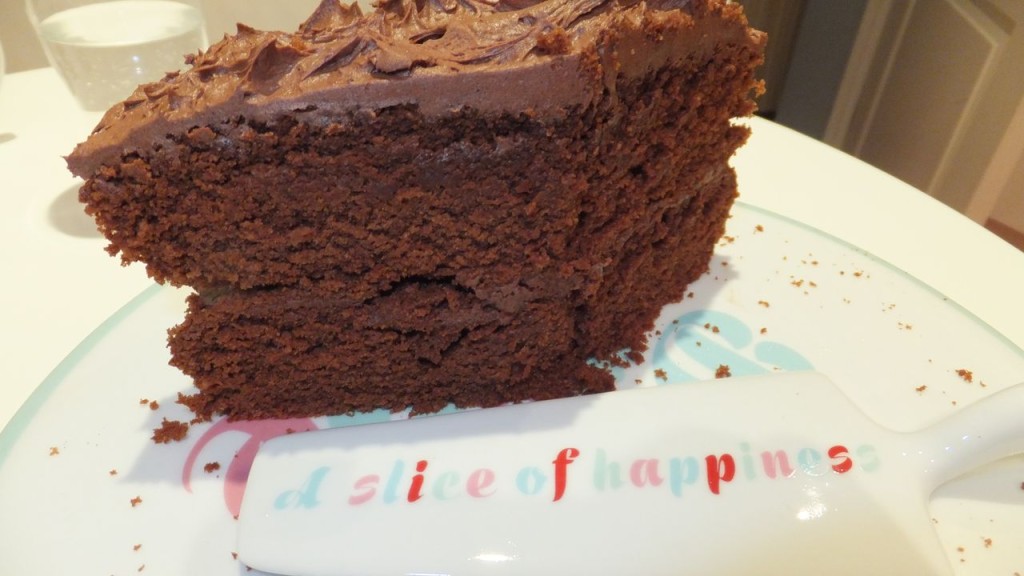 My second 'experiment' involved the coconut cocoa of which I had been most dubious!  I needed a quick desert for the kids and one that would provide a fix of calcium, so I compiled my Emergency Chocolate Pudding!  Wow!  Creamy and chocolatey with a subtle hint of coconut…it was a definite winner and was wolfed down by my two little tasters!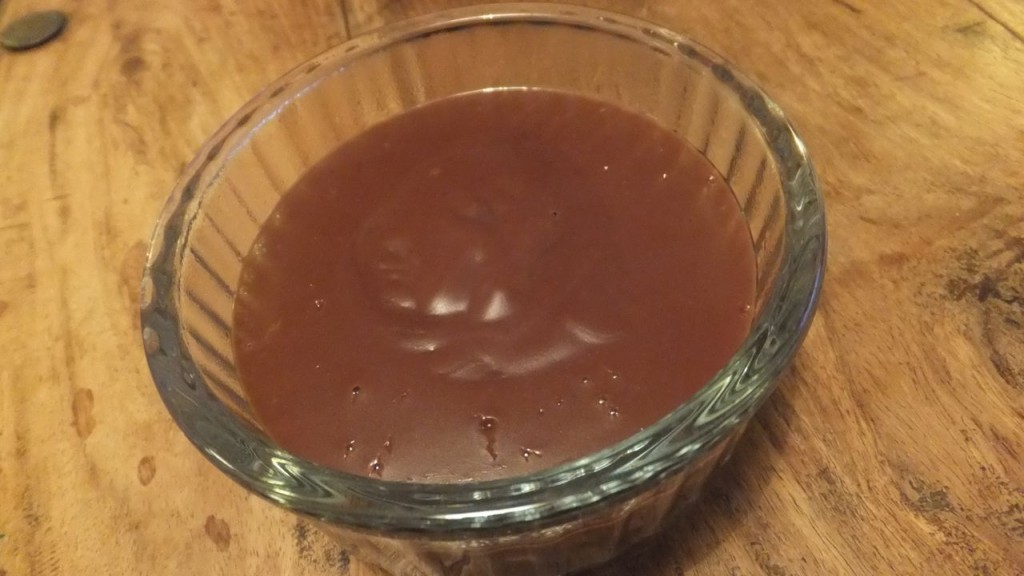 Now, on to the banana split flavoured icing sugar.  I have never been a fan of banana flavour so this was going to be a challenge!  I decided to use it to make banana marshmallows.  Having never made marshmallows before, I entered the 'experiment' with trepidation!
As you know, I have recently purchased a food processor, and not having a stand mixer, I decided to see if my new little machine was up to the rigours of making marshmallows…which involves a LOT of beating!  Well, despite the machine smelling as though it was pretty unhappy, a successful batch of marshmallows emerged…and tasted, as my husband put it, "like those yellow banana sweets I hated when I was a kid!"
Well, my little taste testers thought differently and were more than happy to scoff as many as they were allowed (not many because I am a "mean mummy!")…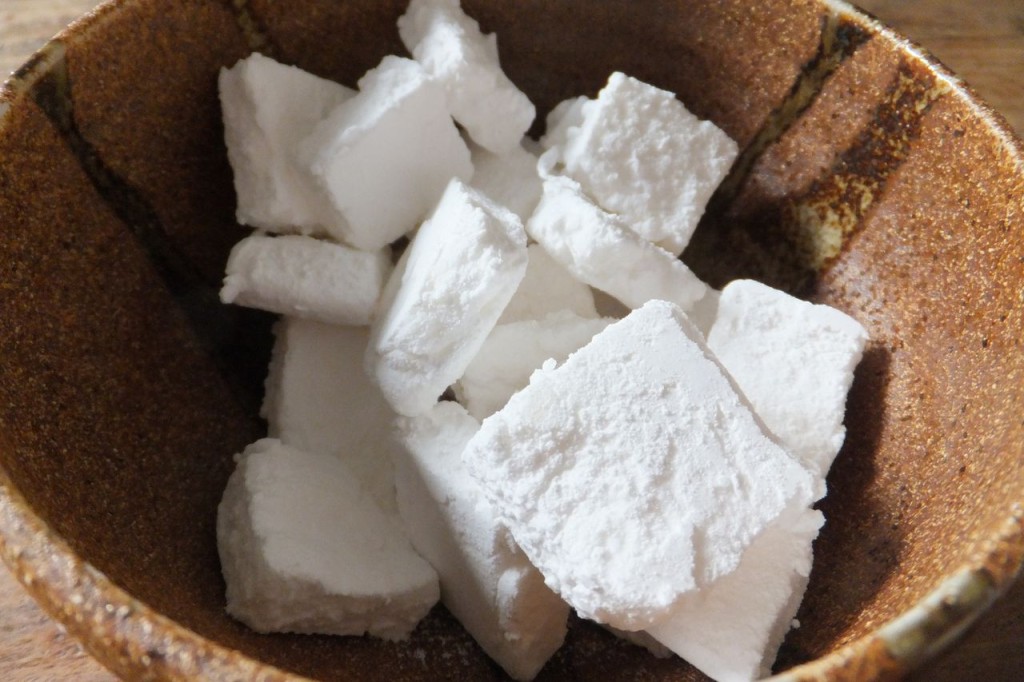 Finally, I used my tropical fruit icing sugar to make some flavoured shortbread.  The less said about that the better!  Lets just say that a very strong flavour of 'tropical fruit', whatever that is, was too much for a delicate biscuit like shortbread!  On the plus side, the right flavour would make a delicious shortbread with no fiddling around to get the flavour in.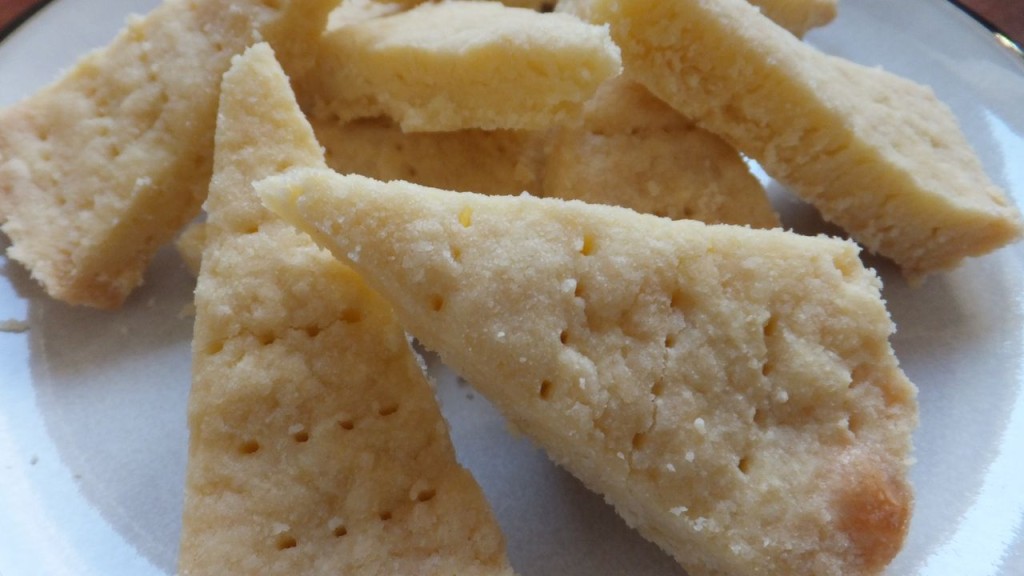 Overall I was impressed with these products.  Despite having flavours that I wouldn't have chosen (except the orange), they have shown me that they can be used easily in replacement of 'ordinary' sugar in recipes, to provide quick flavouring that is (apparently) natural.
Having tried them out in a variety of different ways, I suspect that the most popular use of these sugars (and probably their intended use) will be in flavouring icings.  However, I wanted to try them out in different ways to see how they stood up to other uses!
The packaging that I have is being updated because it didn't list what the flavourings were…something that I fed back to the company I felt uncomfortable with.  Hopefully the new packaging will reassure me that the flavour is indeed natural.
They are probably not something that I would purchase because I tend to cook things from scratch, but if you are time limited or an unconfident cook, then these are certainly for you!
If you enjoyed this post please consider voting for me in the UK Blog Awards 2014…it only takes a minute when you follow this link.  Thank you!
Disclaimer – I was sent these products for free but did not receive payment for this post.  The free products in no way influenced my review.