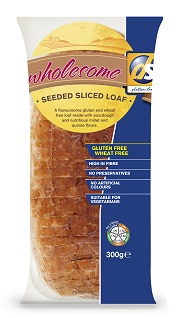 A few weeks ago I was lucky enough to take delivery of a loaf of DS Wholesome Seeded bread. I believe that this is a new product that they have developed and is made with sourdough, millet and quinoa giving it a unique taste. Not only does it taste lovely, but it is high in fibre, dairy-free and wheat-free (but not soya-free) with a lovely light texture.
Being vacuum packed, the bread has a 40-day shelf life, whilst not containing any artificial preservatives. The packaging, whilst trying to make it look like a premium product, made my husband jump on his high horse! He hates products with excess packaging, which is what he deemed this bread to have!
Apart from that, the whole family (with the exception of my 4-year-old who dislikes 'nutty' bread, as he calls anything with 'bits' in) thought this bread was lovely. It had just the right proportion of seeds to bread, making it interesting but not overpowering. It froze well and made delicious toast.
If I see this bread in my local Tesco I could certainly consider buying it. At £2.50 for a 300g loaf I would buy this as a treat, to make a change from our usual preferred Tesco seeded loaf (£2.40 for 550g). It is stocked in Morrisons, Co-operative, Waitrose and Tesco. To find your closest stockist check the DS stock finder by following this link.
If you have tried it let me know what you think. Alternatively, tell me what your favourite gluten-free bread is…I'm always interested to hear your views as it often introduces me to new things!