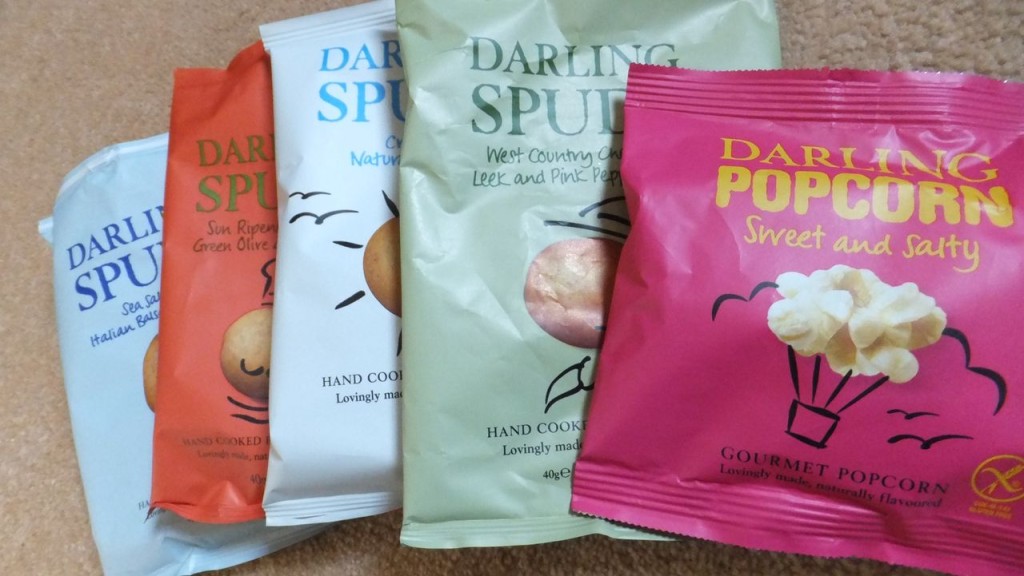 Whilst the beautiful smell of twisted chocolate bread wafts out of the oven and my heart sings at the thought that I might have made a successful loaf, I am taking the opportunity to write a long-overdue blog post…
A few months ago I was lucky enough to have been sent a selection of Darling Spuds crisps and popcorn to try.  Although very nice they did not instantly inspire me to write about them.  They are crisps.  And popcorn.  I don't mean to sound ungrateful but neither items fills me with great excitement.
The flavours are good…neither too strong nor too mild, they are really crispy and of course, they are gluten-free…but then lots of crisps are if you take the time to look through the Coeliac UK directory.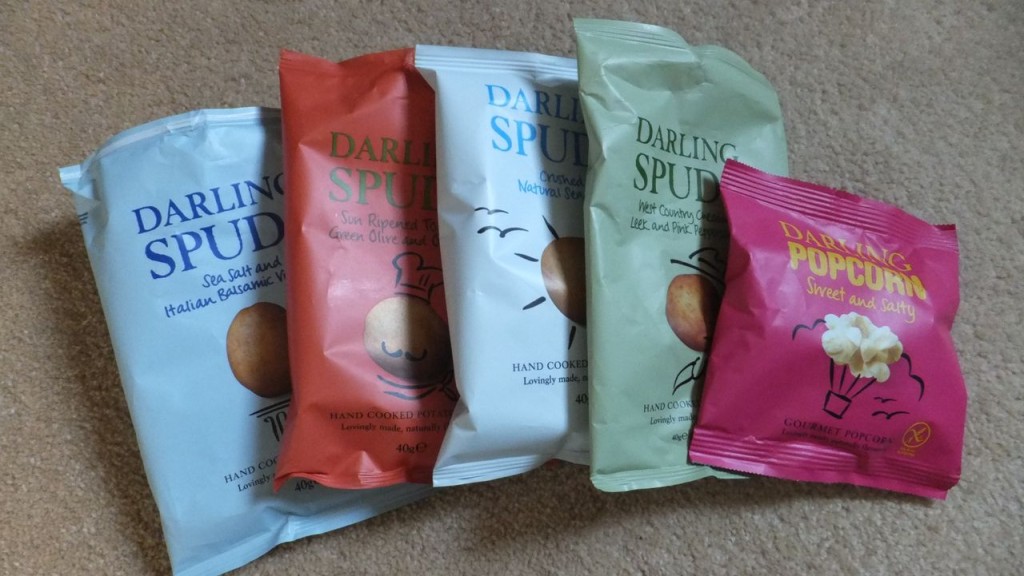 Of course, many people do not have said directory, in which case, having the crossed-grain symbol on them will certainly help in the selection process when faced with an aisle of crisps with unknown manufacturing processes!
Having said that, I was very puzzled to find a warning on the popcorn packet that read something along the lines of 'produced in a factory that handles gluten.'  I am afraid that my lovely husband, in one of his tidying fits, tidied the empty packet that I was keeping to reference, into the bin!
What confused me was the fact that on one hand the packet had the crossed grain symbol, unyet on the other it was warning that it had been packed in a factory containing gluten!  As an inquisitive kind of person, I asked on Twitter what people's reaction to this would be.  I had a mixed response, but the majority of people agreed that they wouldn't feel particularly comfortable about a product with such a mixed message.
I conveyed said message to both Darling Spuds and to Coeliac UK and Coeliac UK came back to me saying that they would work with Darling Spuds to clarify the issue…with any luck the confusion will be resolved!
In the meantime I will stick to my favourite gluten-free crisps…Burts.  I have to say that because they are in Devon, but really, their crisps are the best (provided you avoid the pesto flavour…whoever thought of that??!!  Yuck!)!  And no, they haven't paid me in crisps to say that!!
Oh, and by the way, the chocolate twisted bread was AMAZING!  I will post that ASAP!