Breakfast for those that have to avoid gluten and or dairy just got a whole lot better!  A couple of weeks ago Genuis re-launched their gluten and dairy-free croissants and gluten-free pains au chocolat.  Being a huge fan of Genius, and in particular their bread, I was very excited.
Since that announcement I have been carefully planning how to get my hands on some as they are only to be found in ASDA at the moment (and of course, we do not have an ASDA near us!).
Then, I received an email that made my day!  I was asked if I would like a free sample of each product to review on my website!  Of course, I jumped at the chance and was very excited when they arrived on Friday in time for a weekend treat!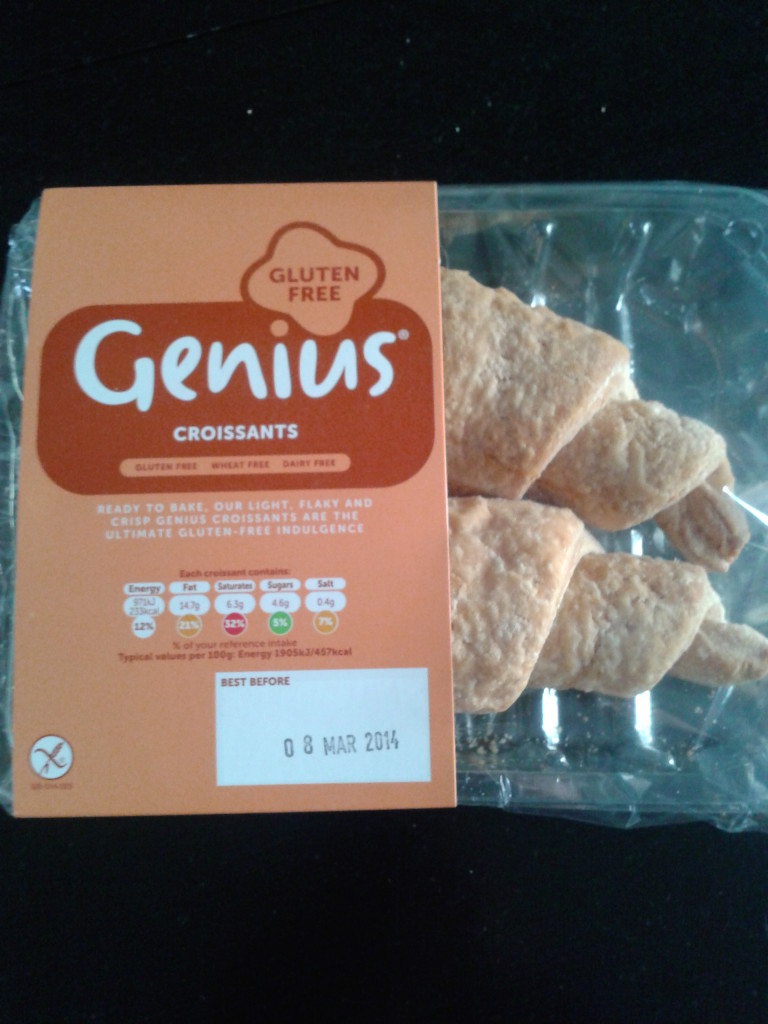 Firstly, we tried the croissants (retailing at a reasonable £1.80 for 2).  My daughter always feels sad and left out when we are with others for breakfast and they are eating croissants so she was particularly excited about having one.
Her first words were "they are the most amazing croissants I have ever tasted."  Now, given that she has never had a croissant before you may well dismiss that comment.  However, having had my fair share of 'normal' croissants (and loving them far too much!), these are spectacular.  They are fantastically flaky on the outside and lovely and soft in the centre.  They are not too sweet, enabling you to add your own sweet spread should you so wish, and they taste fabulous (even though they do not have butter in them).  The only 'complaint' from our gluten-eating 4-year-old was that "they are not really like normal croissants because they are not round!"  In fact, they look more like homemade croissant than shop-bought ones as you can see from the photo below…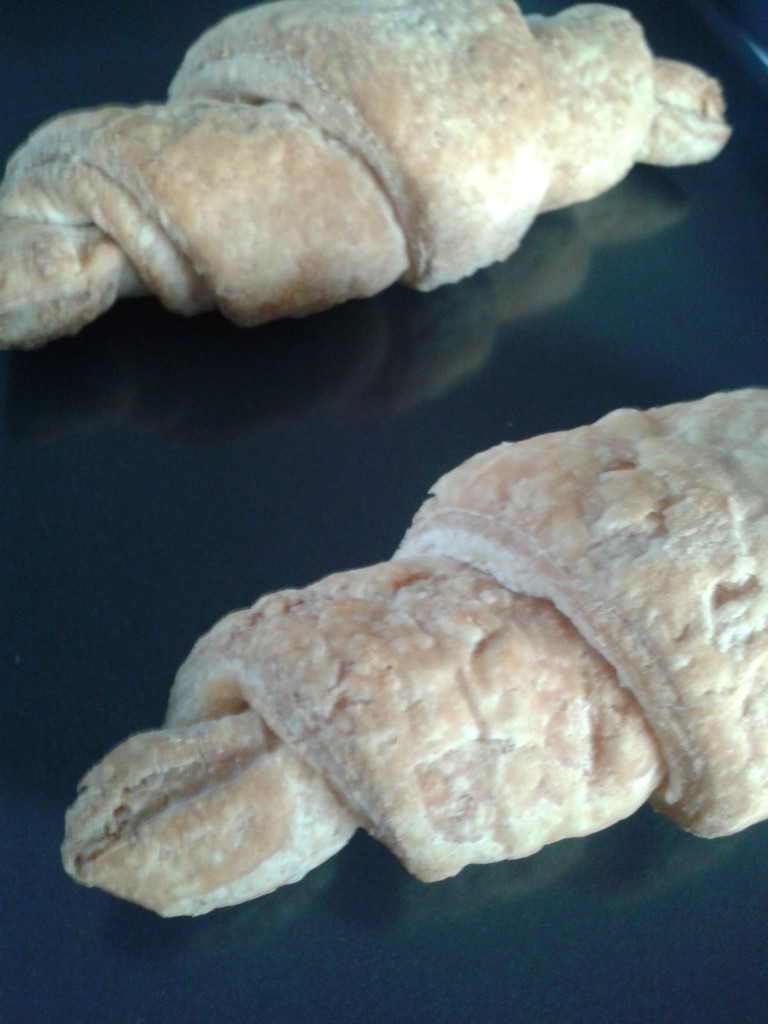 Today, we shared out the pains au chocolat…half each.  Oh boy!  These are to die for…so much so that I didn't even get around to taking a picture!  The only words muttered around the breakfast table from my trusty taste testers was "yum, yum, yum, yummy, yum"…followed by silence!  When pushed for a bit more of a description my 6-year-old said they were "sweet, flaky, delicious and very chocolately!"
In terms of taste and texture these are identical to 'normal' pains au chocolat and I wouldn't change a single thing about them.  I am in love!!!  However, having searched on the ASDA online grocery store, I cannot find them listed so I have no idea where you can actually buy them (Genius say you can buy them in ASDA?)…has anybody found them?  Having tried them I will certainly be hunting them out…even if it means an hour round trip to our nearest ASDA!
Since writing this post I have been informed by Genius that these products are now also available in Tesco, although I tried to order them tonight and they were not stocked.  Further confusion for me!!  Has anybody been able to get hold of these in the shops?!!
Although I received these as a free sample to review that did not affect my opinion in any way.  I always provide an honest unbiased opinion.