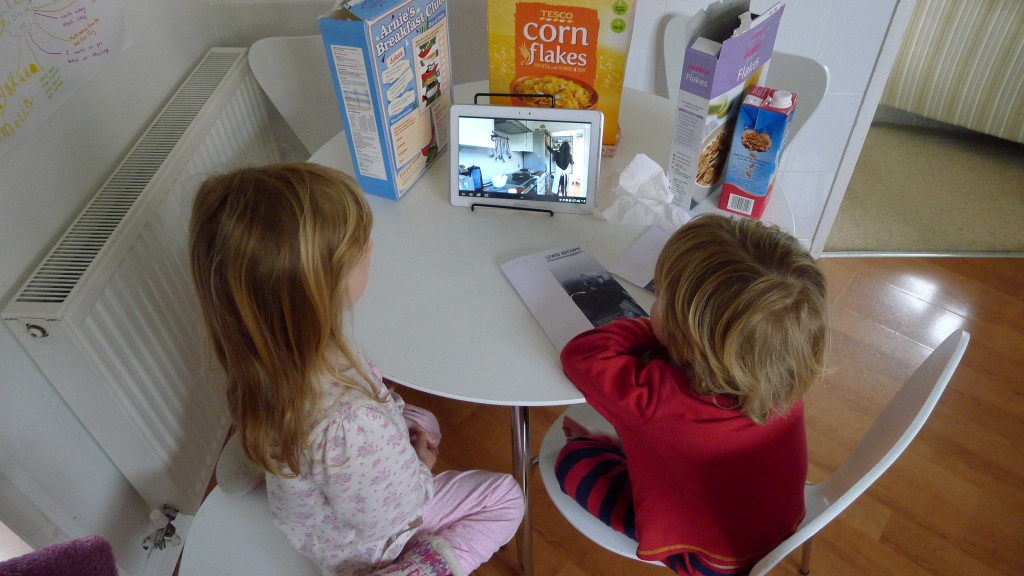 Breakfast this morning was a funny affair.  Funny in a ha ha sense and in a funny weird sense.
Not only did my kids get to watch me making pancakes twice at the same time (all will become clear later!), but my youngest came out with "Last night I heard a woodpecker in my tummy."
He then proceeded to tell us "I accidentally swallowed him, that's why I have a fat tummy."
He didn't leave it there…no, he went on "Count to 3 and he'll come out my pants."
I don't need to tell you how it ended.
Oh how I laughed…kids have that special knack of doing that don't they?  Especially our son who I am sure will be a comedian one day!
Anyway, on to the purpose of writing this, which is to explain how the kids got to watch me making pancakes twice at the same time.  No, we did not visit some weird parallel universe (although there are days when it feels like that!).  I showed them my first ever video cookery lesson, to which my daughter said "you could cook along watching her…I mean, you!"
I had been rather nervous since posting the video last night.  It is the first time that I have really 'exposed' myself.  Normally I prefer to hide behind things, shrink into the background, not be seen or heard.
But I have been inspired by a good friend of mine.  He has recently set up Harry's Dad which was prompted by his realisation that he kept telling his son to try things even if he was scared, but that he in fact did not do the same.  He decided it was time to let the adventures begin before he was too old and knackered to get out of his chair!
So,being a talented musician, he decided to move out of his comfort zone and do his bit to help other less fortunate children to realise some of their potential by selling music in aid of a charity called Young Minds.  YoungMinds is the UK's leading charity committed to improving the emotional wellbeing and mental health of children and young people.  What an important cause and one that most of my readers will relate to, so please check out Harry's Dad and buy a track or two!
Anyway, he helped me to realise that I could reach out to more people by doing a video.  Although I was scared (I hate even being on our little home videos that nobody will watch!), I decided to overcome that and get on with it!  I have done far more scary things than that in my life.
So, here it is.  My first ever public video.  It is real.  Not too much editing.  Just me in my little unfancy kitchen, with chipped crockery!
I hope it inspires more of you to try cooking freefrom food for your whole family, not just for those members who have an allergy/intolerance or coeliac disease!  You really don't need much, just a willing attitude and a desire to help those who are slightly different (through needing a special diet) to fit in.
Oh, and if you like it please share it!  Thanks.
I shared this recipe with