The last few weeks have been pretty crazy. I seem to have been climbing a never-ending mountain in an attempt to try out a few new things…whilst at the same time reminding myself of things that I should already know!
Firstly, I have been learning how to speak normally at a video camera! If you, like me, generally avoid video cameras then you will know what I mean. It is the most unnatural thing that I think anyone can do and I have been finding it rather tricky!
Finally, yesterday, I managed to shoot my first ever video for The Free From Fairy. I hope by producing videos of me making some of my simple family friendly recipes more people will be inspired to make them too. I want to spread my love of cooking and show people how easy it is!
It was actually quite a lot of fun in the end…especially learning how to edit it…so I hope some of you will take a look once it is finalised.
So what else have I been learning? Well, this morning I have been setting up my YouTube Channel. Easy I thought! Wrong again. It has taken me over two hours so far to be unsuccessful in even getting the right banner art for the page. If someone can tell me why my picture won't load I would be so happy! At the moment I have a picture of the sky. Just don't ask!?
Aside from the very steep learning curve that I have been on since starting out with The Free From Fairy, I have been learning lots about myself too…
You may or may not know that I am a trained Practitioner of NLP (Neuro Linguistic Programming for those who don't know!). I completed my training in the summer of 2012 and have successfully integrated it into my life. There are, however, times when I forget about all the techniques I learnt and I have to sit down and re-learn them.
An example would be how to deal with the children when they argue and fight with each other…something that would appear is a half-hourly occurrence at the moment!
Without NLP techniques I end up shouting at them and feeling like a bad mummy. With NLP techniques I managed to successfully defuse a situation yesterday which meant that everyone was happy. It takes patience and perseverence…and some days I am just too tired to do it…but I know when I do, that I will have a far more successful day! So, I have learnt that I need to find and utilise the skills I learnt on my NLP course, rather than getting all cross and shouty!
I have even learnt, through a wonderful book called Maths for Mums and Dads, how to help the kids to learn maths. I now know how to make a 'magic number grid' and what an 'array' is! (For those of you who don't know, it is a visual aide for helping children to understand how multiplication and fractions work!). With my youngest taking her first SATs exams next week I thought I should try to help her a little bit with her maths understanding…not that I have got very far because she is pretty hard to engage when it comes to numbers!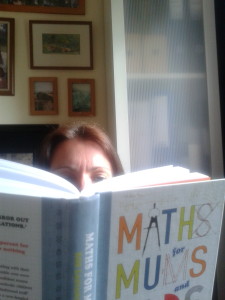 Oh, I have also been learning how to use my new camera and have finally bought myself a tripod so that I can take shots from different angles…not that I have yet!
So, you can see that I may have been rather quiet on here but behind the scenes I have been super busy! I feel like it must be time for a cup of peppermint tea and a homemade biscuit before going back to grappling with YouTube!
If anyone has any YouTube tips you could share with me I would be so grateful! Especially how to change your channel banner art once you have added something ;).