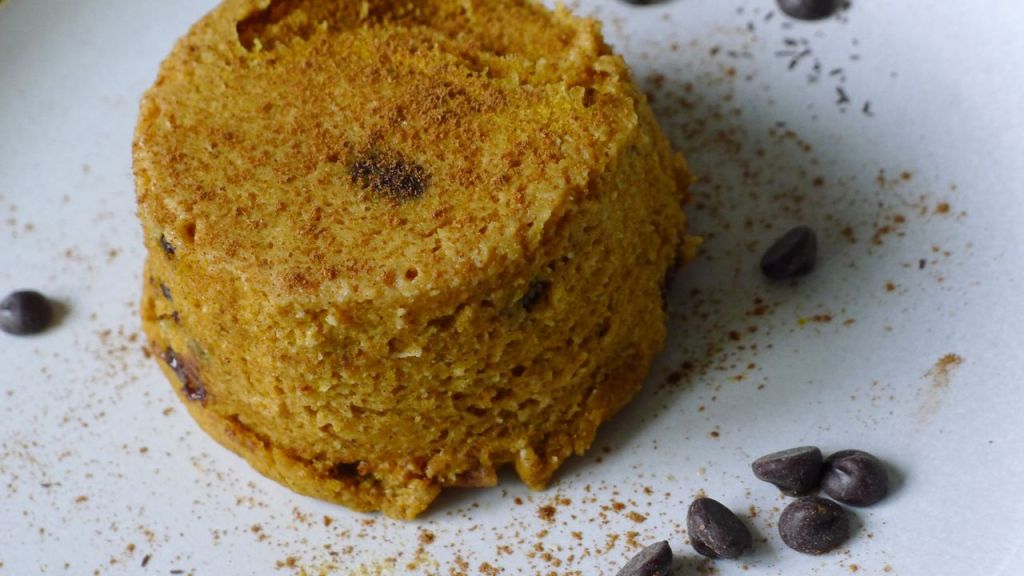 For a long time I have been meaning to experiment with microwave cakes. Something that could be prepared and cooked in minutes to satisfy my family's sweet cravings after dinner!
Of course, in order to fulfil my usual philosophy of free-from, healthy and simple recipes, I needed to dream up something with very little sugar whilst being sweet enough to satisfy! I therefore decided to experiment with butternut squash, a naturally sweet vegetable that is very much in abundance in the UK at the moment. If you don't have a squash but have pumpkin then use that instead! Most people will have one of those knocking around in a week or so!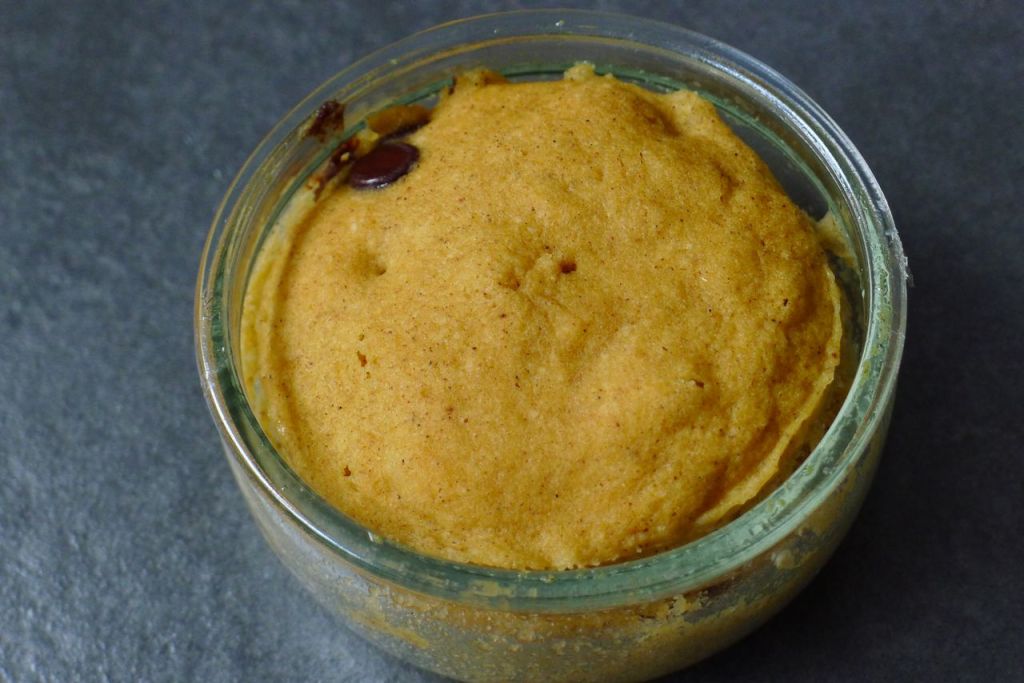 While my sister was staying with us over the summer she was surprised to see me making more than one thing at once. Whilst cooking tea in the oven I wrapped a butternut squash in foil and baked it too…with the aim of making some squash puree for the freezer…for a day when I fancied experimenting with it!
To make squash puree simply cut a squash in half lengthwise and wrap each half in foil. Place in an oven at 180 degrees (160 degree, fan) for about an hour or until the flesh is very tender. Then place the flesh of the squash in a food processor, blender or use a handheld blender, and blend until you have a smooth puree. This can be frozen in portions (if you freeze it all together you will end up with a lot to use at once. I froze it is bags of approx. 200g which will give you sufficient for this recipe) for up to a year so don't hold back…why not do a big batch and bake a few squashes while you have the oven on!?
To make pumpkin puree follow this recipe on the BBC Good Food website.
If you don't want to make your own squash or pumpkin puree then buy a tin of pumpkin puree. It seems like it is pretty hard to find in the UK but Ocado stock it.
Anyway, with no further ado I present to you my five-minute chocolate chip cake recipe with surprise ingredient, butternut squash or pumpkin! Soft and moist with delicious molten chocolate drops buried inside. This one you are going to love!
Not only that, it is packed full of antioxidants, beta-caroteine, nutrients like calcium and magnesium (from the almonds) and protein so each small serving needn't leave you feeling guilty! The only processed sugar in them is from the dark chocolate chips, but I believe the anti-oxidant and nutrient content of the chocolate outweighs the sugar in this case!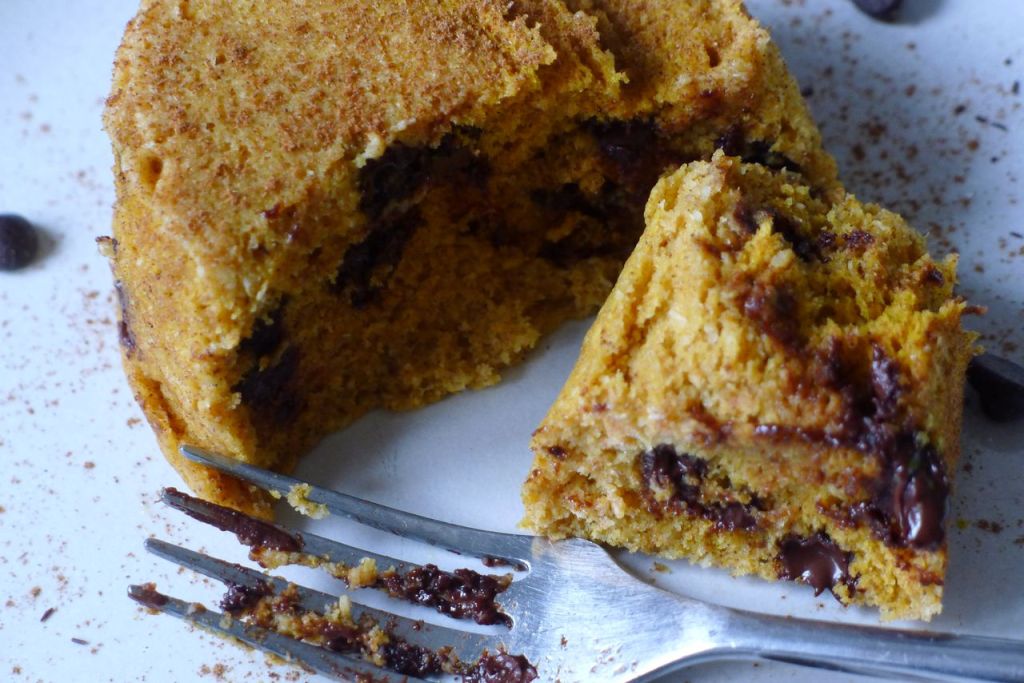 So feel free to indulge on this one. Serve them straight from the microwave, turned out onto a plate and dusted with a little extra cinnamon. If you were feeling naughty they would be delicious with a scoop of (dairy-free) ice-cream or some (dairy-free) chocolate sauce (note to self – I must post that recipe soon!).
Do you have a favourite recipe for butternut squash or pumpkin? They are such sweet vegetables that they seem to lend themselves perfectly to sweet dishes as well as savoury ones.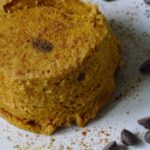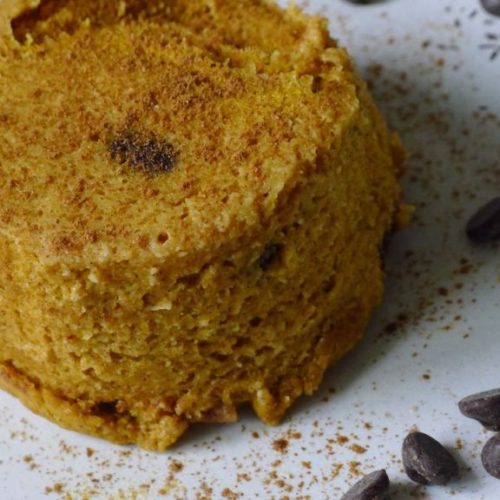 Five Minute Chocolate Chip Pudding Cakes
Gluten-free, Dairy-free
Servings
4
small, or 2 large cakes
Ingredients
8

tbsp

butternut squash or pumpkin puree

4

tbsp

ground almonds

2

tbsp

gluten-free plain flour

1

tsp

baking powder

1

tsp

mixed spice or cinnamon

1

tsp

vanilla extract

1

free-range egg

whisked

1-2

tbsp

dark chocolate chips

check ingredients

Coconut oil

or other oil for greasing
Instructions
Mix the dry ingredients together in a medium-sized mixing bowl.

Add the wet ingredients to the dry and stir well to combine.

Grease four small ramekins (or 2 larger ones) with coconut oil and divide the mixture between them.

Cook each individually for 1 1/2 minutes (small ramekins) or 3 minutes (large ramekins) on high power until springy to the touch. Bear in mind that all microwaves are different so you may need to adjust the cooking time slightly. Mine is an 800W microwave.

Turn the cakes out onto plates, scatter with a little more cinnamon and serve.
I am delighted to say that this recipe has been included in a recipe book for diabetics.

I shared this with: