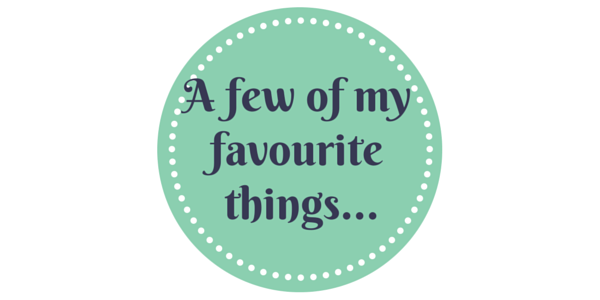 Doesn't time fly when you are having fun?  I have just realised that more than a month has passed since I last did a roundup of my favourite things!  Back then I called it my 'freefrom food roundup' but since this one is going to include some other things I thought I would re-name it.
So here are 'a few of my favourite things' from October…
Veronica's 'Crunchy Creatures'!  These fun little corn snacks had the kids begging for more!
Since they are learning about dinosaurs at school, these little beauties were highly desirable and we had a lot of fun crunching our way through them!  They are delicately flavoured of cheese (unfortunately meaning that they are not dairy-free) with no added salt which makes a nice change.  They do contain sugar though which is a shame, but as a treat they certainly get the thumbs up!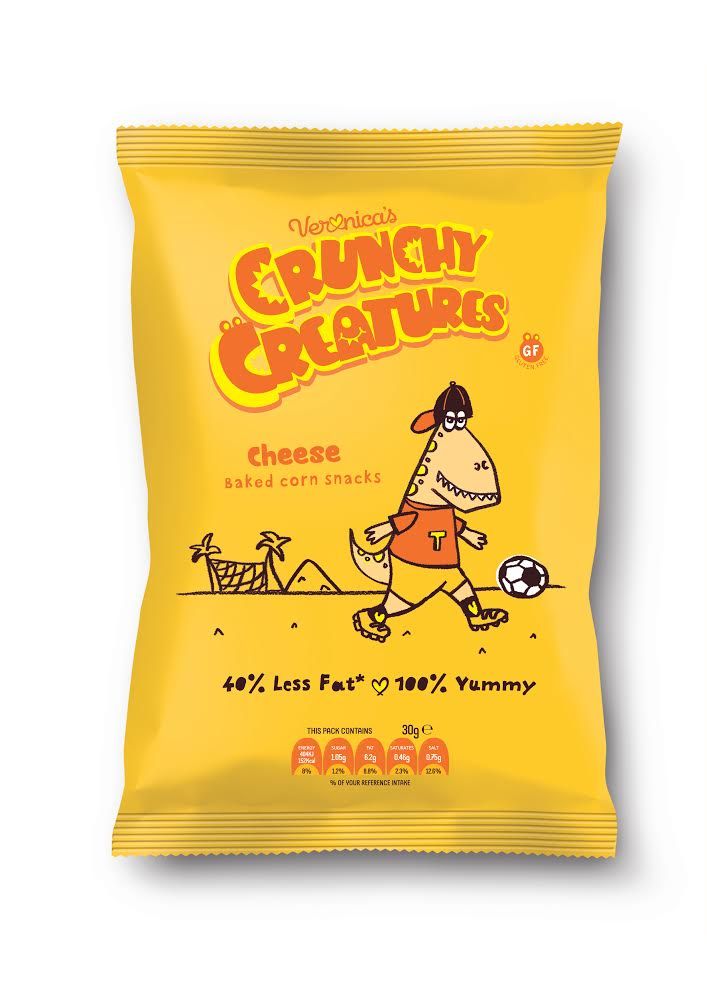 Freego, a company that I met at the Allergy and Freefrom Show this year, must also be listed!  They are an online allergen-friendly health shop and if you need something you can't find in the supermarket you are likely to have a chance of finding it here!
They offer free delivery on all orders over £30 which is also an added bonus when you need to stock up on things.
There is a great search box and you can look for products according to your needs, for example gluten-free kids food or dinner parties.  You can also narrow your search according to your dietary requirements or by product you are looking for.
All in all the shopping experience is a good one and your items are delivered the next day provided that you place the order before 1pm.  They also say they guarantee to match prices elsewhere!
The only thing I would say is that they need more savoury items and a few more flours including buckwheat flour.  In addition, it would make shopping easier if they provided you with a running total on how much you had spent (how easy is it to get carried away?!) and I would love it even more if you could pay by Paypal!
Anyway, if you are interested in trying the service out you can get £10 off your first order of £20 or more by shopping via this link.
One of the things that I ordered from Freego was the Fantasia for Kids pasta by Rizopia.  I love this pasta and so do the kids, but since we avoid rice this is not the perfect product for us!
Being made from brown rice and nothing else sounds great, but if you have been keeping up with my blog posts you will know that brown rice actually contains more arsenic that white rice…so I will leave it up to you to decide whether you try it or not!
It is a shame because we had loads of fun with these shapes…making up stories whilst eating is a great way to encourage little mouths to open, and leads me on to another of my favourite things…Story Cubes!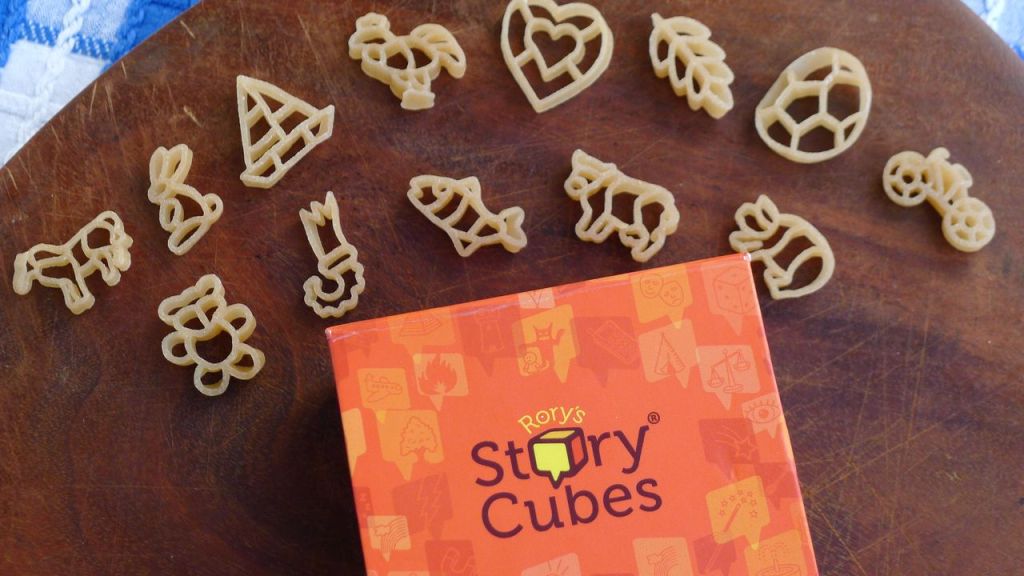 Story Cubes are a fabulous and simple idea.  9 cubes with different pictures on each of the sides.  You throw the cubes and make up a story about the pictures!
We have loads of fun with these!  We have spent many hours encouraging our children's imaginations and story telling abilities with these!
There, my top tip for Christmas presents!
So back to food (well…what do you expect dear reader?!) and some fun ice cream tubs.  I have never seen these before so was delighted when I came across them on Freego's site.  These beauties are gluten-free, wheat-free and dairy-free but not soya-free and they do contain sugar.
The item in question is the Eskal Ice Cream Pary Tub.  The kids thought it was superb that they could have some fruit and ice cream in a tub that they could then eat!!
I had all kinds of recipe ideas using these, including baking cake in them, creating a fruit crumble in them etc etc.  In actual fact, they got eaten before any of that could happen!  Indeed, as you can tell, they were scoffed before I could even take a photograph of them 'in action' as it were!
The next item is bread and I think my favourite ever gluten, dairy, egg, sugar, wheat, soya and yeast-free bread so far!  In actual fact, never mind that it is free of all those things…this is my favourite bread ever!  It is also low carb and it is a mix which is super easy to make!  The bread in question is Sukrin Sunflower and Pumpkin Seed bread.
Along with being simple to make (it even comes with its own tray with which to bake it in), it is moist, tasty and light.  I would happily eat it every day.  I really didn't want to share it, but I did let the kids and Mr M try a piece and they loved it too!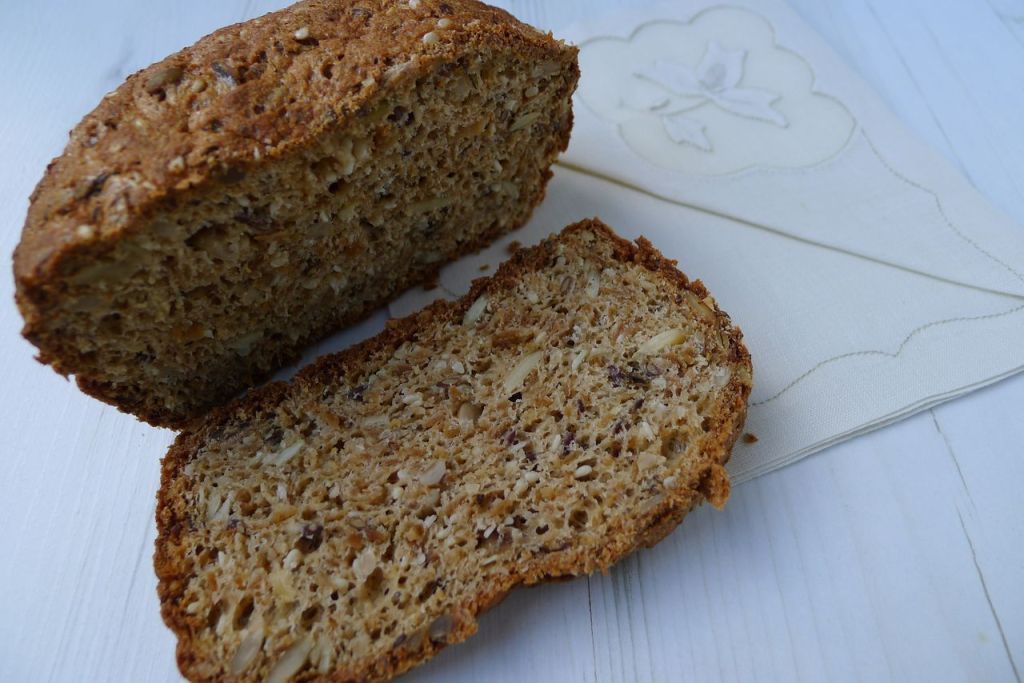 From bread to…chocolate!
I have been lucky enough to have tried two incredible dairy-free chocolates this month, neither of which I knew about before!
The first is cocoa-libre.  If you have popped by before you will have seen me mention these delicious choccies…and if you are quick you might just have time to enter my competition to win some!  They are dairy-free, gluten-free, wheat-free and nut-free.
They are the perfect present, especially for kids because they do some beautiful shaped chocolates that are ideal for making a child feel special and not left out!
Imagine taking some of these babies to a party…your child would be the envy of everyone.  Throw out the Dairy Milk chocolate buttons…bring in the dairy-free chocolate frogs!!!
Roo and Pickle loved these, which was rather a shame because once again I didn't really want to share them!
The final mention has to go to Sweet Virtues.  Another company that I hadn't come across before but who make incredible hand-made, dairy-free, gluten-free superfood chocolate truffles!
They are available in three varieties and include 'superfoods' such as baobab and chia seeds so you needn't feel at all guilty about eating them!
Having said that, your purse might mind since they retail at £13.95 for a 115g box (mmm, that would be one sitting for me!).  They will be stocked in Ocado from this winter and are already in some Planet Organics.
So those are a few of my favourite things over the last few months.  What have been your favourite things?  I love hearing your views.
Please be aware that for the purposes of writing this review, some of these products were gifted to me.  I only write about those products that I truly enjoy. I get sent others…they just don't get included!
If you follow some of the links and purchase any of these items, I might get a small commission. The price will be the same to you but that little bit of money helps me to continue this site…so thank you!
I shared this with :