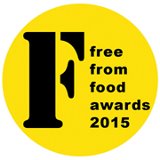 If you follow me on any of my social media accounts then you will know that I have been up in London since Monday on a secret mission…which I revealled yesterday was to judge the Free From Food Awards, an award scheme designed to lead the freefrom sector to ever greater heights of excellence.
It was with somewhat trepidation that I walked up the grand steps to the home of the Free From Food Awards…unsure of what was to greet me.
We had all been told to keep our involvement as judges top secret, so I stealthily crept up the steps and rang the door bell.  I knew that what awaited me would be a huge amount of foods to try and I wasn't sure that my tummy was big enough for the challenge (over 30 different foods in the superfood and raw food category, and over 50 foods in the store cupboard category)!
Who am I kidding!!!
From the moment the judging started, we were very strictly told that we must not talk or influence one another in any way (no gagging or spitting food out allowed!).  It was almost like being back at school again.  Well, not really.  How many schools do you know where you get to try a myriad of wonderful foods for the day, in the company of like-minded people?!
Our task was to taste all of the products; the only information we had was a product number that tallied on a sheet with the product name, ingredients, freefrom claims and nutritional information.
We had to give the product a score out of 10 based on taste, aroma, appearance, texture, usefulness  for someone on a freefrom diet, cleverness in manufacturing terms and nutritional profile.  Yes, that is all!!!
I can promise you, we didn't just sit there and fill our faces, it was very hard work!
Then after totting up all of our scores, we had to fight calmly discuss the products that we felt should be in the shortlist and be awarded the accolades (if there weren't clear winners)!
We started the day with the raw and superfood category.  I chose this category to judge thinking that I would consume enough products to make me healthy and to counteract all the chocolate I have been eating of late!
Sadly, I am not sure that is what happened, especially since the final 10 or so products were actually chocolates!  But hey, they were low sugar, superfood containing chocolates so I figured that I could allow myself to have a second one of a few…just to make sure they really were as good as I had first thought!
Purely for scientific comparison you understand…
Following rather a lot of sugar and caffeine-filled chocolate (it was all dark chocolate, not coffee flavoured…just to clarify!), we moved onto the store cupboard foods.  There were bread mixes, dipping sauces, cooking sauces, bread sauces, stuffing mixes…you name it…if you can think of a product that might go in a cupboard it was here!
Then of course, there were all the cake mixes.  More sugar.  By the bucket load…in fact today I really feel as though I am on a sugar comedown!
I do wonder how much more room on the market there is for another packet brownie mix?!  I certainly don't want to see another brownie for a while!
Anyway, I had to leave promptly after giving my scores in, so didn't get to find out which products were awarded the accolades of winner, highly commended and commended for the store cupboard category.  Neither did I see the 'big reveal' when you find out what the products actually are!
The results will be a nice surprise for me, along with everyone else, when they are announced at the awards presentation on 22nd April.
If you can't wait until then, you could check out which products have been shortlisted on Wednesday 11th February by following this link.
Overall I was very impressed by the variety of foods that were entered into these two categories, and there were some that were truly innovative.
It certainly is an exciting time to be involved in the freefrom 'world' and I look forward to seeing more and more fabulous freefrom products entering the market over the next year! If there is something you miss from your pre-freefrom days, I can pretty much guarantee it won't be long before a freefrom version hits the shops!  Watch this space!