It is with both trepidation and excitement that I write this morning.
It has been a long time coming…
More hours than I care to admit…
More stress and angst than I ever imagined…
And I've no doubt that there is a lot more to come.
But today I can announce that I will be selling a trial batch of my wholegrain rice-free gluten-free flour blend at the Allergy and Free From Show in London on the 8th – 10th July. I will be on stand A301.
My heart is racing as I write this. In fact tears are welling up as I think about the enormity of it all. I feel slightly sick and light-headed but I'm telling myself firmly that it will all be OK. That I can do this.
Apart from gaining my degree, getting married and having children, this ranks as one of the biggest things I have ever done in my life.
It is certainly the scariest thing I have ever done in my life and I've done quite a few crazy things.
If you don't know me, you probably don't really know why…
Even if you do know me, you might not know why…
It's because deep down I am not a very confident person. I'm quite shy and I don't like a lot of attention.
Getting married was a big deal. I hated the idea of being the centre of attention for a day and everyone looking at me.
I'm not the kind of girl who had always dreamt about a big dress and walking down the aisle. It was only at the age of 29 that I plucked up enough courage to do it, despite having been with Mr M since the age of 17.
So for me, releasing my flour for you guys to try is utterly terrifying.
I'll be honest. I'm not good with rejection; I'm terrified of failure and I'm a natural-born non-risk taker!
Yes, none of that seems very compatible with this endeavour!
But hey, I'm 40 and I strive to push myself out of my comfort zone; to conquer my fears and overcome my doubts.
The gluten-free market is big. People want to be healthy; my time has come and I know I can't shy away from it.
I've developed something entirely unique. Something that could help millions of people who follow a gluten-free diet to be more healthy; something that could help transform their baking and get them excited about eating wholesome gluten-free food.
So I'm doing it. I've bitten the bullet and booked a stand at the show. I've ordered tonnes of gluten-free flours, I'm planning the marketing materials that I'll need and I'm beavering away to get the first e-book ready in time and my website looking finished.
Unfortunately the actual packaging won't be available in time, but I'll have some mock-ups of it for you to see and some nice white bags with a label on for you to buy.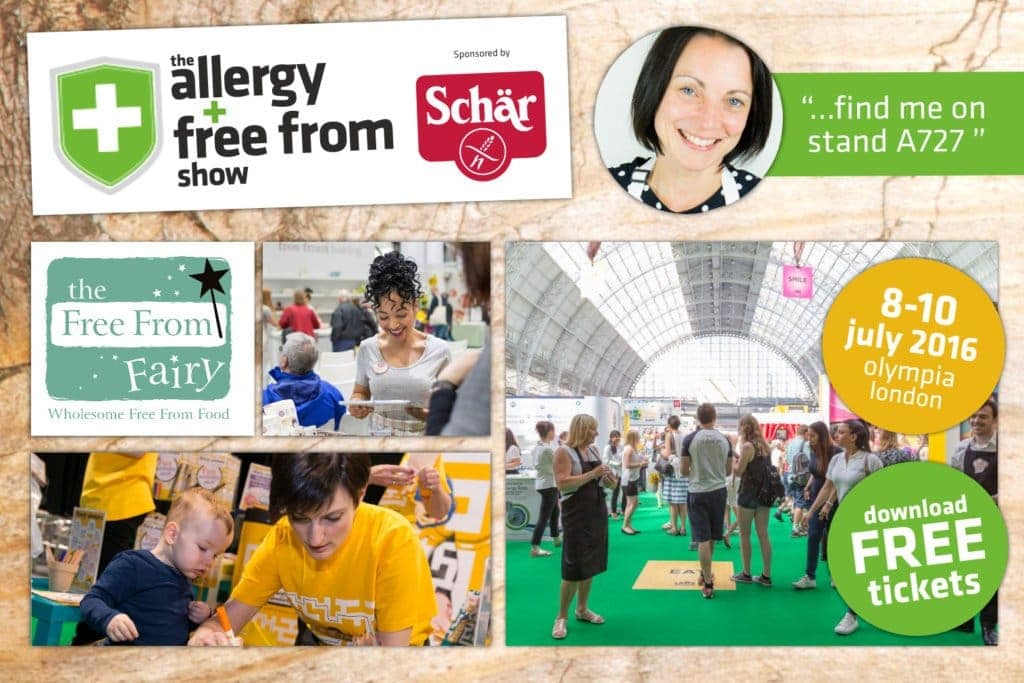 So my plea is this…
Please come along to the show. You can download free tickets here.
I will be on stand A301. It will be located in the artisan market place and will be so small you could easily miss me (but please don't)! I will have over 600 bags of flour to sell which is incredibly daunting.
If all goes well at the show and the feedback is good then I will be looking at putting the flour on the market over the summer…which terrifies me almost as much as it being a failure for the reasons outline above.
Anyway, I'd better go since I have a lot of work to do before I meet you on the 8th, 9th or 10th July…