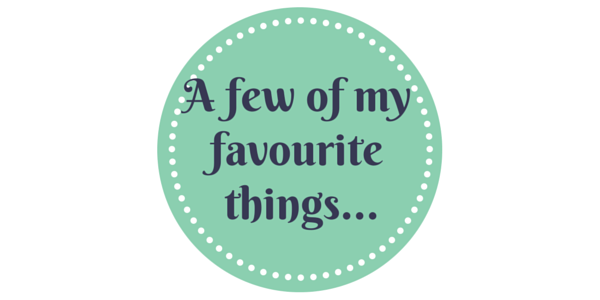 It's been a while since my last roundup of favourite things.  Christmas has been and gone and now we are struggling through the dark and cold month of January!
So I'm here to cheer you up and deliver my verdict on a number of products that I have tried over the past few months that I think you might like too!
If you haven't read one of these posts before then you won't know the rules! I only write about products that I genuinely like that I have either discovered myself or have been sent samples of.  If I don't like something then I don't write about it and you won't hear about it from me!
So the first product I would like to bring to your attention is for those of you who are trying to have a 'healthier' start to the year!
I was sent some samples from the Marvellous SuperFood Company…some protein powders, a breakfast topper (consisting of sprouted buckwheat, seeds and freeze-dried strawberries – delish!) and a fabulous organic drinking chocolate.
The drinking chocolate is made with raw cacao (so retaining all the wonderful nutrients that are in chocolate) and sweetened with palmyra jaggery and vanilla powder.  I don't mind palmyra jaggery as a sweetener.  It releases its energy slowly into our bodies preventing a huge spike in blood sugar, whilst being a source of B vitamins and essential minerals such as magnesium, iron and potassium.  It is also ethically sourced and offers a sustainable business for the communities who farm it.  The drinking chocolate feels decadent but you can be safe in the knowledge that you are also getting some nutrients from the treat too! Ticks all my boxes and tastes great in my morning bowl of porridge too!
Staying on the 'healthier' food product theme, I was asked to try Helen's Breakfast Seed Topping…a mixture of milled seeds that can be scattered on cereal, added to smoothies, incorporated into pancakes etc.  Knowing what I know about milled seeds I keep mine in the freezer and find it a great addition to the pancakes that I make Roo every morning for breakfast.  I know by the time she goes to school she will be super-charged with nutrients which makes me happy!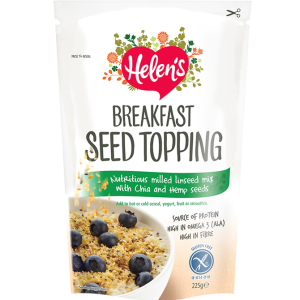 There are many products like this out there now, but Helen's contain milled seeds as opposed to the whole seeds found in many similar products.  I prefer that, but it is a matter of personal taste!  If you want to buy Helen's topping then she sells her whole range on her website and I believe that Sainsbury's stocks many of her items too.
Now all of you must know by now what a fan of gluten-free flours I am!!!  So when I was approached by La Chatica who stock Harina Pan, 'pre-cooked' white cornmeal flour I was interested to try it out! One of my favourite recipes I discovered when Roo was diagnosed is from The Gluten-free Cookbook for Kids by Adriana Rabinovich. It is for cheesy polenta chips and still gets made today albeit without the cheese!  Receiving the flour meant that I had to make these again and I wasn't disappointed!  I have also used the flour to make little mexican-style corn tortillas and polenta pizza.
The best thing about this flour though, is making arepa…a traditional Venezuelan cornbread 'cake' used in the place of bread.  They are super easy to make and a delicious alternative to the gluten-free bread on the market here in the UK that is laden with all kinds of ingredients you can't pronounce (don't get me started!).  To make them, you just need the flour, some salt, some warm water and oil for frying (I used a little coconut oil because it has a high smoke point).  There is a great article on Serious Eats about how to make them and different variations if you can tolerate cheese! Yum!
We enjoyed these last night stuffed with some chicken fajitas, homemade salsa and homemade guacamole. Delicious!
Next up is certainly not healthy!  But every now and again even I relax my stance towards processed food in order to allow Roo (and Pickle) access to what other kids eat!
Roo has never had a jam doughnut.
I'll just leave that hanging for a while…
You can imagine her face when she got home from school yesterday to two jam-filled doughnuts from the Wheatfree Bakery Direct!  As she let the jam dribble down her chin the look of delight on her face was beautiful to behold.  For once she was having something that nobody else was having!  Pickle and their friends had one of my homemade healthy carrot cake muffins, while she indulged in a full-fat doughnut!
Anyway, I tried a nibble of the doughnut and have to say they it was the closest thing I have had to a doughnut since going gluten-free.  It wasn't greasy, nor overly sweet.  The only thing it lacked was a heavy dusting of sugar on the outside (but to be honest, that was a bonus for this sugar-hating mummy!).
In addition to the doughnuts I ordered a selection of bread from the bakery…the first time I have experienced their products.  Overall I was pretty impressed by the little bits that I tried, and I was also impressed by the value.
However, I was most unimpressed to find that the ingredients for the bread on the website were different from the ingredients listed on the label on the bread itself. For example, I had carefully selected the oat and pumpkin seed loaf since kaniwa flour was listed as the second ingredient amongst all the other horrid white starches.
Kaniwa flour is highly nutritious so I was pretty excited about it being the second ingredient.  However, it turns out that it wasn't the second ingredient, nor the third, or fourth…in fact it didn't feature in the loaf at all according to the label on the bag. Hrumph!  Perhaps I won't be ordering from them again!
Next to mention are Moma Foods who are creating some lovely breakfast items with oats, some of which are gluten-free.  They sent me their coconut and chia porridge pot to try.  It is an instant porridge so you just pour over boiling water and leave to stand for five minutes before tucking in.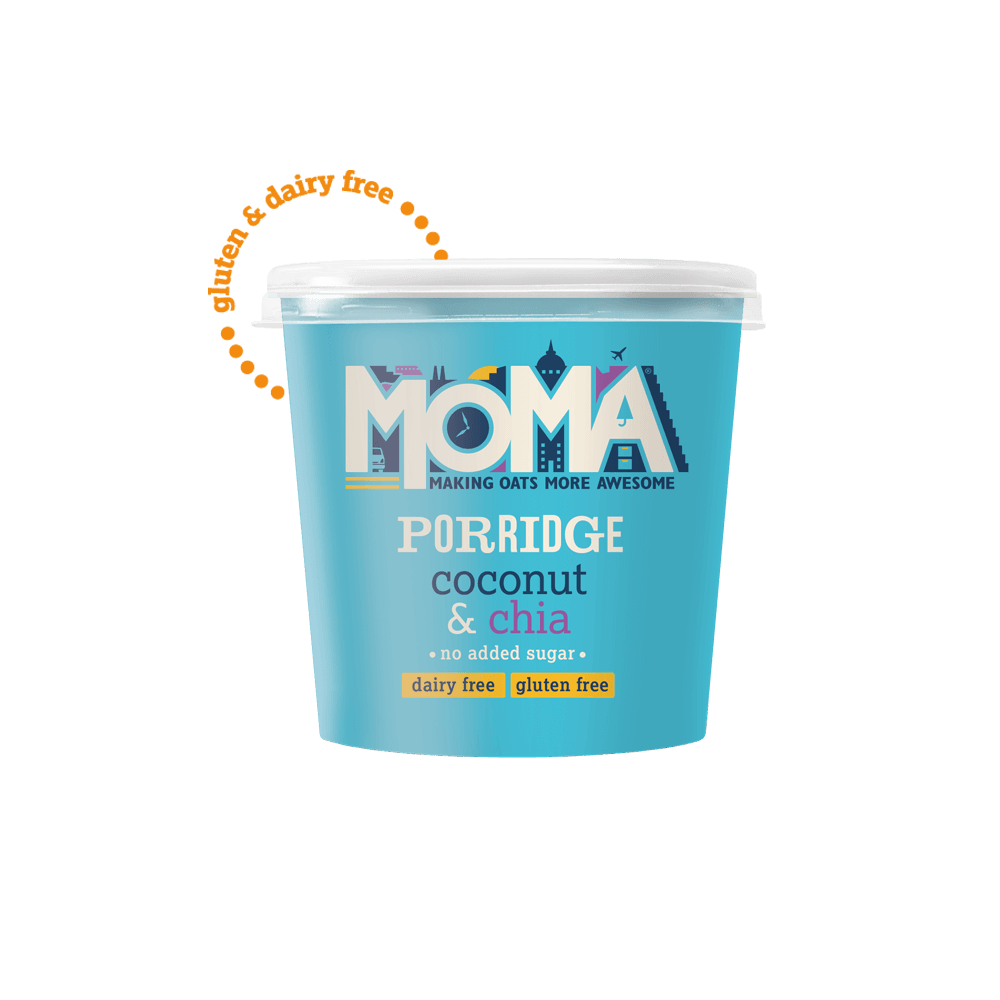 In general I am not a fan of this kind of breakfast…porridge pots are almost always full of sugar and dairy and I prefer to make my own.  However, this particular porridge pot has no added sugar and is also dairy-free (containing coconut milk powder).  Unfortunately the coconut milk powder does contain maltodextrin and Cavamax (apparently an insoluble fibre)…and as you might know I'm not a fan of added strange-sounding ingredients!
Anyway, they would be particularly useful for those of you don't find time for breakfast and for those of you, like us, that like camping.  Hence they get featured here as one of my favourite things from the past few months! If you'd like to try them they are on offer on their website at the moment with 20% discount until January 24th.
Moving away from food I'd like to mention Daura Damm gluten-free beer.  I'm not a huge lager fan but every now and again I fancy something cold and satisfying to enjoy with a curry, or in the case of testing out Daura Damm, in front of a football match…Exeter vs Liverpool to be precise!
Whilst Pickle jumped about on the sofa and Roo told him to be quiet, I sat quietly in front of the fire pretending to enjoy football but actually just enjoying the beer!  If you haven't tried it, it's worth a go! Particularly when trying to ignore (I mean watch) a football match!
After eating doughnuts and drinking beer you may be in need of my next recommendation!  Viridian high potency digestive aid, which I have to say has helped me out enormously in the last few months as I struggle with my IBS.
It is described on their website as "A vegan combination of enzymes, betaine hydrochloride, peppermint and ginger to help promote a healthy and well-balanced environment for digestion to take place with optimum efficiency. In a base of alfalfa, spirulina and bilberry."
I found it has helped with my post-eating bloating and would therefore recommend it to anyone who suffers with similar problems.  Mind you, it isn't cheap at £7.99 for 30 capsules!
Finally I would like to mention a small company in North Devon, set up by a fellow mum when recovering from a big operation last year.  CreateMeBooks is rather special because you can personalise a book for your little child (probably up to age 7 or 8 – Roo loved hers!)…making them the character in it with their name and even their features.  The story is a lovely rhyme and my two have enjoyed theirs at bed time!
So there you go! I hope you have discovered something new and I look forward to highlighting more of my finds in the next few months.
For the purposes of writing this post I was sent some of the products to try out.  I only feature those that I like and always write my honest opinion. All words are my own.