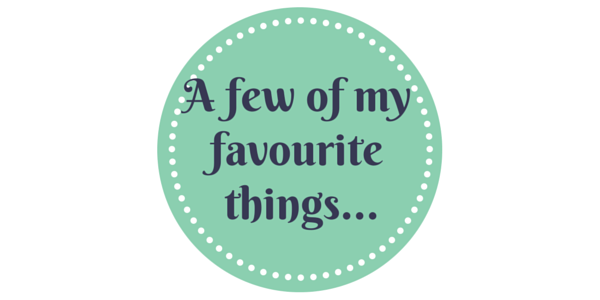 If you follow my blog you will know that every few months I write about the things that have 'rocked my world' from the previous few months.
The post usually consists of a mixture of things that I have been sent to try and things that I have bought.  What they always contain is honesty!  I never include products that I don't like just because they have been sent to me!
There have been a few less things in the past few months that have really excited me but there has been one thing that has caused me more excitement than ever!
Yes, wait for it….drum roll please!  The biggest thing to rock my world and considerably change my life?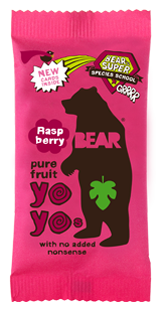 Yes, Bear yo yo's! Now if you have primary school age kids then you will probably already be aware of the power of the bear yo yo, and the all important card that is contained within!  OK, the yo yo is good…pure fruit gently baked and then rolled.  The kids had them a few years ago.  Yeah, they liked them but that was it.
Now things have changed.  The cards that Bear have very cleverly put inside the packets make these things mega desirable (well at my kids' school at least!).
So desirable that we are now reaching '10 team points' (the point at which a packet of yo yo's is achieved) for being helpful, kind and considerate around the house in a matter of days!  Something that was previously taking a few weeks or even a month in exchange for 50p!!!!!
I almost feel like I have a new life.  My mornings have been transformed.  Beds have been made, offers of help making the packed lunches have been given, the cutlery tray in the dishwasher has been unpacked, rooms tidied…without any nagging from me!
And I'm quids in too because instead of giving them 50p for '10 team points', they now get 1 yo yo and given Tesco sell them for £2.29 for 5 I get to keep more money!
As you can tell, I am pretty excited!
I move on..!
When Silly Yak (say it fast and it sounds like coeliac!) contacted me to ask if I would like to try out their ready to roll gluten-free pastry I jumped at the chance.  Although making my gluten-free, dairy-free pastry is easy, sometimes it is nice to make life even easier…and how often do we get that opportunity when on a gluten-free diet?!
Now since pastry is off my menu for the forseeable future I decided it best to develop some recipes that could be tested by a few people outside the family.  A camping trip with friends seemed like the perfect oppotunity so I whipped up some chocolate slices in next to no time (thanks Silly Yak!) and everyone loved them, commenting that they were like French patisserie (I didn't let on that the pastry had been bought.  For once I just wallowed in the glory!!!!).
If you are a pastry fan and have access to a Tesco then go forth and buy some in preparation for the unveiling of said chocolate slice recipe next Tuesday!  Just to get you excited this is what they look like…and they literally take no time or effort to make.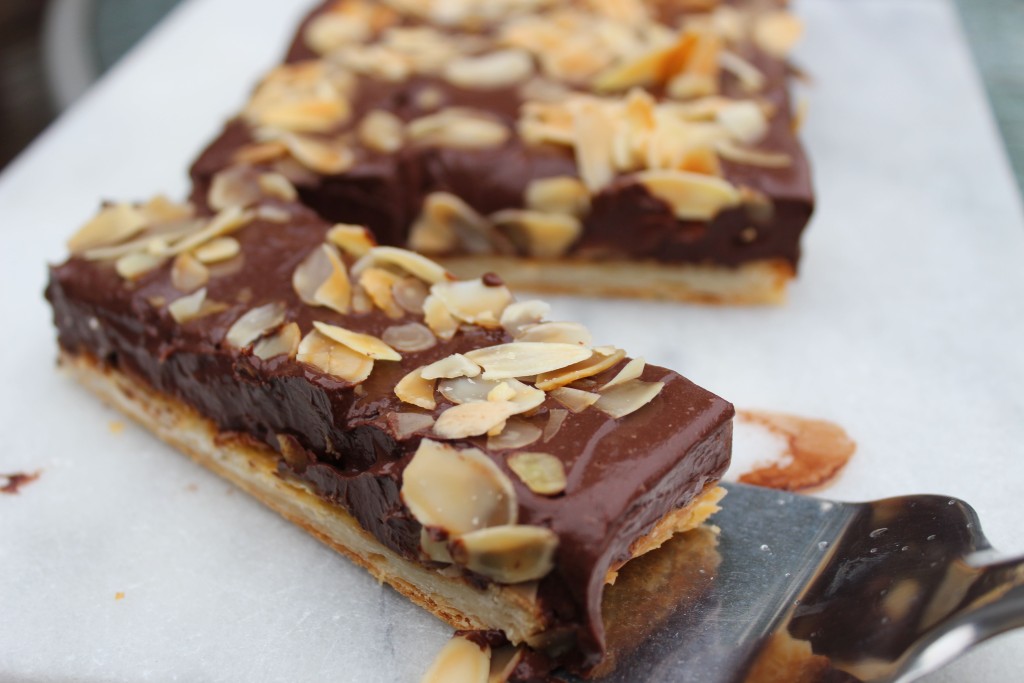 The next things to make my list are not food related.  Instead they are skincare products…and specifically those by Dr Organic who make products that utilise only the finest natural and organic raw materials.  The two products that I have found amazing are the dead sea smoothing body souffle and the Moroccan argan oil bath and massage oil.
Whilst following the SCD/GAPS diet I have been trying to reduce my exposure to toxins.  Impossible really, but I decided to try and use mostly natural skincare products.  I always use organic virgin coconut oil as my face moisturiser but find it a bit too oily for my body.  The dead sea body souffle is incredibly moisturising unyet not at all greasy so is perfect.  And as a treat for the senses I use the Moroccan argan oil which smells absolutely divine!
Now you may recall that a few months ago I was asked to trial a new probiotic specifically designed to treat IBS. Symprove is said to be different from other probiotics on the market since it is alive and active in the bottle and is water-based thereby not triggering digestion meaning the bacteria reach their destination (the intestines) without being destroyed in the stomach.
I have mentioned before how I am very sensitive to probiotics, and it was in fact my body reacting very badly to milk kefir (a very potent probiotic) which triggered my search for a 'happy tummy' and the SCD/GAPS diets.
Since starting Symprove I have therefore been taking it very slowly, starting with just 1/5th of the recommended dose.  I am now at half the recommended dose and am starting to feel much much better.  Who knows what that is down to but I am sure the probiotics are helping!
My tummy is finally feeling much happier.  Yesterday I even managed to eat a cake made with ground pecans with no side effects so I am a very happy lady!
Another brand to mention this time is Super Treats.  Now, I had never heard of these until I found a bar by them in my goodie bag after leaving Britmums Live! (blogging conference) on Saturday.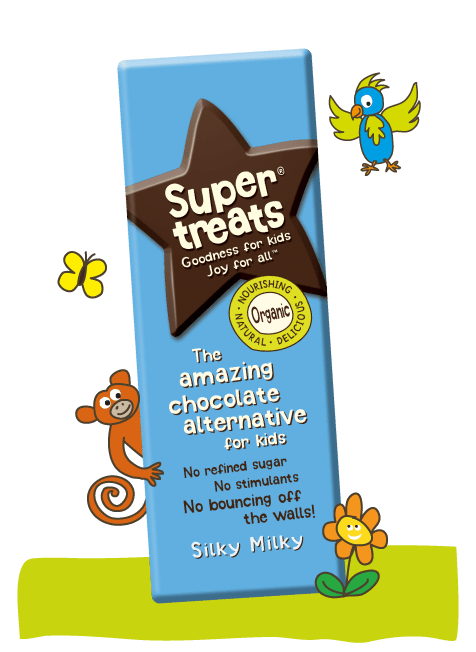 Super Treats make an "amazing chocolate alternative for kids" that has no refined sugar and no stimulants like normal chocolate.  They contain only organic, ethical, sustainable ingredients and more calcium that a 100ml glass of milk!  They are also gluten-free but they do contain milk and may contain nuts…
The feedback from Roo and Pickle?  Well, obviously good!  It was a chocolate bar!!  But considering the ingredients I am happy for them to have it as a treat too!
And whilst on the subject of things that I don't mind the kids eating…Kallo corncakes fall into that category!  If I haven't got my act together and made any bread or crackers for lunch boxes then I fall back to these trusty crispy bites!
Corn cakes are much like rice cakes only tastier and without the arsenic…are you bored of me mentioning that yet? I hope so because it might make you look at what you eat to work out your arsenic intake!  If you want to read more about that then I suggest you check out this or this or this or this!  As with everything, if you eat something in moderation it isn't a problem.  However, if you avoid gluten you may well be relying rather heavily on rice products (without really knowing it) since it is often used in processed goods in the place of gluten-containing grains.
Next up I have to mention my 'go to' favourites for laziness!  When I started on the GAPS intro diet about a month ago I decided that in order for me to take it slowly I needed to cheat some days and not have to cook for the rest of the family.  At the same time Amy's Kitchen had contacted me to ask if I would like to try out some of the their products!  And yes I do believe that things happen for a reason!
Anyway, Mr M was very happy to be fed broccoli and cheddar bake, macaroni cheese and rice and bean burritto's! Roo, being intolerant of dairy couldn't have any of them (and wouldn't have entertained such food anyway having always shied away from white sauces…I guess because she never had them as a baby when she had a cows milk protein allergy) and Pickle is not a fan of such things either.  I have to admit that the gluten-free breakfast sandwich didn't really appeal to anyone and remains in the freezer despite all the good feedback I have heard about it!
The Amy's Kitchen range is pretty extensive though (although they don't seem to stock much of it in my Tesco's)…including a dairy-free and gluten-free macaroni cheese and vegetable lasagna.
Anyway, if you want to find out more about the brand then check out this interview that I did with them a while ago. They are a very inspiring family!
My final mention has to go to Genius.  Yes, I know they have been at the centre of the 'cross-contamination scare', but I still find them an impressive company, and the founder Lucinda, a great ambassador.  I am sure many of you read the letter that she sent to customers reassuring them that everything was being done to rectify the situation but if not you can find it at the bottom of this post.
Anyway, I digress!  They still need a mention in this roundup for being the only company (I am aware of) that produces gluten-free and dairy-free croissants and pains au chocolat!  And when I was allowed such things, I adored these products.  Pastries are my one serious weakness and a life without them would be miserable indeed!  So, I thank Genius for creating such deliciousness and take my hat off to you for your customer care.
So I think that is it for this edition of 'my favourite things'.  What new things have you stumbled across recently? Would you recommend them? I would love to hear any recommendations you have…after all, sharing is caring!
Please be aware that for the purposes of writing this review, some of these products were gifted to me.  I only write about those products that I truly enjoy. I get sent others…they just don't get included!  I do not get paid to write these reviews.