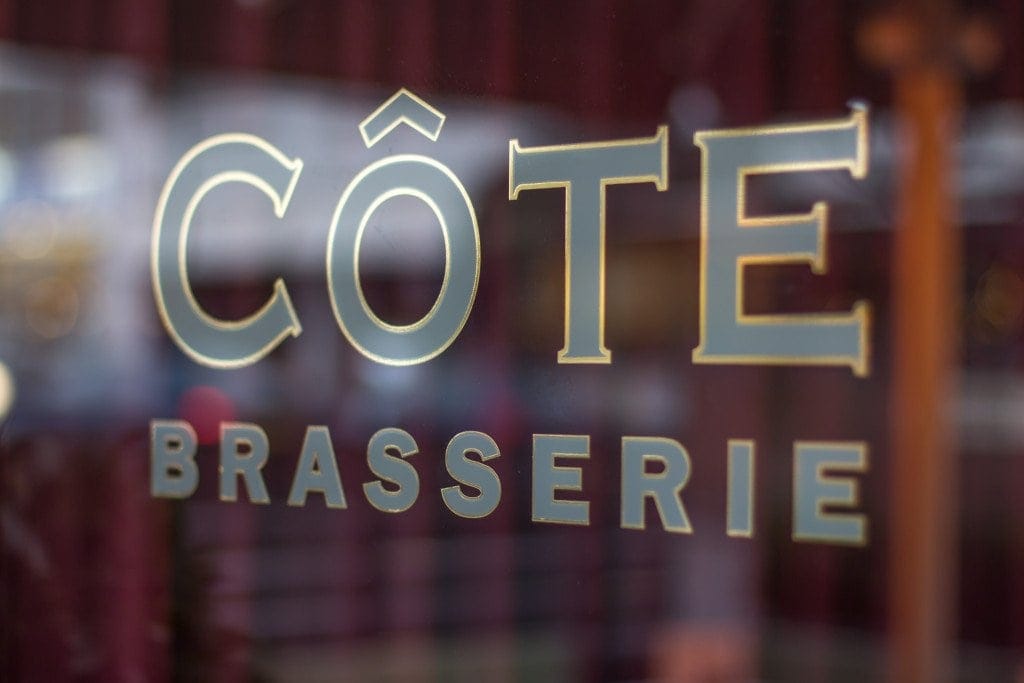 As many of you will know, it is half term this week.  Having discovered last Friday that Holland & Barrett would take my wholegrain gluten-free flour blend I have found it rather tricky to concentrate on the kids and not on work.
Fortunately the grandparents had them for a couple of days as I headed up to London for a meal with the Chief Executive of Cote Brasserie, Alex Scrimgeour.
For those of you who don't know Cote, they describe themselves as "inspired by the brasseries of Paris, championing relaxed all-day dining and serving authentic French classics made from great quality, fresh ingredients".  Despite having numerous restaurants across the UK, they prefer not to be referred to as a 'chain' restaurant since each one is individual.
Last week they were accredited by Coeliac UK as a 'safe' place for coeliac's to eat and I was therefore invited to an intimate dinner to experience their menu.
The gluten-free menu is extensive with most items on the 'normal' menu suitable for coeliacs with the removal or substitution of items such as bread with gluten-free bread.
Before meeting Alex I asked my followers on Facebook if there was anything in particular they would like me to bring up with Alex.
Several complained that the gluten-free menu told people to ask for the dish without certain items (croutons, sprinkles etc) making them fear that the staff didn't fully understand the issue of cross-contamination.
Others were concerned that their meal may have been contaminated by gluten in the past, either from the deep fat fryer or from staff members removing gluten items from the dish after incorrectly including them on the meal.
I put these issues to Alex who took them very seriously.  He, together with is marketing manager agreed to take a look at the menu again (the new one launched on 1 March will hopefully be clearer) and to look into options of marking the gluten-free meals when they left the kitchen to reassure customers that the chef had understood their requirements.  He also re-iterated that all the staff had undergone training with Coeliac UK in order to gain the accreditation.
He admitted that any mistakes in the past were generally made by the waiting staff not hearing the request for a gluten-free meal and agreed that a marker on the meal (such as a flag or sticker on the plate) would reassure customers that their order had been taken correctly.  I also suggested that they mark other allergens on the menu so that those with multiple allergies know what they can eat (they are looking into this for the future), and that managers take the orders to reduce the risk of mistakes (which I am told they introduced as a part of gaining the accreditation).
Alex knows all about coeliac disease and catering for those on a gluten-free diet since his wife was diagnosed with the condition following the birth of their first child.  He is keen to do everything he can to make the experience of eating in his restaurants as pleasurable and safe as possible.  In fact, since opening in 2007 they have had two fryers in each kitchen with the frites being prepared in a dedicated fryer, something that is rare in restaurants that generally have limited space.  They also use toaster pockets to ensure that the gluten-free toast remains uncontaminated.
I started my meal with the charcuterie selection…the item that I hoped would have the least sugar whilst also being dairy-free.  It was beautifully presented, on a wooden board and offered a delicious array of dried meats, pate and gluten-free toast.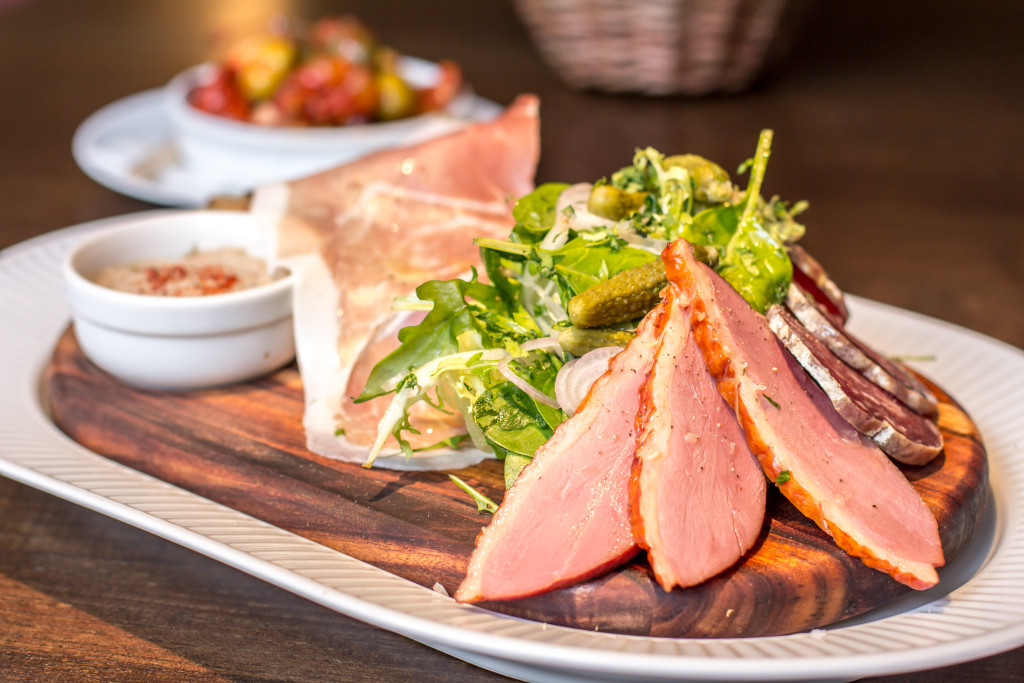 For my main meal I opted for good old fillet steak and frites.  I can honestly say that the steak was the most delicious, tender and melt-in-the mouth that I have ever eaten.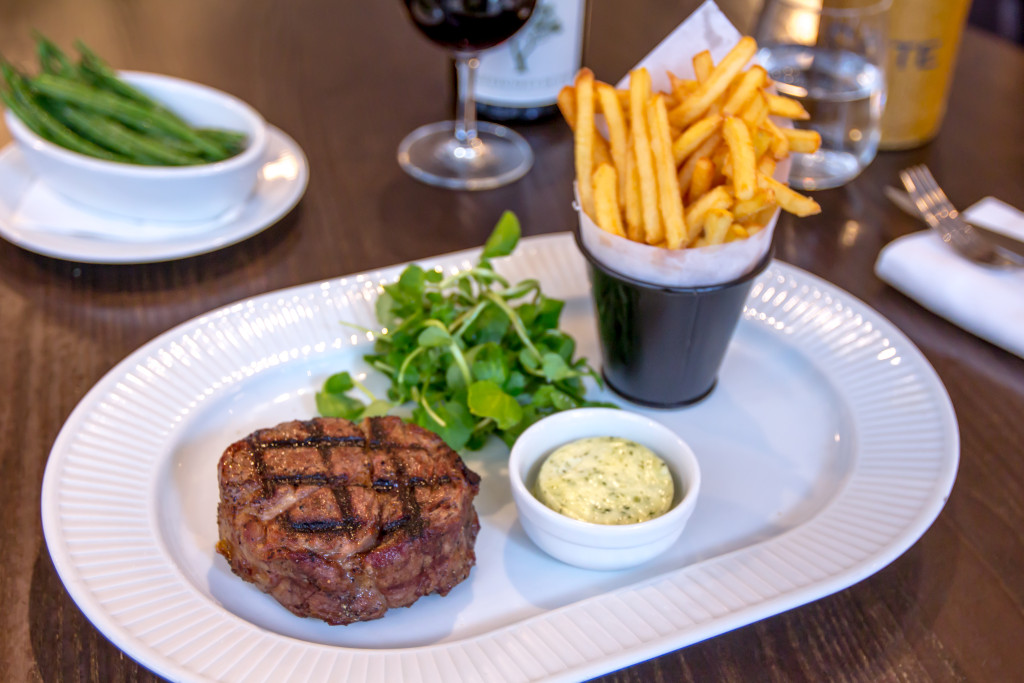 Of course, being on the I Quit Sugar programme I was unable to enjoy a desert, but I was amazed at the range of items on it, from crème brulee to chocolate mousse and crème caramel.  The staff even offered to make me a fruit salad.  This is the pudding I would have had!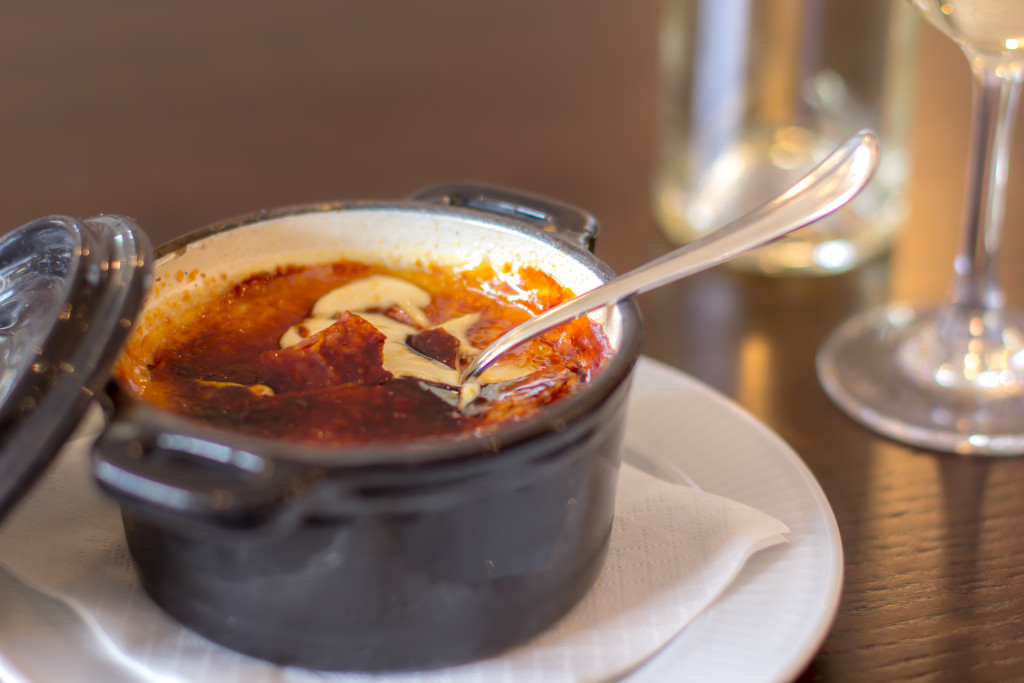 Feeling incredibly full and satisfied I left the restaurant knowing that I would be returning to the Exeter branch very soon for another steak fix.
Have you ever eaten at Cote and if so, what was your experience? I for one cannot wait to go back.
I was not paid to write this review but I was offered a complimentary meal and my expenses were paid.  This did not affect my review in any way.  All photos kindly provided by Cote Brasserie (as the lighting was rather dark in the restaurant!).
1/3/16 – update.  The new menu is now available and they have taken on board all of our suggestions and will be adding flags to all gluten-free dishes to reassure people that the chef knew what the order was.