Let me introduce you to Mandy…wonderful gluten-free baker and owner of Born to Bake!
I met Mandy via social media and then when I finally met her in person at the Exeter Festival of Food and Drink this year it was like meeting an old friend.  You couldn't find a more generous person and her cakes are out of this world!
She is going to tell you a bit more about her business and her favourite foods and she is also going to give you a chance to win some of her gorgeous brownies…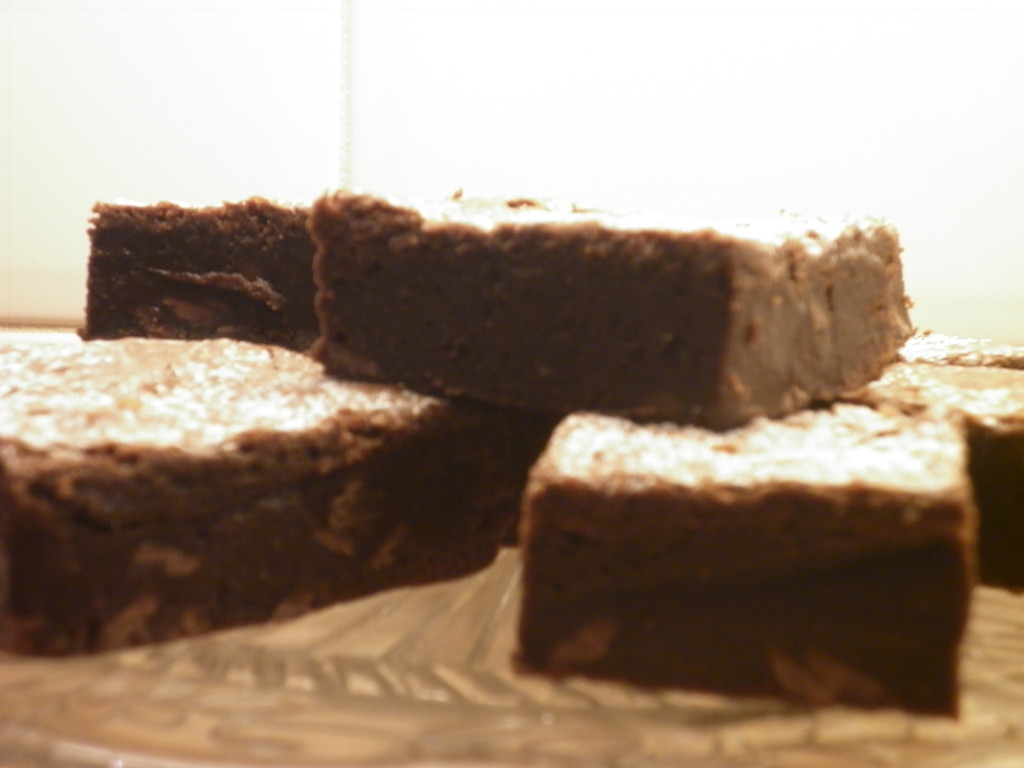 The business was initially started following on from frustrations finding places to eat that took food intolerances seriously. 
My niece is dairy and gluten intolerant and at the time was a student studying in Hull, so when she came home we would go out for something to eat and a catch up and finding cafes which would be fully up to speed with food allergies was always something of a challenge.  They would offer brownies and not much else!  So I started fiddling with recipes and found that people actually liked the food I was producing!  Nearly 3 years later the business is going well and I am branching out into a wider variety of products.
Our USP is that we challenge people to tell the difference between our cakes and savouries and 'conventional' foodstuffs.  Many of our customers sell our Gluten Free cakes to people who do not necessarily need dietary specific items, and they can't tell the difference.  Our processes are such that when I introduce a new item to the product range it is rigorously taste tested by both people who need gluten/dairy free, and people who don't, and so far I have not come across anyone who can tell the difference.
My favourite food has got to be Italian food.  I recently attended a course at Ashburton Cookery School and we made fresh pasta and foccaccia, mushroom risotto, tirimisu, and I was in heaven! 
From my own range I really like our Raspberry Bakewell Loaf!
Currently you can buy on-line via the website or at various food shows and events – the website is kept up to date with our current plans.  Local customers can also collect from us by prior arrangement. 
I also supply:
Offshore Bar & Restaurant, 13-14 Vaughan Rd, Torquay, Devon TQ2 5EG
Pier Point Restaurant & Bar, Torbay Rd, Torquay TQ2 5HA   
The Blue Walnut Cafe, 14 Walnut Road, Torquay TQ2 6HS 
Perrylicious, 2 Bank St, Teignmouth TQ14 8AL
Thrive Cafe, 47 Fore St, Totnes, Devon TQ9 5NJ
PlantWorld Cafe, St Marychurch Road, Newton Abbot TQ12 4SE
The Castle Cafe, Berry Pomeroy Castle, Totnes TQ9 6LJ
If you find yourself in Devon I would highly recommend seeking out Mandy's goods.  The ones I have tried have been incredible!
For those of you who fancy your chances at winning a tray of 15 of her amazing gluten-free and dairy-free brownies, fill out the details in the box below!  The more sections you fill out, the more entries you will get and the greater your chances of winning will be!  Entering a comment is mandatory so don't forget to do that!
As always, the giveaway is only open to UK residents and to those over 18 years old.  The winner will be picked by a programme at random and will be informed by email. They will have 7 days to provide a postal address and the prize will be sent out directly by Born to Bake.  Good luck!
After the competition, Mandy wanted to thank everyone who entered and for the many suggestions of cakes she should make in the future.  Many of your suggestions she already makes, but she will be trialling a cheesecake following your feedback.
She also wanted to let you know that mince pies, Christmas puddings and Christmas cakes will be on her site very soon!