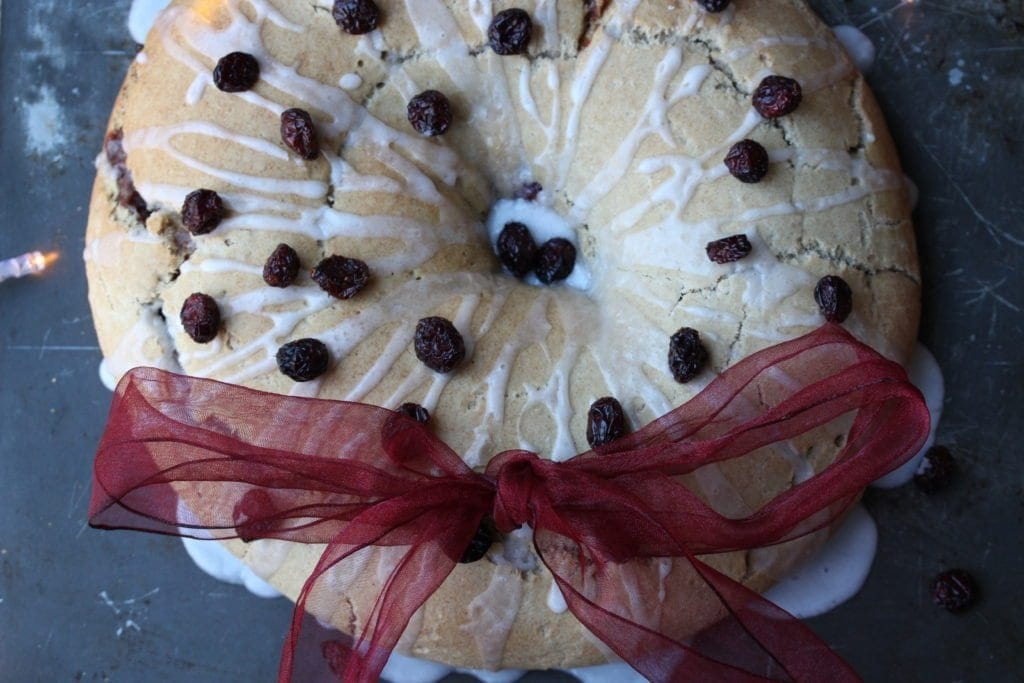 I developed this recipe for clementine and cranberry wreath bread a year ago.
It happened by accident.
I had planned chelsea buns but they didn't quite happen! The filling was too hot and soft and the buns were clearly not going to hold their shape…so this came about instead.
The bread is beautifully soft, the filling, tart and tongue tingling.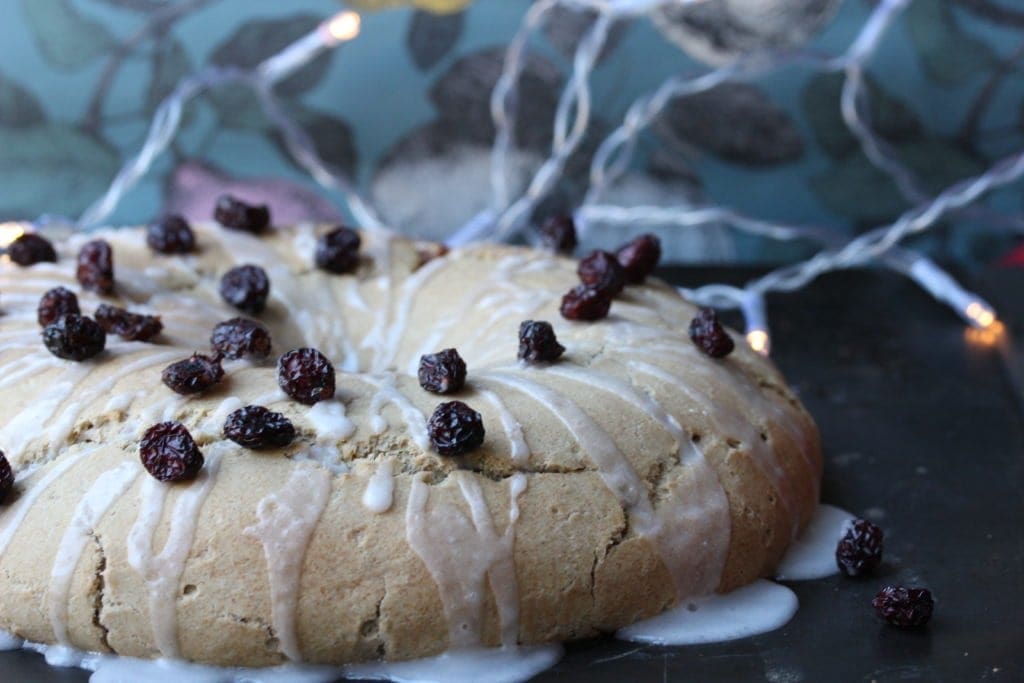 If you don't have time (or the inclination) to make my filling, fill this bread with shop-bought mincemeat or with one of my rather special mincemeat recipes. You'll find the clementine and cointreau one here or my pear and amaretto one here.
Alternatively you could fill it with something like chocolate spread or chocolate chips.
I created my own filling to try and keep the sugar content as low as possible. It is also low FODMAP for those of you who are following that diet for your Irritable Bowel Syndrome (IBS).
A couple of years ago I was following that diet and know first hand how tricky no dried fruit is hard around Christmas!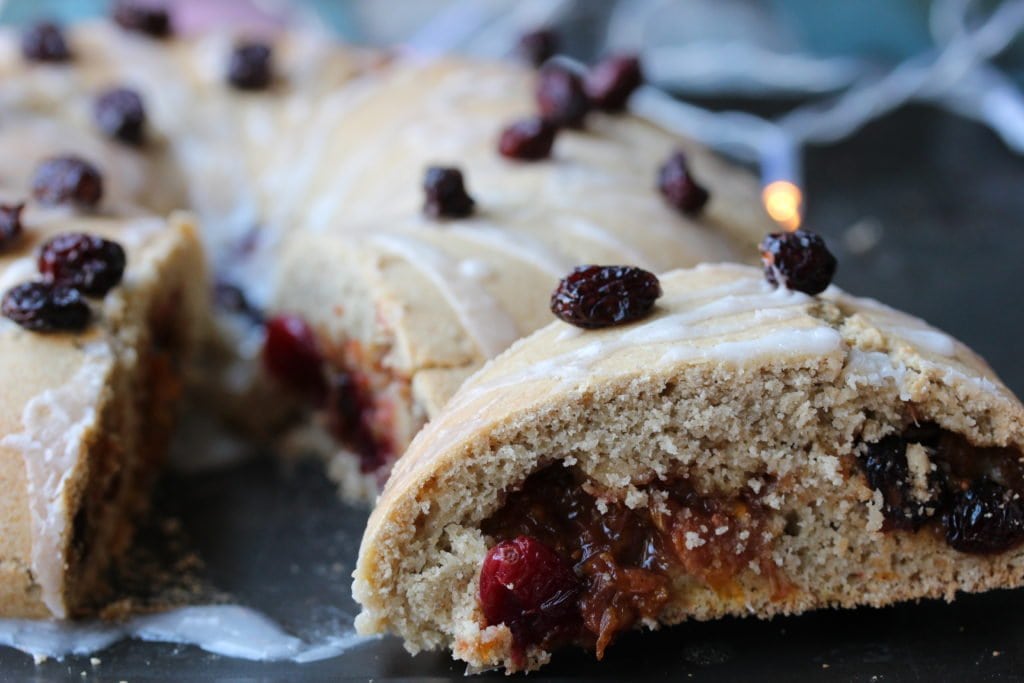 I'm pretty sure you could shape this in the evening let it rise then place it in the fridge over night before bringing it up to room temperature and baking it in the morning for Christmas breakfast. It may take a couple of hours to get to room temperature before baking but given how early the kids wake up on Christmas morning that shouldn't be a problem!
Oh and if you don't eat it all in one day, slice it and freeze it and give it a little zap in the microwave to bring it back to full glory!
Anyway, once again I'm working with some fabulous bloggers to make your freefrom Christmas easier. Check out the #FreeFromChristmas hashtag across social media to find other incredible recipes. Alternatively visit their blogs to find full recipes: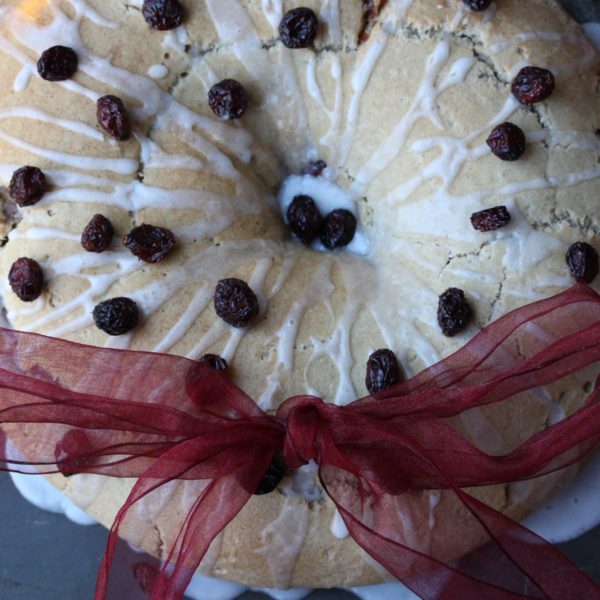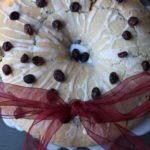 Clementine & Cranberry Wreath Bread
Gluten-Free, Nut-free, Soya-free, Low FODMAP, can be dairy-free
Ingredients
FOR THE FILLING:

300

g

clementines

100

g

frozen or fresh cranberries

50

g

dried cranberries

50

g

sugar or sugar alternative

30

g

butter

coconut oil or margarine

1

tsp

ground cinnamon

1

tsp

ground ginger

FOR THE BREAD:

400

g

gluten-free Free From Fairy plain flour

100

g

potato starch

3

tsp

psyllium husk

40

g

sugar or sugar alternative

1/2

tsp

sea or rock salt

1

tsp

baking powder

2

tsp

dried active yeast

230

ml

milk or dairy-free milk

50

g

coconut oil melted

1

medium free range egg

1

tsp

balsamic vinegar

FOR THE DRIZZLE TOPPING

50

g

icing sugar

2

tsp

orange or clementine juice or water
Method
FOR THE FILLING:

Peel the clementines and chop the segments into small pieces

Place the prepared clementine pieces into a small saucepan and add all the other ingredients

Cook on a low heat for around 10 minutes with the lid on, then 10 more minutes with the lid off until the fruit is softened and sauce is thickened

Taste for sweetness (you may want to add more if you eat a lot of sugar)

Leave to cool completely before using it in the bread

FOR THE BREAD:

Place the milk into a microwavable jug and heat for 30 seconds on high power. Add the yeast to the milk and whisk well to combine then set aside for 10 minutes

Place all the dry ingredients into a bowl (or the bowl of a stand mixer) and mix together well

Add the egg, melted butter or margarine and balsamic vinegar into the dry mixture

Once the milk mixture looks frothy and smells yeasty add it to the dry mixture and beat well until a dough forms

Place a large piece of cling film onto a clean work surface and place the dough on top

With clean hands work the dough out into a rectangle measuring around 45cm x 20cm - the dough should be around 5mm in thickness

Spread the filling onto the rectangle - leaving about 8cm along the long edge furthest from you free from filling

With the help of the cling film start carefully rolling the rectangle from the fully filled long edge, ending at the unfilled edge

Using the cling film, gently roll the roll (!) onto a large flat baking tray (removing the cling film as you go) and shape into a wreath shape, joining the ends together as best as you can

With wet hands gently smooth over the dough, removing any cracks. The smoother it is now the better it will look when baked

Cover with cling film and allow to rise for 45 minutes to 1 hour

Bake in a pre-heated oven at 180 degrees, 160 degree fan for around 30 minutes or until golden

Leave to cool slightly before drizzling with the icing

Eat warm
Buy my wholegrain gluten-free flour blends here: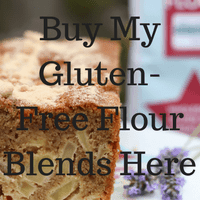 I've shared this recipe with:
Pin the recipe so you don't lose it: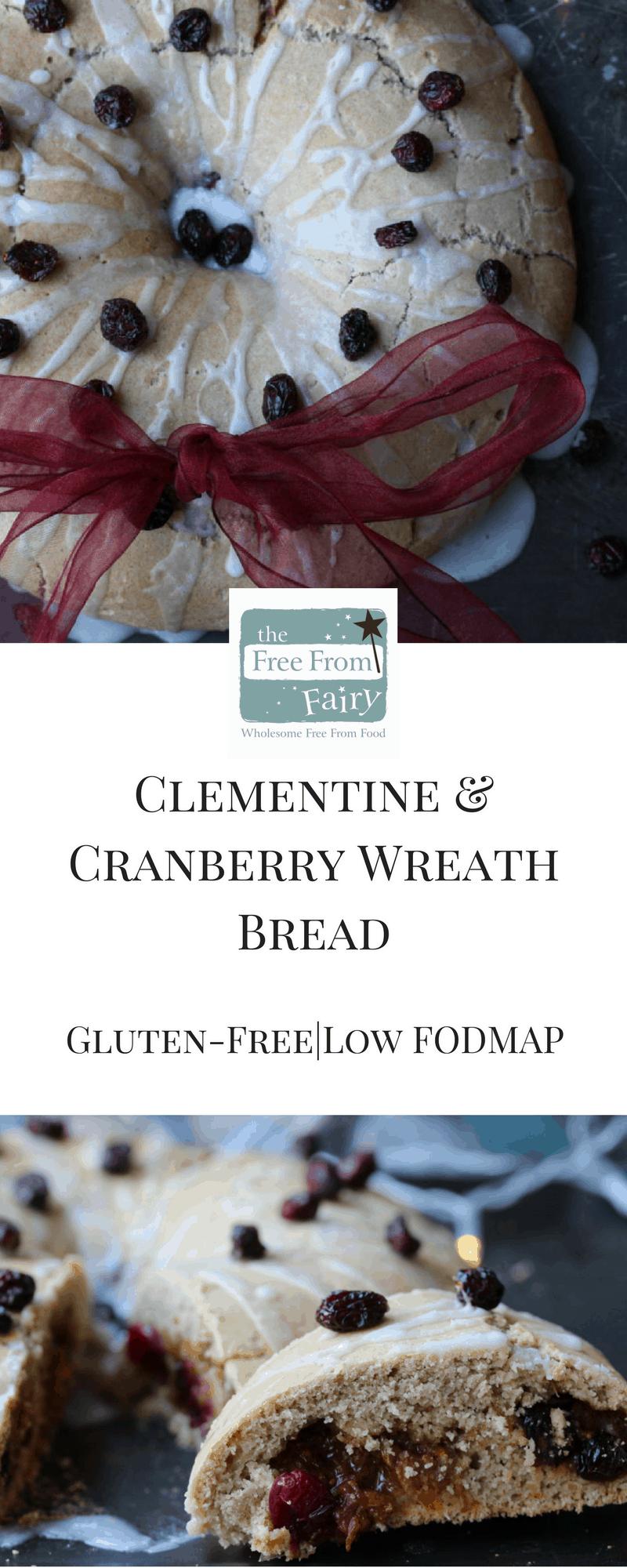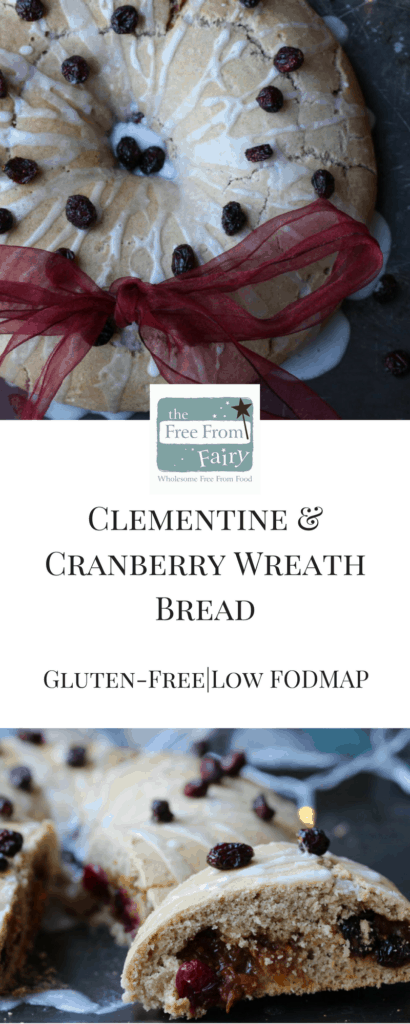 This is what my customers have said about my flour:
Fantastic free from flour!
---
I love, love, love this flour, so versatile. It's lovely to have a gluten free flour that works in all baking and cooking and is healthy and nutritional too. It makes a refreshing change from lifeless, white powder that has the absorption of a sponge! This flour looks good and tastes good too.
---
The Free from Fairy Flour is exceptional and has transformed my gluten free baking for my daughter with coeliac disease.
Both the self raising and plain flours perform much better than others meaning that I can use them just like wheat based flours. Most importantly they are actually gluten free rather than having low levels of gluten. My daughter remained unwell for years after diagnosis and moving to a gluten free diet and only eliminating processed food and commercially produced substitutes has resulted in her being well again.
I use the flours in all my recipies - cakes, biscuits, breads, pastry, batter, sauces and gravy. My non coeliac extended family also thoroughly enjoyed their gluten free Christmas!
We're all able to enjoy bread again...
---
After becoming gluten intolerant last year I lost my passion for baking as the gf flours I was using did not give good results at all. Having tried to persevere with various brands of shop bought gf bread (and cakes and biscuits!) for over a year I was fed up with the flavours and textures and increasingly concerned about all the strange sounding additives and high sugar content they contained. I had followed the free from fairy page on Facebook for a while and I finally decided to buy some flour. Today made the baguettes and the banana bread from the recipes on the free from fairy website. What a revelation! They are simply fantastic. It was so good to be able to eat a tasty healthy homemade bread with my homemade soup again, and as my husband liked the bread too we are not preparing two different meals which is a bonus. Thank you so much Vicki I will be buying much more of your flour and am looking forward to trying more of your recipes. You have reignited my passion for baking xx
Lovely Tasty Quick Bread Alternative!
---
This is a lovely tasty and quick bread alternative, thank you Vicki. I like to make it alongside a 'picky tea' or with soup or a stew. My only problem with the recipe is the 'leave to cool' part! 🙂 I can never resist the warm end of a fresh baked loaf!
---
This is the best gluten free flour I have found and about the only one that works well in my breadmaker. One member of my family is seriously allergic to gluten and dairy and eggs. This flour is the perfect answer.
It is much better that competitors and I've made bread in the breadmaker with it.