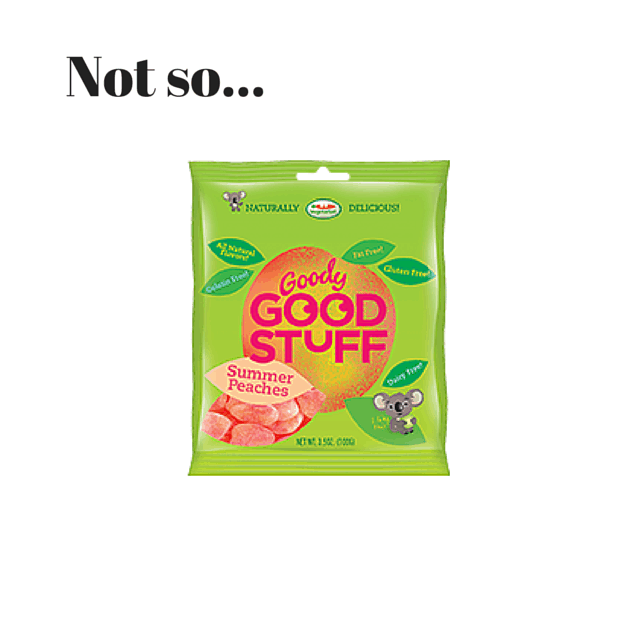 "Free from gluten, lactose & gelatine" the packet reads on the front.
Roo excitedly tucks into product having received it free in my Holland & Barrett goodie bag after the launch of their new concept store in Chester.
Halfway through her second sweet she nearly chokes, her face turns red, panic spreads across her face and out sweet number two comes…spat with disgust onto her plate.  Scrubbing of tongue and spitting ensues.
And what had caused such a reaction you may ask?
No, she was not having an anaphylactic reaction (thank the lord)…she had turned the packed over to read the label on the back, which says in the ingredients 'wheat' (in bold to correctly follow our legislation) followed by "this product may contain traces of wheat.  The amount of gluten is below the threshold of 20mg/kg which is suitable for a gluten free diet."
And yes, for once I am going to name and shame because I want companies to realise that this ISN'T GOOD ENOUGH!  The product in question is Goody Good Stuff sweets (which are of course, not good…they contain gallons of sugar, starch and gelling agents despite what their marketing might want us to believe…they are no better in fact that Haribo who don't claim to be good…so in my books are better! Rant over).
If you are reading this 'Goody' people, take it from me that labelling like this is not appreciated in the free from world.  If you want to be a free from product then do it properly.  Don't state in the ingredients that there is wheat and then tell us to not worry because there isn't enough of it to matter!
It matters to 7 year old girls who read labels.  She doesn't understand about the 20 ppm issue…and nor do many other people for that matter.
Her message was loud and clear "I am never eating them again".   And, I may add, that was after being told that the amount of gluten was not enough to make her ill.
Please either remove the label on the front saying gluten-free or alter your manufacturing procedures or the labelling on the back.
And if you are a member of public who buys free from products please let me know what you think about this because I can tell you…it made us pretty mad in this house (and one little girl very upset and afraid).
Update 6th May 2015 – I have had a reply to this blog from Goody Good Stuff.  You can read it below:
I'm so sorry to hear that you feel the Goody Good Stuff brand is misleading. I'm also sorry that you haven't had a response sooner. I first came across the post yesterday and was very sad to read how you felt. I can't apologise enough. I have now worked for the brand for 3 years (out of the 5 that it has been running) and I want to assure you that the brand is absolutely passionate about creating a product that not only is fun and tasty, but is most importantly safe for allergy sufferers, vegetarians and vegans. I have worked very closely with the founder of Goody Good Stuff, Melissa Burton, for many years and can assure you that her passion and vision for the brand was never a big profiteering exercise. She wanted to build a sweet range that can be enjoyed by everyone! Her values, and the brand values that stand today are: Be Honest, Be Inclusive, Be Inspiring, and Be Awesome! I have attached our brand value guide for your reference. I hope you feel that this is valuable and reflects the true nature of our brand and company.  
I hope that I can explain coherently some of the concerns that you have voiced.
Wheat/ Wheat Starch/ Gluten
Please be assured that Goody Good Stuff is completely safe for gluten free diets. The products are batch tested every week, and third party verified every month. To date we have not yet received a result which contradicts the following:
When mentioning testing limits (mg/ppm) we agree that this can be confusing and misleading for the consumer. As a result of this we are currently formulating a plan to change the mg/ppm clarification on the back of the packet.
We also agree and understand that the 'wheat starch' declaration on the back of the pack can be confusing and misleading to those who suffer a gluten intolerance or allergy. We have taken the precautionary measure to include the wheat starch ingredient declaration on the back of pack as it is used as a processing aid during the sweet manufacturing process. The wheat starch is not an official ingredient and the presence of wheat starch is highly unlikely to be on the finished product; we have done worst case scenario trials with this and have still seen no presence. Also wheat starch, not to be confused with wheat flour, is naturally gluten free and contains no gluten proteins (unlike wheat flour). Our rigorous gluten free testing proves this.
We are currently in discussions of how to change the pack so that it is not misleading for the consumer. In line with our plans, the new packs should start rolling out from November. We are absolutely open to suggestions on how we can make ourselves clear, so please feel free to share your thoughts with me. I have suggested that they use cornstarch, potato starch or tapioca starch in the manufacturing process rather than wheat starch.
'Goody Good Stuff' name origin
We have a very strict marketing rule never to portray the brand as a healthy or 'good for you'. Goody Good Stuff is a gummy sweet range that contains sugar like all other gummy sweets. What differentiates us for other gummy sweets and candy ranges is that we are a conscious range. We are conscious that not all people can enjoy gummy candy, they may be gluten intolerant, lactose and dairy intolerant, vegetarian or vegan. We also consciously use only natural colours and flavours and responsibly source our ingredients. We have also recently developed a 'treat' size range, much like the sample packet you picked up in store, to encourage portion control as we feel this is truly important within the confectionery industry.
The name 'Goody Good Stuff' actually comes from Melissa, our founder as previously mentioned. Melissa is American born and moved to the UK in 2008. She was fond of the American catch phrase 'Goody Gum Drops!' and ultimately, this was the inspiration behind the name Goody Good Stuff. We today also feel that the sweets can make you feel 'goody'; they are a conscious offering from a responsible company, and they taste good too!
I shared this with: