These days, along with Roo having to avoid dairy, I have to avoid it too.  A few months ago I had some intolerance tests carried out by York Test and they informed me that I was intolerant to dairy along with egg white, and a few different nuts.  Since avoiding dairy and egg whites completely the horrible eczema on my hands has finally cleared up for the first time in around 10 years!
Last week I had my first whole egg as part of the re-introduction experiments!  So far so good as far as my skin is concerned…my tummy is another matter since it now seems to dislike most things!
Until I try to re-introduce dairy, and whilst cooking for Roo, I am always searching for good alternatives to butter in my baking.  I love butter…and it certainly would be my first choice of fat in baked goods  because it is natural and tastes amazing!  But when you can't use it, what do you use?
Well, depending on what you are baking the following alternatives work well:
Coconut oil – substitute the same weight in butter for coconut oil, but only in recipes that require softened butter.  It doesn't work well in pastry because it becomes liquid when heated.
Mashed avocad0 – substitute weight for weight with butter.  Use in baked goods such as cakes and biscuits.
Pureed apple (apple sauce) – substitute weight for weight for butter.  Again great in cakes. I haven't tried it in biscuits. It wouldn't work in pastry!
Pureed pumpkin (or butternut squash) – same as above
Mashed banana – same as above, but bear in mind that you are likely to taste it!
Dairy-free soft margarine – substitute weight for weight in all baked goods.  Can be used in pastry but I prefer using a mixture of soft margarine and hard margarine
Dairy-free hard margarine – most hard margarines you substitute weight for weight but Trex contains no water so you use 20% less and therefore get less fat in your baking!  They even have a converter on their website to help you to work out how much you need!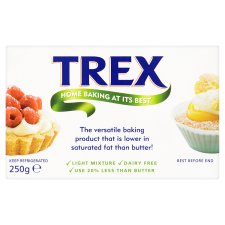 Oil – use 3 units of oil instead of 4 units of butter. So for example if a recipe calls for 225g butter use 200ml oil instead.  This works best in cakes that combine a liquid sweetener (like honey or maple syrup), ground nuts and a binder such as egg or egg substitute.  This substitution wouldn't work well in pastry.
Trex is apparently the UK's number one dairy free alternative to butter in baking, and something that I use a lot in my dairy-free baking.  As well as being vegetarian and having a cool name (T-REX Mr M finds so funny being a music fan) it is lower in saturated fat than butter, has no hydrogenated vegetable oil, has no e-numbers, has no colours, has no presevatives, is aerated for a lighter texture and can be used in smaller quantities than other margarines and butter (because it is pure fat and not a mixture of fat and water and other strange ingredients like some margarines!).
As I mentioned above I use Trex a lot in my baking and in particular in my gluten-free and dairy-free shortcrust pastry.  It gives the pastry a wonderful short texture without a crumble in site!  This particular piece of pastry is even egg-free and I made it into a delicious mincemeat slice.  Recipe to follow in the next week or so!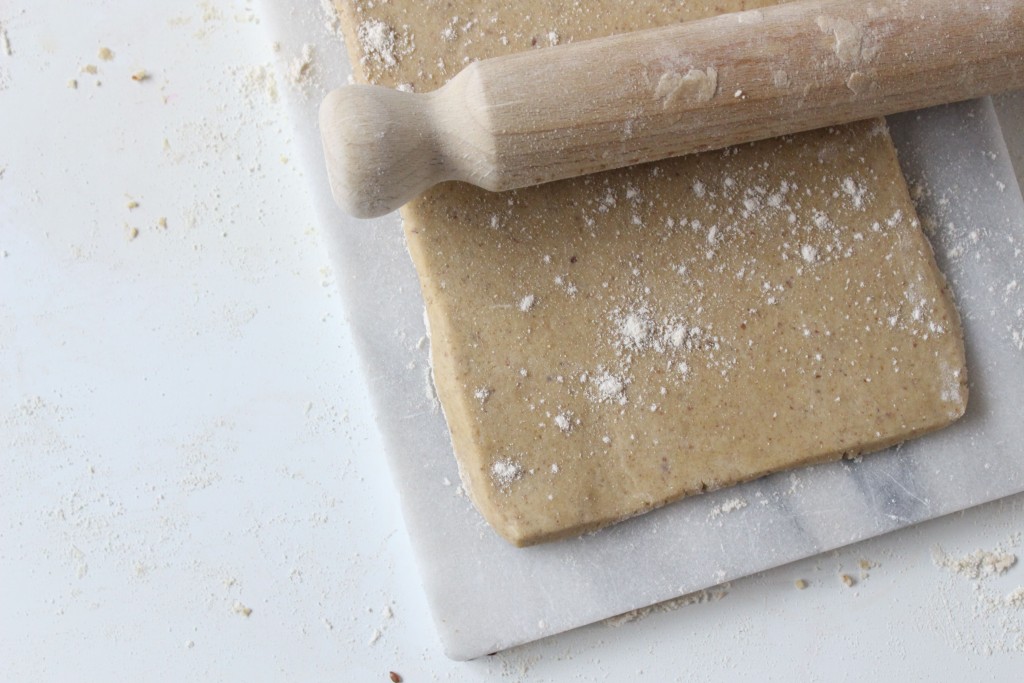 I have even been perfecting my gluten-free and dairy-free rough puff pastry using it and the result is wonderfully crisp!  That is a recipe that I will share once I have got my flour blend on the market.
So along with making mince pies with my easy shortcrust pastry recipe, you could try out these other recipes that use it.  My chocolate tart always goes down a treat as do my bakewell tarts, treacle and apple tart and savoury mediterranean tart.  Who said you have to miss out if you eat gluten and dairy-free food!
In addition to pastry, I use Trex in my dairyfree 'butter' icing.  It doesn't separate like dairy-free butter icing made purely from margarine does, and it gives a light, fluffy frosting just like one made with butter.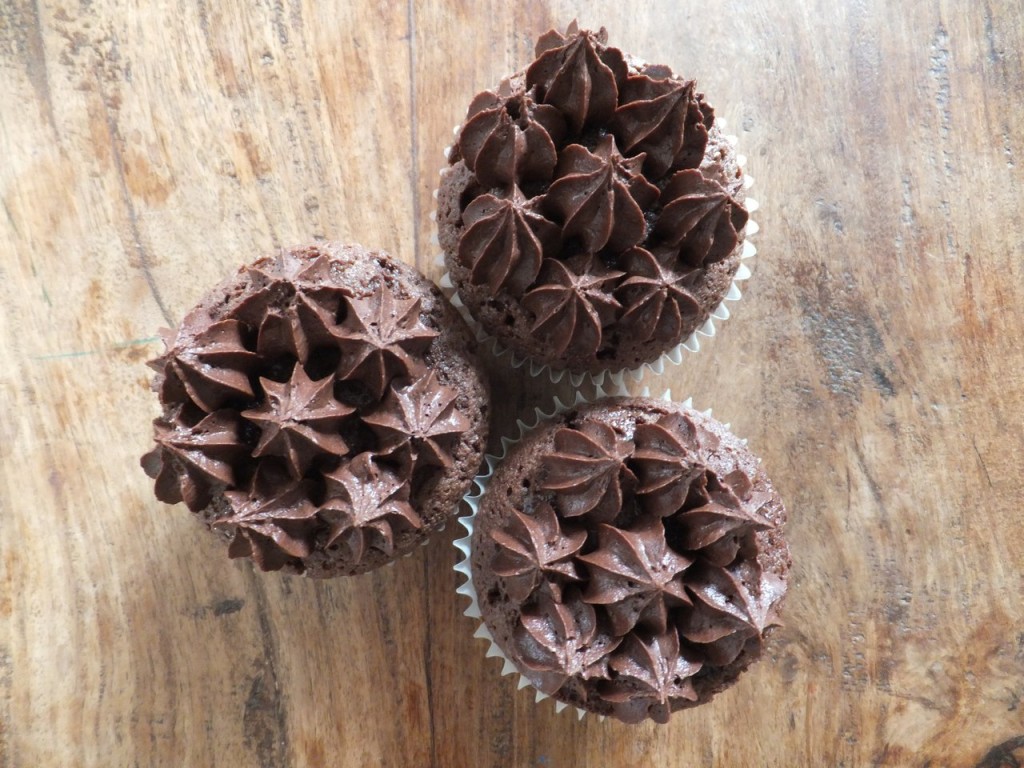 So with Christmas fast approaching, and baking requirements increasing, I have teamed up with Trex to offer 10 coupons so that you can try out Trex for yourself!  All you have to do is go to my Facebook page, find the post offering the coupon and like the post!  If you fancy sharing it too then that would be just wonderful!  I will be giving away one coupon per day over the next 10 days, picking random winners, so keep your eyes peeled!
What baking substitutions do you use to cope with your freefrom diet?  Have you tried out any of these in place of butter?  Do you have any success stories you would like to share?!  I'd love to hear from you…
This post was sponsored by Trex however all opinions and writing is my own.