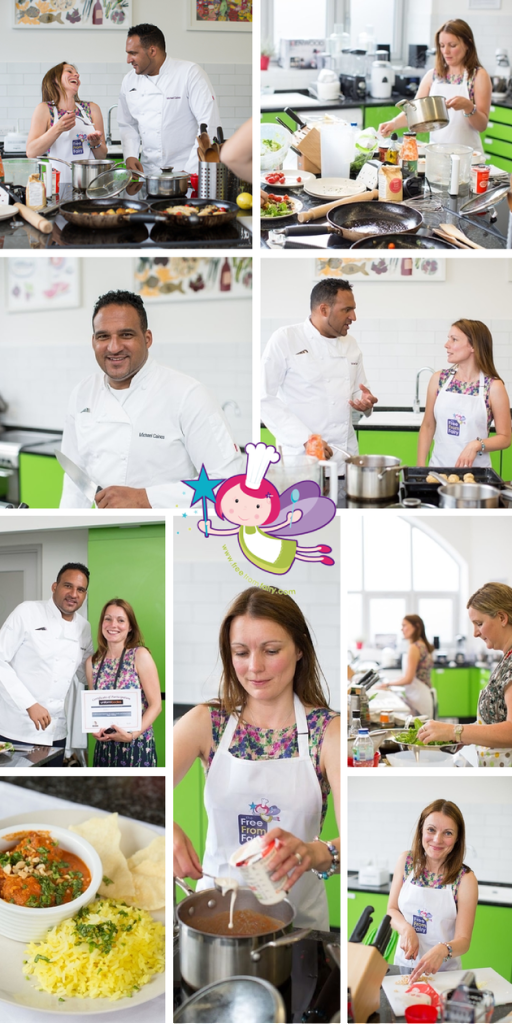 What an experience!!!
As many of you will know, I was asked to design a recipe for the new Uniform Foodies App and as part of that, the creators of the top three recipes as judged by Michael Caines, were asked to go to London to cook the recipe for him.
The day started well. I had spent the night at my sister and brother in law's house to make sure I was in London with no hold-ups! I got to take my niece and nephew to school and then did a few bits and bobs on my blog to take my mind off my nerves!
At 11am I left the house and had a lovely 40 minute walk to the cookery school where the judging was to take place. I calmed my nerves and by the time I got there I was all prepared!
I met Michael and the other two bloggers, Alida from My Little Italian Kitchen and Nova from Cherished By Me. Strangely, one of Nova's 5 children has coeliac disease too! They were both lovely and we had a good chat.
At 12pm we were given an hour to cook our dish and present it to Michael, who claimed that he hadn't had any breakfast…just to add to the pressure!
Whilst we were cooking, Michael came around and asked us about our dishes, and I got the chance to ask him several questions of my own.
Most importantly I wanted to know what he cooked for his children! He told me that he was lucky that they ate pretty much everything, adding that if they got involved in the cooking they were more likely to eat the end result. Exactly what I find here!
I had to ask him about knives too! I have terrible knives and my Dad has offered to buy me a set of good knives…so who better to ask than a top chef!
He recommended Victorinox saying that he still had his first ever set! If that isn't a good recommendation then I don't know what is!
Once the dishes were all made, we got to try each others while Michael ate them in order to judge them. It was a shame that at no point during the challenge were we even offered a drink, but hey, that meant the perfect excuse to grab one with Nova and Alida afterwards!
Both Nova and Alida's dishes were fantastic, but I think my favourite had to be Nova's despite Michael choosing Alida's Mediterranean lemon chicken salad with rosemary new potatoes as the winner!
His complaint about my dish was that I hadn't flavoured the rice. As a complaint, I am pretty happy with that! After all, it was the curry that I had entered into the competition, not the accompaniments (which luckily I had provided since they were not on my bench when I arrived!)!
Here is the moment he announced the winner! You can hear what he says about my dish…
Alida now gets a wonderful night at Michael Caine's hotel, Gidleigh Park, with dinner! I am so jealous having visited Gidleigh for lunch on a couple of special occasions. She is in for a treat!
Despite not winning the overall prize I am still having to pinch myself to make sure it was real! It was a fantastic experience and one I am sure to never have again!
If you would like to see my recipe along with those of Michael Caines and the other bloggers who entered the competition then head to the Apple Store to download the App. It costs 69p and looks pretty cool! I can't get it because I have an Android phone, but we did get a chance to look at it yesterday on Michael's ipad!
Photos by Andy Paradise
I shared this post with Let's Talk Mommy's linky