I have devised a way of creating pancakes in a jar to encourage as many of you to make them as possible. Not only is it so easy a child can do it, but it gives you a workout negating any need to visit the gym for the rest of the day!
All you need is some of my wholegrain gluten-free flour, eggs, milk (dairy or dairy-free), sugar (if you must!), some coconut oil (or butter), a jam jar and a frying pan.
For crepe style pancakes you'll want to use my plain flour blend.
Half fill a clean dry jam jar with flour, add a little sugar if desired ( we don't because the kids add honey to the end result) crack in one medium-sized free-range egg, top with dairy-free milk (or dairy if you like!) to 1 cm below the top of the jar.
Screw the lid on tightly (please make sure you do this step because I don't want to be responsible for pancake mix flying around the room), tip the jar on its side and shake up and down and side to side until there are no lumps.
You may need to prod the bottom of the jar with a knife to dislodge any stubborn bits of flour and shake again.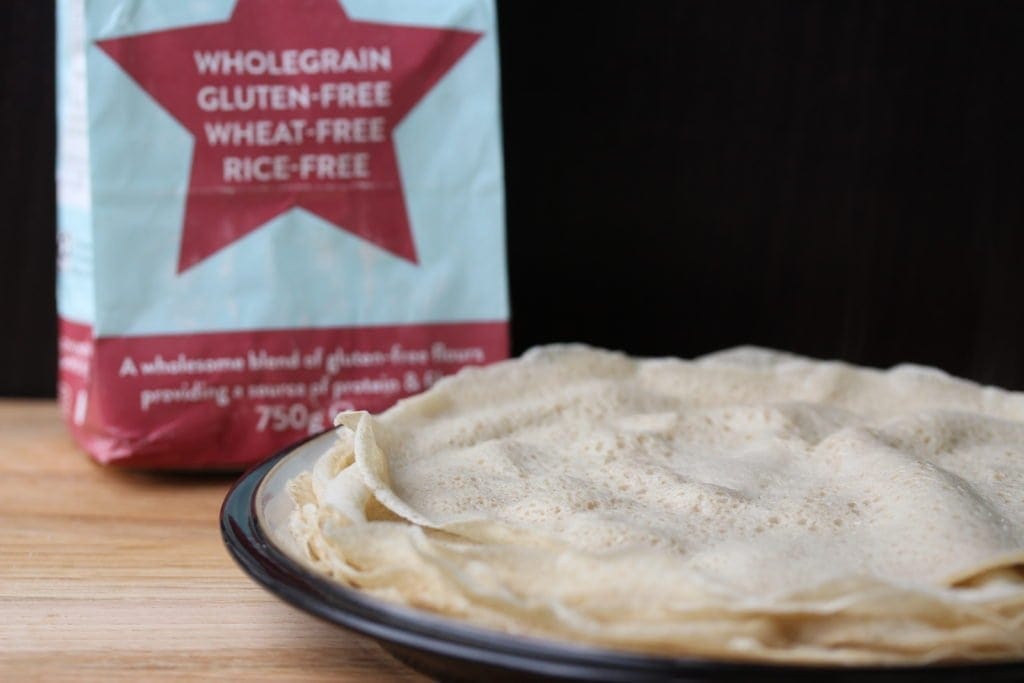 If the self raising is not available then add 1tsp baking powder for every 100g plain flour to make a self raising.
This time you'll fill the jar half full with flour, add a little sugar if desired, crack in the egg, but only add enough milk to take you to 3/4 of the way up the jar… you can even teach your kids about maths while making these!  Turn the jar on the side once the lid is screwed on and do your workout.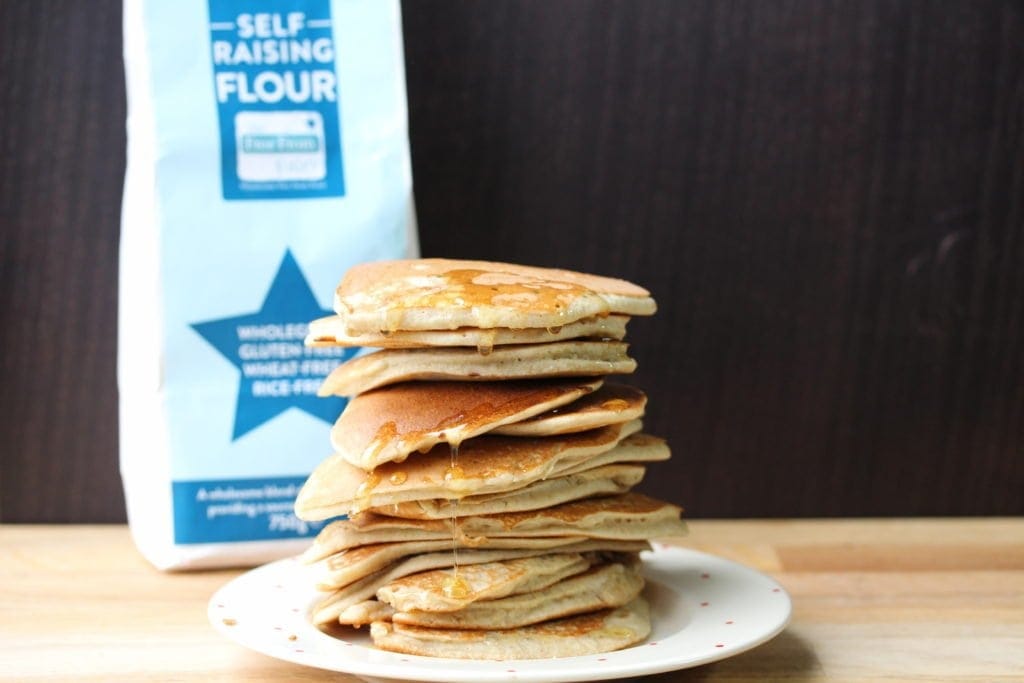 Once you've got your mixture you need a lovely hot frying pan (critical for success) and a dollop of coconut oil (or butter if you tolerate dairy) to cook the pancakes in.
For the crepe style pancakes pour a little batter into the pan and quickly tip the pan to swirl it around, coating the base of the pan. Leave for around a minute or until the edges are peeling away from the pan before flipping and cooking for the same time on the other side.
For American style pancakes you'll need to pour about a tablespoonful of batter into the pan and leave it. I usually fit 3 or 4 pancakes in the frying pan at one time. Once they are bubbling on the top, flip them over and cook for around a minute.
If you find your pancakes are a little flat, add less milk next time. The thicker the mixture the thicker the pancake. You're looking for a batter much like cake batter in consistency.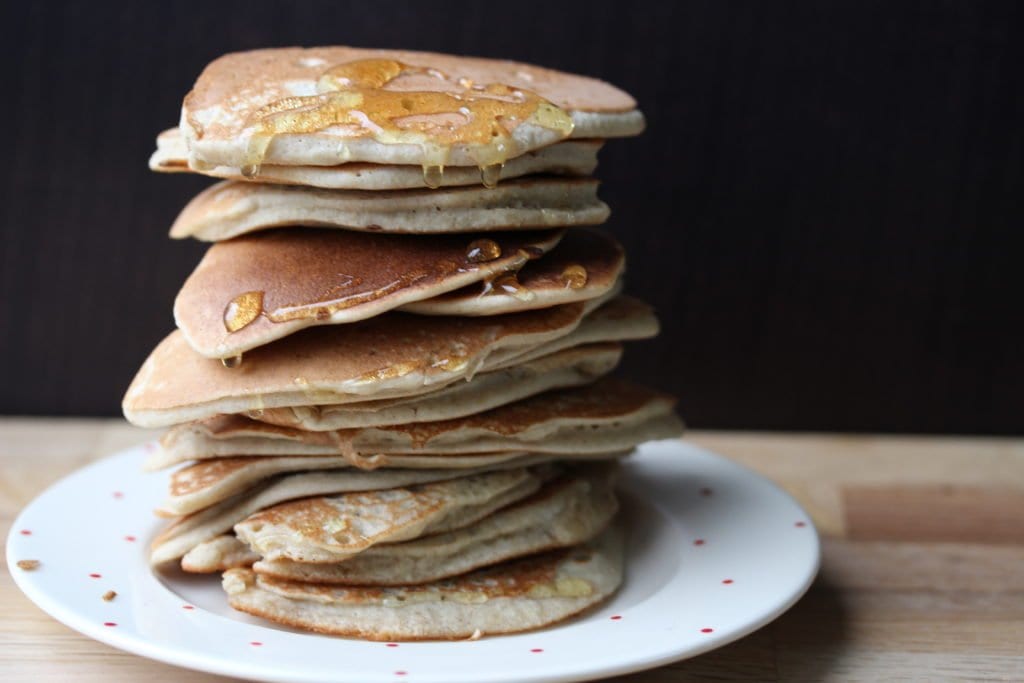 It cannot get much simpler than this and the kids think it is fantastic fun! In fact, both of mine (aged 9 and 7) can make pancakes by themselves.
There is no need for scales or scientific accuracy when making pancakes, just chuck the ingredients together and cook. You could even prepare the mixture the night before leaving just the cooking for the morning or, make a big batch and freeze them for whenever you have a pancake urge.
Other 'free from' pancake recipes
And if you happen to love pancakes like me then you'll love the next two weeks when my fabulous blogging chums will be creating free from pancakes every day using the hashtag #freefrompancakes.
You'll find recipes from:
Mel – 'Le Coin de Mel'
Nath – 'The Intolerant Gourmand'
Emma – 'Free From Farmhouse'
Nova – 'Cherished by Me'
Laura – 'Dairy Free Kids'
Midge – 'The Peachicks Bakery'
Rebecca – Glutarama
Jo – Paleocrust
Eb – Easy Peasy Foodie
Kirsty – Hijacked By Twins
Kate – Gluten Free Alchemist
But don't worry if you miss them, I'll be doing a post with loads of free from pancake recipes, including theirs and my old ones, before 28th February!
Don't lose the recipe. Pin it now for Shrove Tuesday or for every day breakfasts…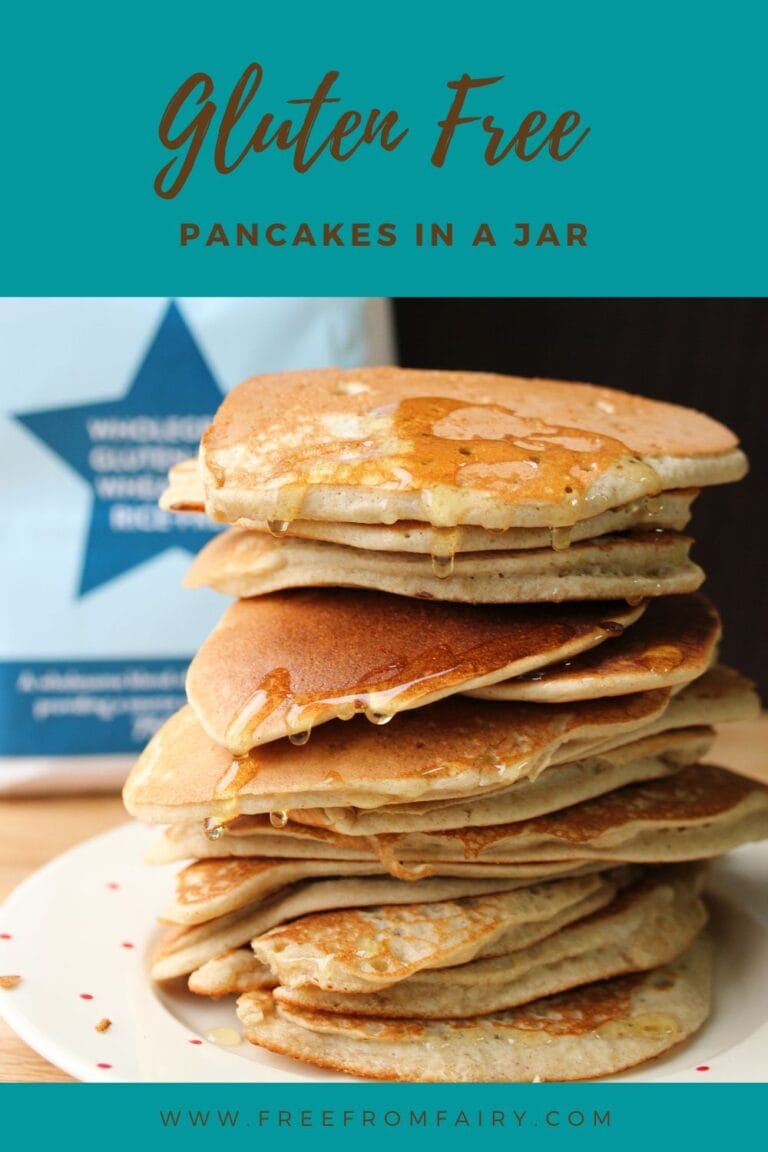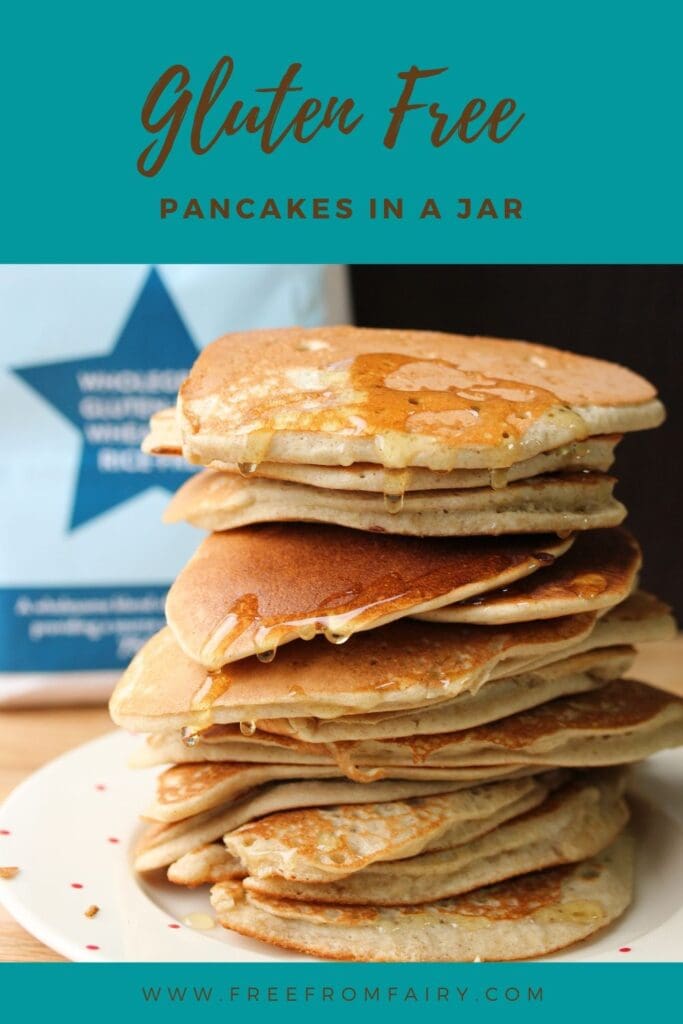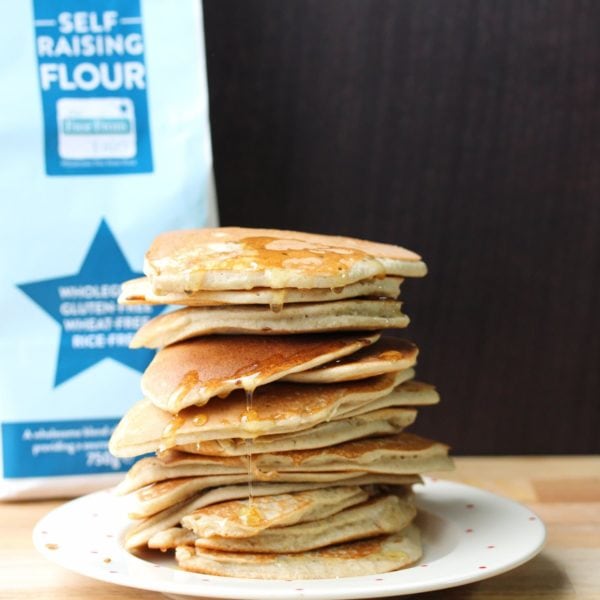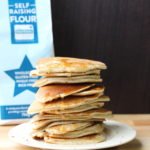 Easy Pancakes in a Jar
Make these easy gluten free, dairy free pancakes in a jar. A simple recipe that the kids will have fun doing.
Ingredients
Half a jam jar of Free From Fairy plain or self raising gluten-free flour

depending upon whether you want crepe style or American style pancakes

1

free range medium egg

Approx. half a jam jar dairy or dairy free milk

Sugar

optional

Coconut oil or butter for cooking
Method
FOR CREPE STYLE:

Place a frying pan on a medium heat to get hot

Half fill a clean dry jam jar with Free From Fairy gluten-free plain flour

Crack in the egg and top up with milk until 1 cm from the top of the jar

Screw the lid on TIGHTLY, turn the jar on its side and shake vigorously up and down and side to side

If flour gets stuck on the bottom of the jar, dislodge with a knife and shake again

Once the pan is very hot, add a knob of coconut oil or butter and leave to melt

Pour a little batter into the pan and swirl quickly to cover the base of the pan

Cook until the edges start to come away from the side of the pan, then flip and cook for around 1 minute more

Repeat with the remaining mixture

FOR AMERICAN STYLE

Heat the pan as before

Half fill the jam jar with self raising flour

Crack in the egg and add milk until the jar is 3/4 full

Put the lid on tightly, turn the jar on its side and shake up and down and side to side vigorously

Once the pan is hot add some coconut oil or butter and swirl around to coat

Place tablespoonfuls of mixture into the pan and leave until lots of bubbles appear on the surface

Flip and cook for around a minute more

Repeat with remaining mixture
I've shared this with: