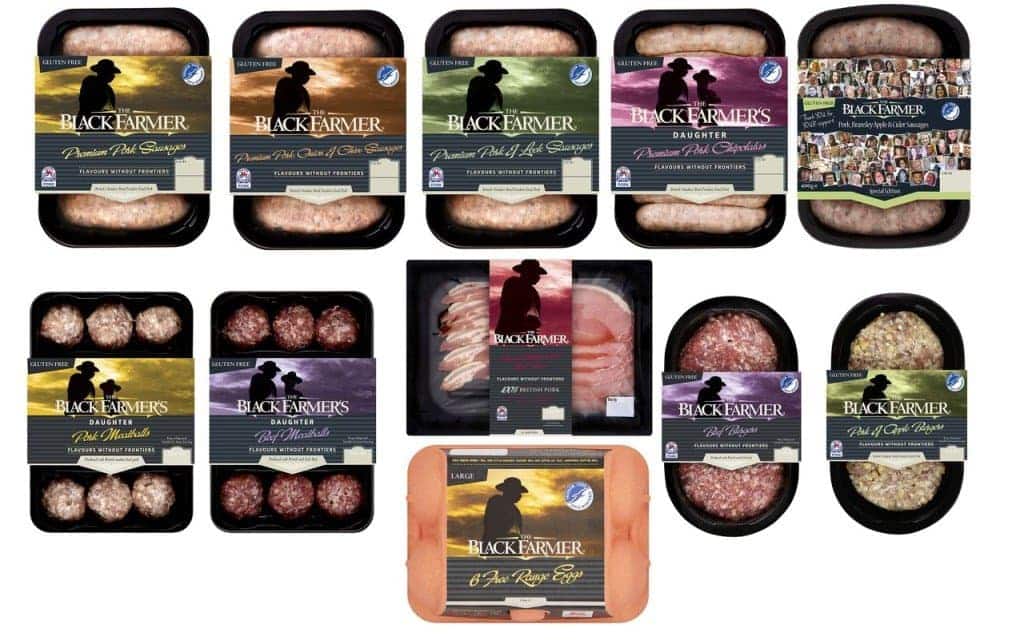 So I don't know about you, but we have had an incredibly busy Easter with lots of sugary treats and bags of chocolate!
Now the kids have gone back to school it is back to 'normality' and time to take stock of things…more about that another time!
A few weeks ago I contacted The Black Farmer to see if he would be interested in answering some burning questions that we had here in The Free From Fairy's HQ.
For those of you who don't know who I am talking about, then I introduce you to one of the most interesting people in the 'freefrom' marketplace.
Wilfred Emmanuel-Jones is the man behind a range of top quality gluten-free products.
Under the name The Black Farmer he produces delicious sausages, meatballs, burgers, bacon, chicken, cheese and even eggs.
Not only that but all the pork he uses in his products is from Freedom Food outdoor bred 100% British pigs…which is good news for those of you, like me, who care where you meat comes from!
So here is my exclusive interview with the man himself.
If after reading it you can't wait to try his products then enter my competition for your chance to win a fabulous apron AND a £10 voucher to buy some of his products with…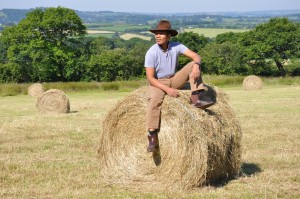 The Free From Fairy: I love the fact that you help to raise awareness of coeliac disease, and have a Facebook page dedicated to this as well as a page on your website. What made you decide to make all your products gluten-free and to help raise awareness of coeliac disease?
The Black Farmer: When I decided to try and make a better quality sausage I was adamant it had to be affordable premium so that everyone could enjoy a great tasting sausage with plenty of good quality meat. I was aware that at least one per cent of the UK population has Coeliac disease or a wheat intolerance and I wanted to be sure that these people could also enjoy The Black Farmer sausages – a sausage that the whole family can eat and enjoy together. So I decided to use soya flour instead of wheat flour in the recipe. This had two benefits, one to make my sausages wheat and gluten free, but also it makes them far less stodgy than some sausages can be.
The Free From Fairy: Do you ever cook gluten-free food for your family? If you do, what is your favourite recipe?
The Black Farmer: Predictably Rice 'n Peas and Chicken! A famous Jamaican dish and featured in The Black Farmer Cookbook.
The Free From Fairy: Which of your products is your favourite?
The Black Farmer: I can't possibly have favourites! But I do love my Premium Pork sausages. They are really flavourful and totally versatile.
The Free From Fairy: You have a recipe for gluten-free toad in the hole on your website. What tips can you give me and my readers to get a good fluffy batter? I find it hard to make a large toad in the hole that hasn't got a soggy batter…
The Black Farmer: I think batter needs a very hot oven. That's what I use anyway and it seems to work a treat. I'd be lying to say it comes out perfectly every time, but enough to be happy.
The Free From Fairy: You seem to be a very ambitious man. What is your ambition for The Black Farmer?
The Black Farmer: First and foremost my ambition is to have all of my products stocked in all UK supermarkets. Ocado is currently the only place where people can buy most of my gluten free range, but I would like for everyone to have access to The Black Farmer gluten free products. Ultimately I want to see The Black Farmer go international – particularly in markets such as Australia where there is a well understood gluten free market.
The Free From Fairy: You use British quality assured meat in all your products but it comes from all around the country. Why did you make the decision to source your meat from around the country rather than just locally?
The Black Farmer: Thanks to support from our consumers, The Black Farmer is now a national brand and I want to reflect that in sourcing Freedom Food pork.
The Free From Fairy: You make music, used to produce/direct programmes for the BBC, you do motivational speaking, run a young city farmers scholarship, make an amazing array of gluten-free meaty delights…is there anything that you haven't yet done in life that you would like to do?
The Black Farmer: I love new experiences and helping others to achieve their ambitions, so I'm always up for opportunities to try my hand at new things or offer the benefit of my experience to others. I love photography and filming so given the time I would try to get better at those!
The Free From Fairy: Finally I have to ask, do you need any taste testers or recipe developers? If you do, The Free From Fairy and her little taste testers would be delighted to help!
The Black Farmer: I'll certainly bear that in mind. Thanks for the offer!
What a truly inspirational man!
I am a big fan and as a fan I have managed to bag an exclusive Black Farmer apron and £10 worth of vouchers to spend on his products for one lucky reader to win! All you have to do is follow the instructions in the section below! Good luck!