If you've used my gluten free flour and would like to submit a testimonial you can do so below..otherwise keep reading to be inspired with my gluten free flour reviews and readers' recipes.
How did you like my flour?
Did it perform as well or better than others you have tried?
What recipe (s) did you try with it?
Reader Ally said on Instagram…"Made some great choc chip and honeycomb cookies today using @freefromfairy gluten free flour blend, can I just say I have been a coeliac my whole life never have I used a gluten free flour that has given such good results and felt like I was woking with normal wheat flour I am very very impressed and will be getting a bulk buy of this for sure."
Reader Laura created an almond and cherry cake and said "I have just made this cake with your gluten free flour – it's turned out fantastic and definitely got the thumbs up from my husband. Your flour has created a lovely moist cake with a good texture, it baked like a dream."
Get this fabulous recipe for delicious gluten free lemon and poppyseed muffins from the Mighty Beetroot

. They are high up on my list to try!

Fiona from Free From Favourites created some delicious muffins and some banana bread with it and wrote about the results here.
Susanna Booth, former Guardian columnist and author of free from cook books tested it against eight other gluten-free flours. You can read the brilliant results here
Naomi Devlin, author of River Cottage Gluten Free & teacher of gluten-free cookery courses at River Cottage tried my wholegrain gluten free flour out and shared her results on Instagram here and here.
Sarah the gfblogger has created this fabulous recipe for Halloween. Check out the spider themed swiss roll here.
Reader Jill says "I've just tasted the first bread I've made with your flour. Thank you it actually tastes of something and it doesn't taste artificial. Wow it almost takes malty!
Fancy some feta and courgette scones? Well, the wonderful Louise (who isn't used to baking gluten-free) from A Strong Coffee created these ones and I think they sound amazing..
Ceri from Natural Kitchen Adventures has created Pandolce, an Italian Christmas treat that looks and sounds divine! You can find her recipe here.
Eb from Easy Peasy Foodie created some mini simnel cakes with my self-raising gluten free flour and tested it against regular flour. You can find the recipe and the results of her test (which is rather favourable to my flour) here.
Kellie from Food To Glow has made these incredible double chocolate and orange brownies. Get the full recipe from her site here.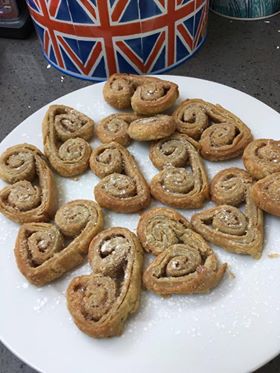 Clean Supper Club have devised this amazing looking recipe for lime and coconut cake, photographed above. Hop over to their website for the full recipe
Le Coin De Mel made these delicious looking very free from chocolate muffins and loved the flour. Click on the link to find the recipe which can be made in 30 minutes.
Nathalie at The Intolerant Gourmand created these incredible looking gluten, dairy and egg free pancakes for Shrove Tuesday.
Carly Tabot, blogger and photographer tried out my wholegrain gluten free flour and this is what she said on Facebook: "Wholegrain ‪#‎glutenfree‬ garibaldi biscuits using The Free From Fairy flour blend. A simple adaptation of a Delia Smith recipe, I'm delighted with how they turned out!"
These oat and honey pumpkin muffins look incredible. The clever Monique over at Nourish Everyday created the recipe.
Mandy from the blog Sneaky Veg said on Instagram – "Apple, oat and seed cookies using the gorgeous @freefromfairy wholegrain gluten free flour. These are lovely snacks for kids and grown-ups alike and are full of goodness."
Watch Mel from Le Coin De Mel getting her children to make gluten-free vegan pancakes here: