I AM CURRENTLY EXPERIENCING PROBLEMS WITH ORDERS PLACED USING SOME APPLE IPHONES. SHOPIFY ARE LOOKING INTO FIXING THIS BUT IN THE MEANTIME PLEASE TRY ORDERING USING A DIFFERENT DEVISE OR CONTACT ME AND I WILL TAKE YOUR ORDER OVER THE PHONE.
I offer FREE second class delivery to all UK MAINLAND addresses. If you live outside this area or would like your flour delivered more quickly then please do get in touch for prices.
If you know all about the flour and want to buy it now, decide what pack size and combinations you want below and click buy now. Otherwise continue reading to find out which flour you need…
Wholegrain Gluten, Wheat & Rice Free Plain (Multipurpose) Flour (750g bags)
Perfect for bread, biscuits, pastry, pasta and crepes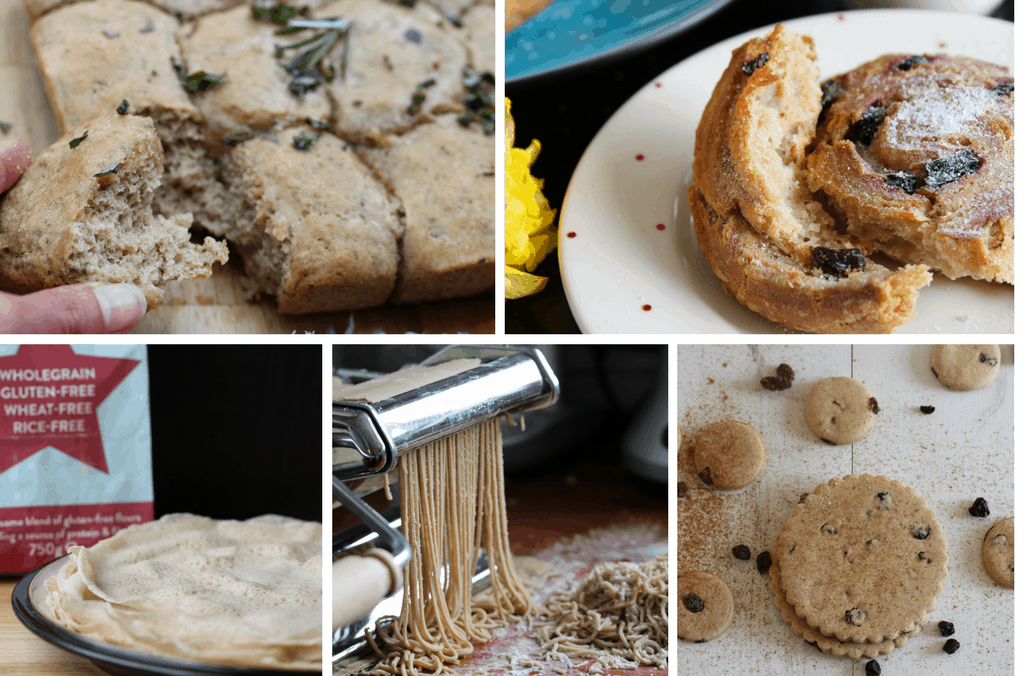 A nutritious blend of teff, sorghum, buckwheat, tapioca and potato flour and nothing else.
As a scientist and mum of a coeliac child with food allergies and intolerances I developed my unique wholegrain gluten and rice free flour blends to nourish her with wholesome nutritious food. It's important for me to know that she is getting vital nutrients along with protein and fibre whenever she eats and having found no suitable flour blends on the market I created my own.
Now I know that whatever I make for her, from pasta to bread, cakes and pastry she is getting some goodness with every mouthful.
Usage tips
If you are following a recipe that calls for xanthan gum you can add that to my flour (or if your current blend contains it), or use half the amount of psyllium powder. Generally with cakes and biscuits I don't use it.
My blend does not need extra liquid like most gluten-free flour so if following a gluten-free recipe add liquid slowly until you reach a consistency you expect to have. If following a 'normal' recipe the liquid should be the same as for wheat flour in cakes and biscuits.
FREE ECONOMY (SECOND CLASS) SHIPPING TO UK MAINLAND – please enquire for additional costs to ship elsewhere or if you need it quickly.
Wholegrain Gluten, Wheat & Rice Free Self-Raising Flour (750g bags)