Could you suffer with a food intolerance, or do you think you might?
Do you know what a food intolerance is, what makes it different from an allergy and what common food intolerances are?
Well, a few months ago I was contacted by Vitalfootprint who wanted to share their guide to food intolerances with you.
As many of you will know if you follow my blog, I am slowly getting a better understanding of what my food intolerances are.
I have known for a long time that wheat is a major trigger for my IBS, but since March 2015 I have been on a 'quest' to find out what other foods are making me feel less than 100%.
In order to do that I have followed the very strict SCD/GAPS diet for four months, seen an integrated health doctor, started taking the water-based probiotic Symprove, and had some intolerance tests carried out by York Test!
The latter results told me that I didn't tolerate dairy, egg whites and some nuts.
Although I have always been sceptical of these tests I have to say that those results were eye opening.  My daughter used to have allergies to dairy and eggs before she was diagnosed with coeliac disease…so pretty much everything that came back reflects the problems that Roo has (which surely can be no coincidence?).  Of course wheat and gluten did not show up because I haven't eaten them for a long time (apart from when in France a week ago!).
Since removing egg whites, dairy and specific nuts from my diet my bloating has reduced considerably.  Coincidence?  Could it be the Symprove working its magic (it certainly has helped me to overcome my constipation!)…only time will tell, when I re-introduce those things in three months time.
Anyway, I thought that this guide to food tolerances was really interesting as it outlines exactly what food intolerances are, what causes them, what the most common ones are in the UK, what common symptoms are and how they get diagnosed and treated.
If you know someone who might find this useful please do share because sharing, after all, is caring…and it might just nudge someone to do something about their suffering.
Download your free copy of the guide by clicking on the picture below…and let me know what you think in the comments section…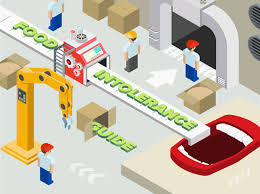 This post was sponsored by Vitalfootprint.