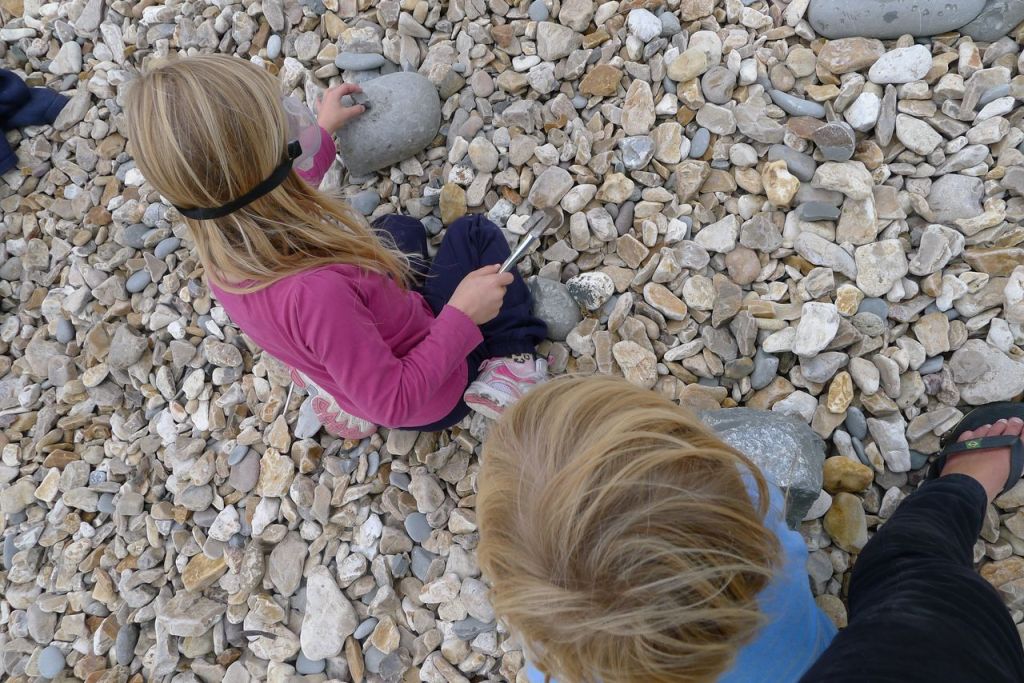 Yesterday was a great day! After a relaxed morning pottering about the house and helping the kids with their homework we set off for Charmouth in Dorset for a spot of fossil hunting. We consider ourselves incredibly lucky being so close to a huge number of beaches. Each one with a different and unique offering.  I went to Charmouth with Roo on a school trip only a couple of weeks ago, but we had so much fun she wanted to return to see what else she could find!  On that occasion I found my best ever fossil and, having studied geology at A-Level and spent many years looking at rocks, that was quite something!
Yesterday didn't present us with such fabulous fossils but the kids had fun donning the goggles and banging rocks with a hammer! After a few hours on the beach and as the wind got up and the first signs of autumn started to appear, we skipped back to the car and drove around the coast to Lyme Regis.  There was just one more exciting find to uncover…a cafe called Aroma, that had been on my list of places to visit for a while.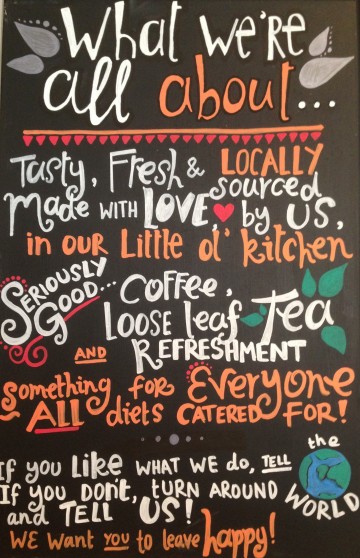 Aroma is one of those fabulous cafes that people like us can only dream of!  It combines cool (they were playing BBC Radio 6 Music which constitutes cool in my eyes!), child-friendliness (there is a 'boat' full of toys and books along with lots of lovely colouring books and pens), fabulous origin coffee and hot chocolate (yes, the chocolate is melted in hot frothy milk), a relaxed atmosphere AND an allergy-friendly menu.  Yes, you read all of that right! If you are reading my blog then you will like this place! They make all of their cakes themselves and they are all gluten-free, and most of them are dairy-free too!!  Not only that but all of the menu is clearly marked according to dietary requirements and they have soya milk too meaning that a delicious gluten and dairy-free hot chocolate is within your sights if you have to avoid both 'nasties'!
Mr M and I shared a slice of their chocolate and lime tart…that was gluten-free and dairy-free.  I have no idea how they made it but it was sublime!  I had it with a delicious pot of red bush tea (from leaves, not a bag) and Mr M went for the full chocolate experience choosing a white chocolate hot chocolate! The kids shared the banana and chocolate loaf and judging by the speed at which it was demolished and the noises coming from their direction, they rather enjoyed that too!
If you are ever in the area then this is a must do day out!  Fossil hunting at Charmouth (or Lyme Regis) followed by a delicious treat from Aroma! Where is your favourite cafe?  Can it beat this one I wonder?!
I shared this with: