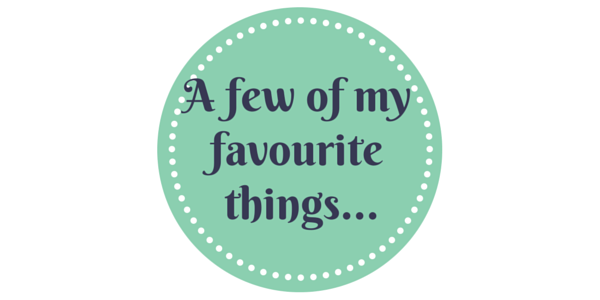 This is the first of a new 'feature' on my site.
I am often asked to review new products to let you, my lovely readers, know what exciting products are out there for us 'freefromers'!
Being an avid reader of blogs, I often find it rather tiresome when blogs consist of nothing much more than endless reviews of products.  It seems that bloggers are becoming the new way to advertise (mainly for free I might add!)…and I certainly don't want to be seen as that.
I am very happy to try out new products and when I love them I talk about them!  If I don't love them, quite simply I am not going to tell you about them!  OK, that may seem unreasonable since you might love them…but if I am not feeling it then I am not going to let you know about it!
Anyway, in my new feature, 'Free From Food Roundup' I will let you know about all those products that I think are worth shouting about!  So, if you trust my judgement and like to hear about new products then keep an eye out for this feature!
I will start with Warburton's Newburn Bakehouse, who recently sent me their seeded wraps to try.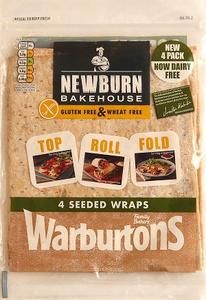 They have changed the recipe so that they are not only gluten and wheat free but dairy free too…which is great news for a large number of you.
They are lovely and soft and very easy to roll up with a filling inside.  We like to use these to go alongside my vegetable chilli or fajita recipes when I don't have the time to make my own tortilla's.
Being yeast-free too, they are a perfect alternative to bread for me and make a nice change from rice cakes, salad or soup which is what I usually have for lunch!
If you are lucky enough to have a Waitrose, Sainsburys or Ocado near you then you will be able to buy the 4 pack, which is the same price as the 3 pack in other stores!  So if you haven't tried them yet, give them a go.
The second products to mention are the new items from Udi's.  As many of you will know, I rather like Udi's products.  They might be a big company, and I usually like to support the little ones, but apart from their bread and rolls which I find too sweet and dense, their range is excellent.  Recently they sent me some of their new products including the milk chocolate wafers (a bit like a Time Out I guess), apple breakfast bars, sundried tomato bagels, white rolls and blueberry muffins.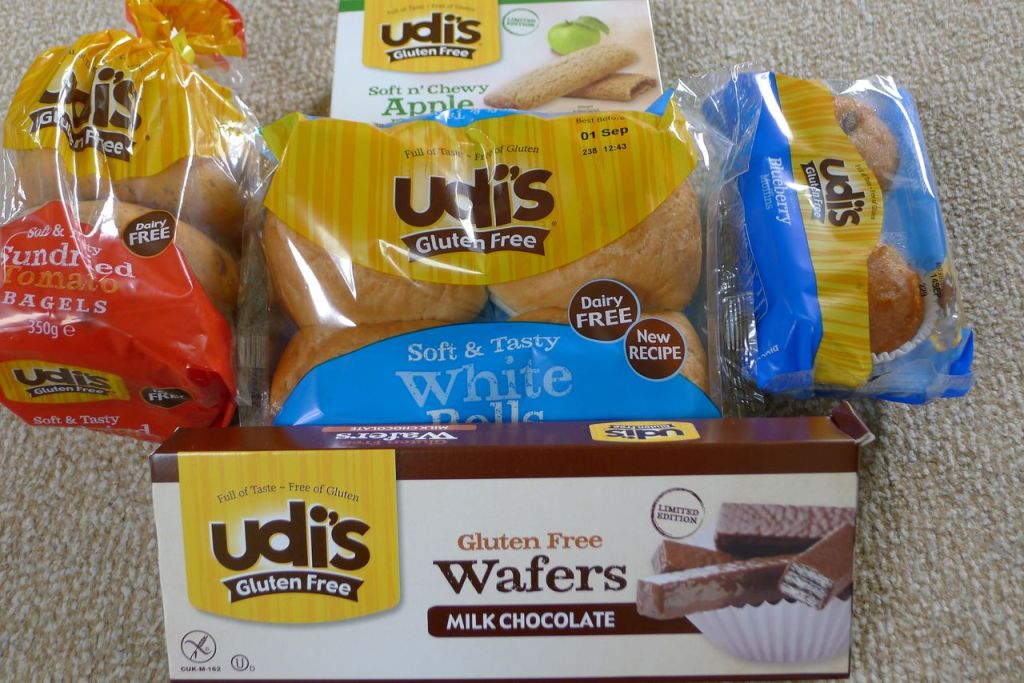 Being a baker I prefer home-made cakes but Udi's are perfectly acceptable if you don't bake!  They are moist and dense with a lovely crumb but I still prefer my own!  It is just a personal preference.
The sundried tomato bagels are delicious and a particularly nice topped with butter and cheese.  These are enjoyed by both kids (one without cheese of course!) which is surprising because the flavour is quite strong.
The chocolate wafers and breakfast bars went down a treat with the kids but the latter were far too sweet for me and certainly not something that I would give the kids (or anyone) for breakfast!  Not quite sure how they can be called 'breakfast bars' but then they do resemble Kelloggs Nutri-grain bars pretty closely!
The next products to mention are those by Fun Foods for All.  Who can resist Hello Kitty pasta shapes (or Bob the Builder for that matter)?  If you have a fussy little eater I can guarantee that whatever sauce you decide to put on top of these babies, your kids will eat!  The fun of finding and identifying different shapes to eat never fails to make meal times exciting!  It a shame that Fun Foods for All seem to have stopped doing their Bob the Builder pasta sauce which my kids loved…it was perfect for a super quick meal and as I remember contained no added sugar or salt.  Anyway, that is kind of irrelevant since you can't buy it any more!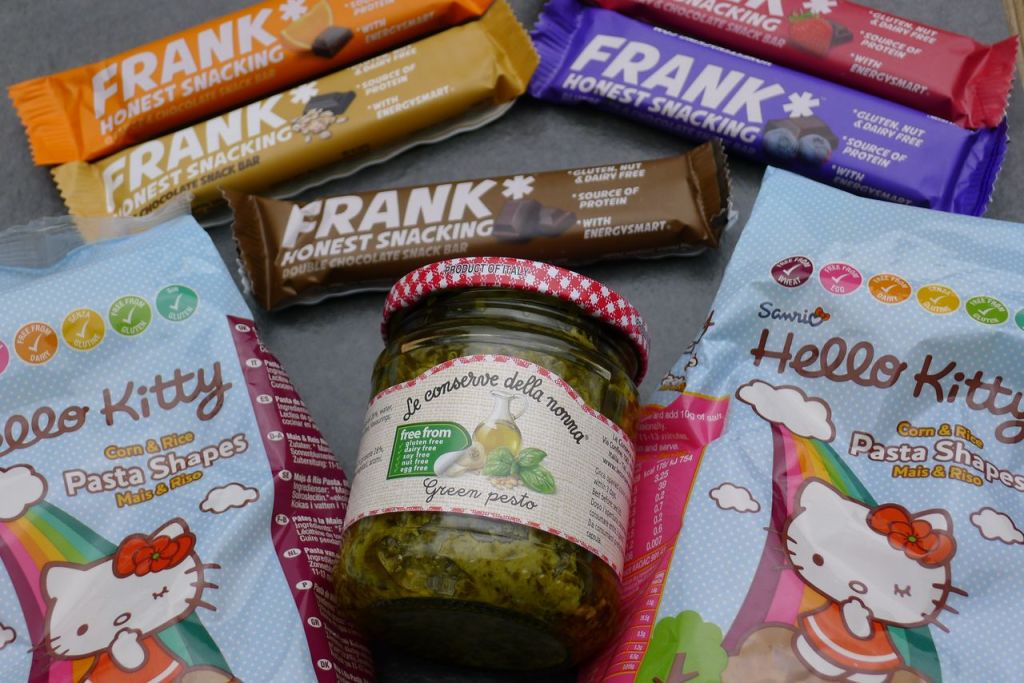 So, on to a pasta sauce that you can get!  La Buona Vita make gluten-free pasta (that I haven't tried) along with pasta sauces.  I was sent their green pesto to try and was incredibly impressed since it was not only gluten-free but dairy-free, egg-free, soya-free and nut-free!  We enjoyed having it on the Hello Kitty pasta shapes while we were camping this summer and it meant a night off the cooking for me!  Perfect!
You will see from the picture above that I was also sent some Frank bars to try.  Now I have mixed feelings about these.  They are incredibly high in sugar (albeit fruit sugar since they are made almost entirely from fruit)…more so than many sweet treats in my cupboard…and if given the choice of one of these or a chocolate bar the chocolate bar would win every time!  Having said that the kids love them, they are high in fibre, a source of protein and apparently release energy slowly (although I am not sure how they do that given the high sugar content!).  They are like a mix between a cereal bar and a fruit bar and come in a variety of different flavours…the chocolate orange probably being my favourite.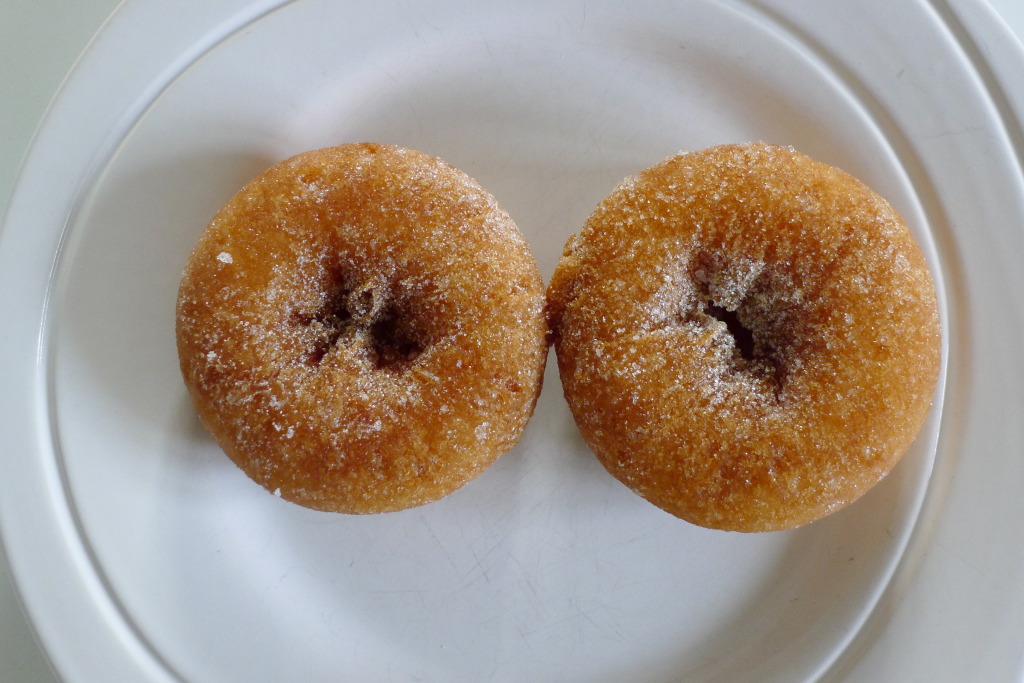 My final mention would have to go to Feel Free for Gluten Free who have just launched possibly the first gluten-free donut in the UK!  It is a ring donut and made my daughter declare that it was "the best donut I have ever tasted"…which given she has never tasted a donut before was very cute!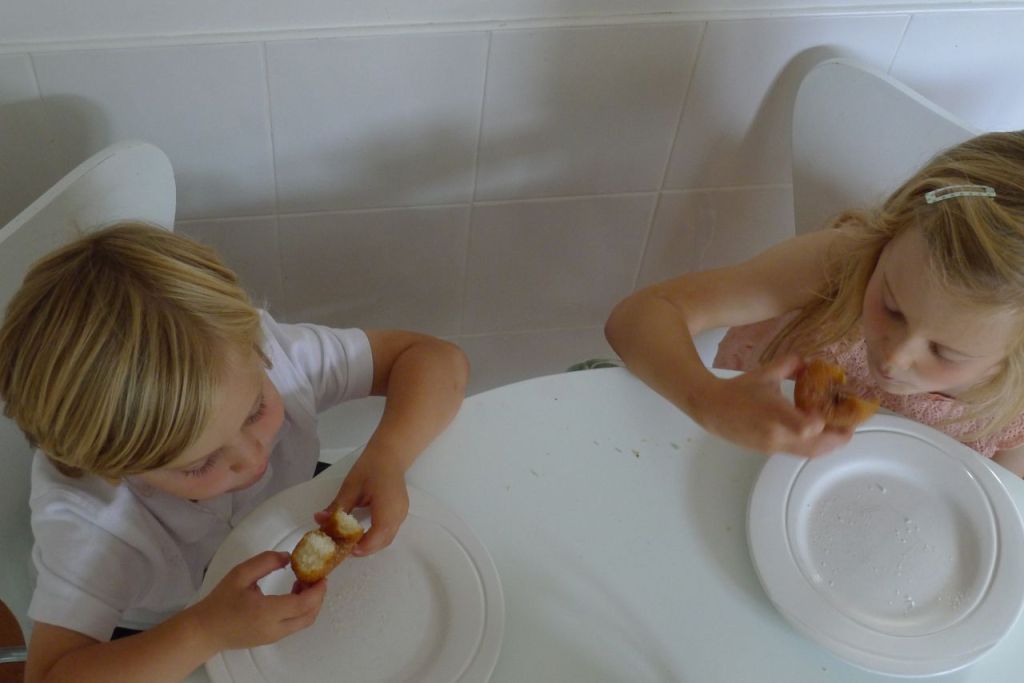 I thought they were rather dry although they do look and taste like 'normal' donuts and if you cannot have gluten then this certainly is a product that you will want to try out.  However, at £3.99 for a box of 4 my daughter will not be getting them very often until I make some money from this site!!!!
So there you have it.  My roundup of favourite foods from the last few months.
What have you tried recently that you have enjoyed and could recommend?  As always I would love you hear your views below…
I shared this post with:
I was sent free samples of each of these foods, I only mentioned those that I enjoyed!