UPDATE MARCH 2018 – SINCE WRITING THIS REVIEW THE HOTEL NO LONGER OFFERS A GLUTEN FREE AFTERNOON TEA…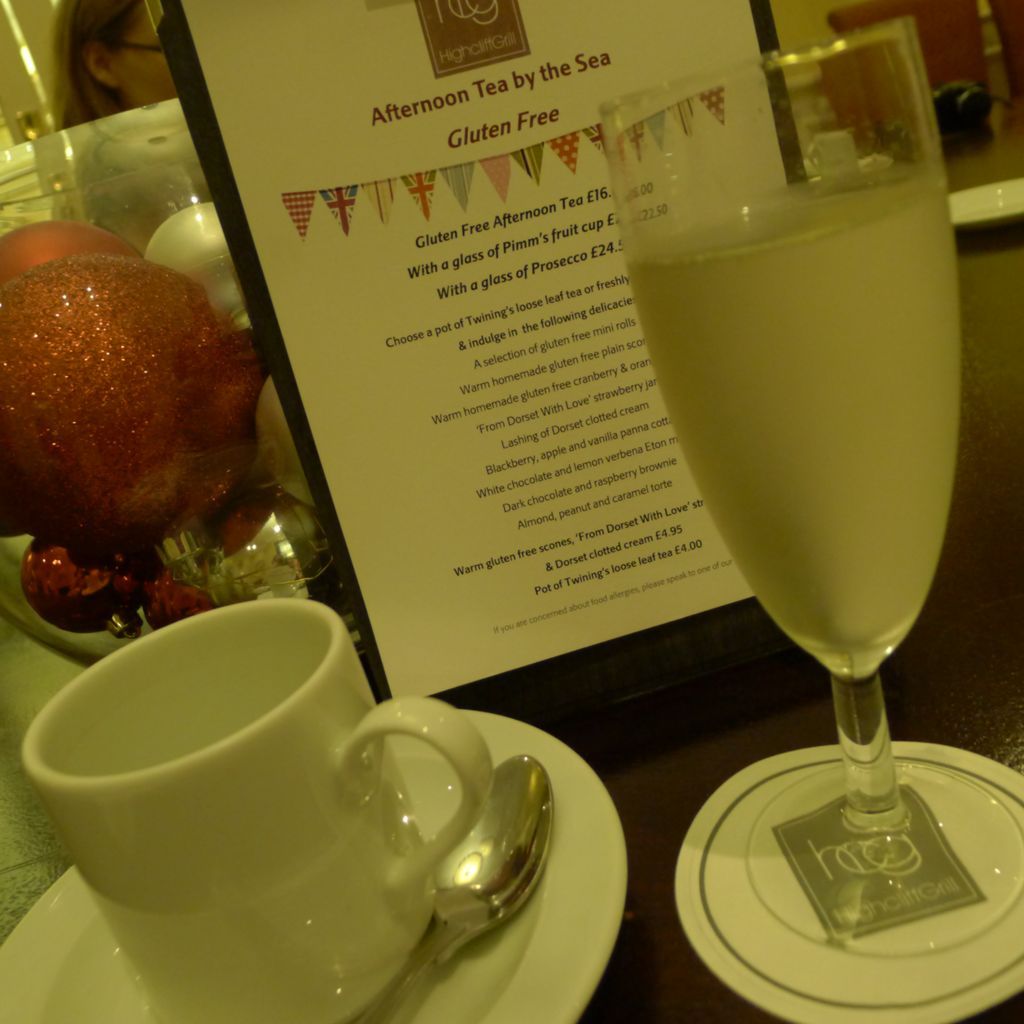 We have spent the whole weekend trying to give the impression that we are a 'normal' family…
"Tuck your T-shirt in, be on your best behaviour, try to act normally, no manic laughter…and no playing babies" were the words uttered by Mr M before climbing in the car on Saturday morning for our trip to review the gluten-free afternoon tea at the Bournemouth Highcliff Marriott Hotel.
With tears from Pickle at the injustice of having to wear his hideous Dennis the Menace T-shirt tucked in and covered up by a 'smart' shirt, we drove away from home with the children trying hard not to kill each other in the back seats.
Arriving at the hotel, it felt as though we could have been in Barcelona.  The sun was shining, the sea was blue and the hotel, perched high up on the cliff above the beach, looked about as perfect as it possibly could…in fact more perfect than that given that it was offering to willingly cater for our annoying diets!
With great excitement from us all we approached our room.  We have only once before stayed in a hotel with the children (we are not daft, they usually get left with Granny and Grandpa, but they have inconveniently just moved house and are rather busy!) and that was a Travelodge…hardly the height of luxury!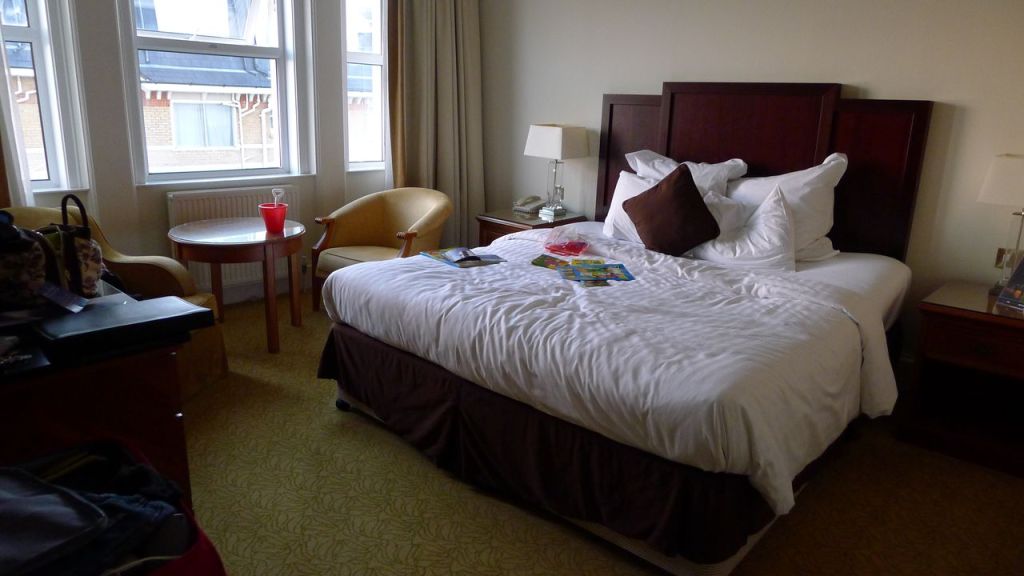 Upon opening the door we discovered a suite no less!  A room for us and a separate room for the kids to sleep in.  Excited jumping around ensued when they discovered a TV in their 'own room' along with a packet of Mrs Crimbles chocolate macaroons and four Nakd bars.  At this point, we knew that they were really going to look after us!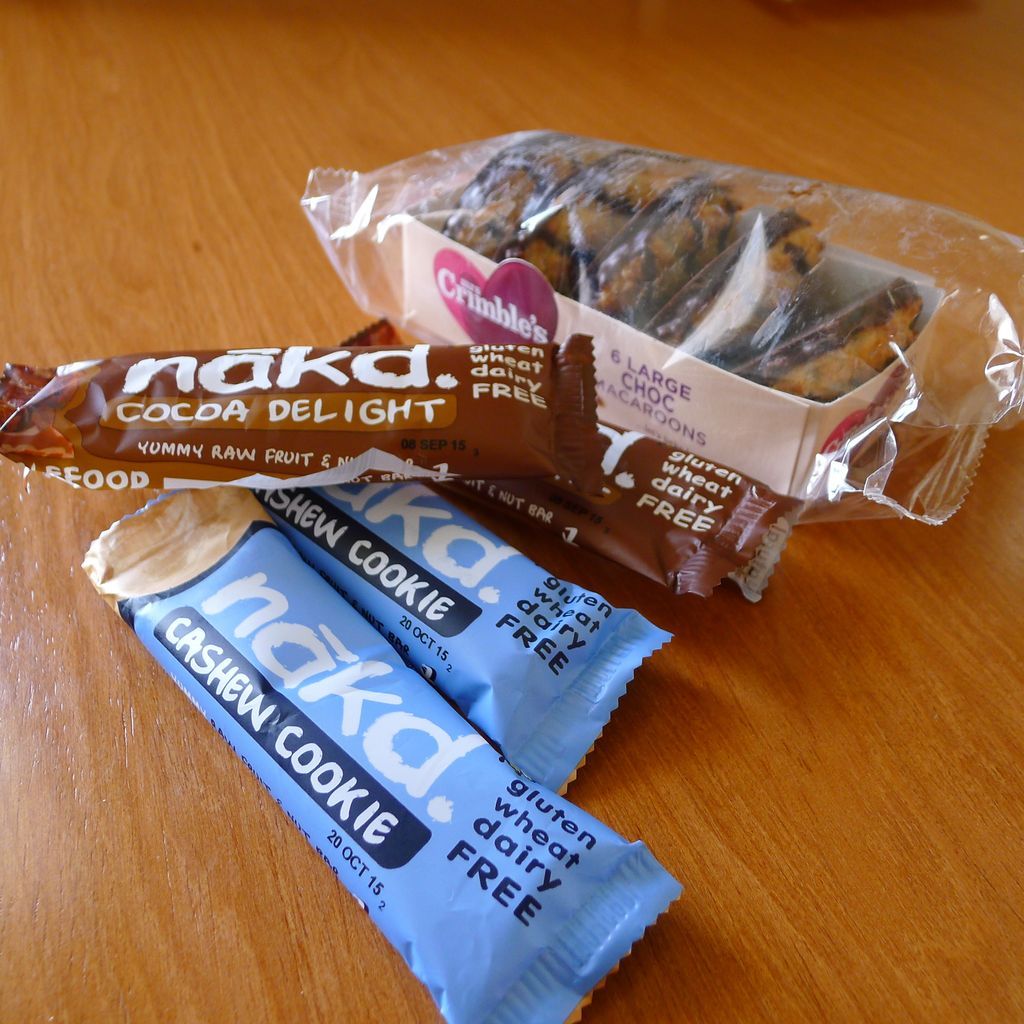 Since Roo was feeling poorly, we ambled slowly into the town centre to grab lunch at Pizza Express and then returned to the hotel so that she could have a little rest before meeting Vikki Cook of the Buttercup Bakery for afternoon tea.  Pickle was whisked off to the pool to try and rid him of his excess energy, which clearly didn't work because he returned to the room full of mischief and craziness.
At 5pm we left the room, Pickle in tears once again at being told to be on his best behaviour, and wiping tears from his cheeks, he gave a cheeky smile to Vikki and said hello in his best strange voice.
When asked if we would like to dine in a private room or in the lounge I quickly suggested the private room would be preferable knowing full well that the good behaviour, if it could be done, would not last long!
Sitting at a vast table, it felt as though we might be waiting for the Mad Hatter to appear.  Instead what appeared was the finest looking selection of gluten-free cakes and rolls I have ever set eyes upon, not to mention a glass of processo and a wonderful selection of teas to choose from.  I think our jaws must have nearly hit the table.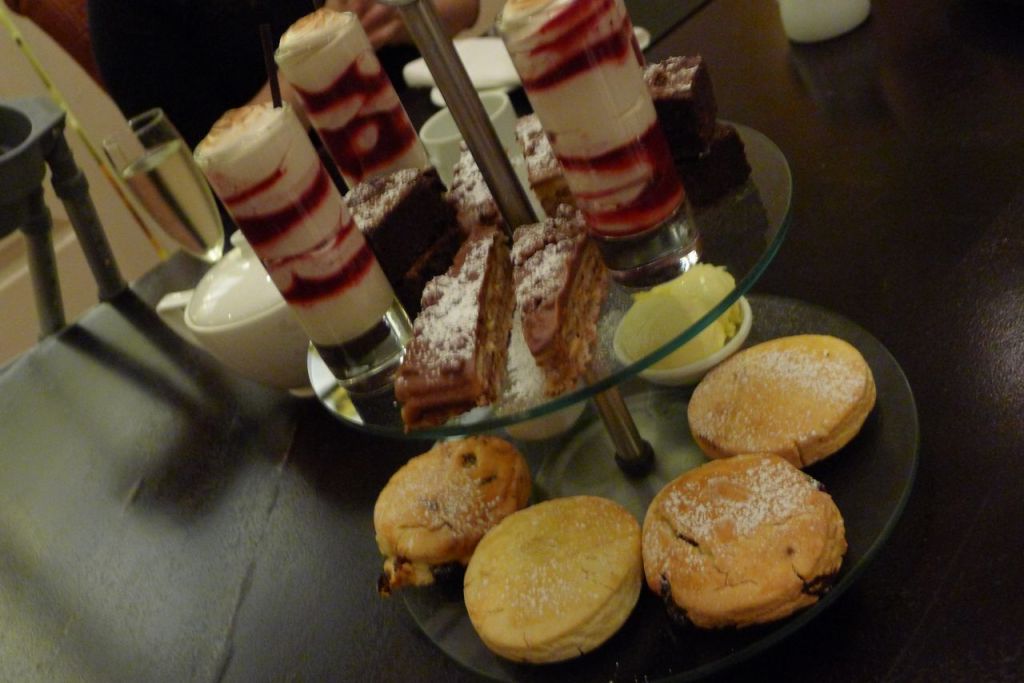 The thoughtful selection of mini gluten and dairy-free rolls were placed in front of Roo who opted for a smoked salmon one.  The rest of us chose one from the gluten-free selection that included ham, cheese, cream cheese and cucumber, tomato and egg.  I think it is fair to say that the rolls were not the greatest that we have ever tasted.  In fact, copious amounts of tea were required in order to swallow the dry bread.  However, we all agreed that in terms of care and presentation alone the chefs should be awarded 10 out of 10!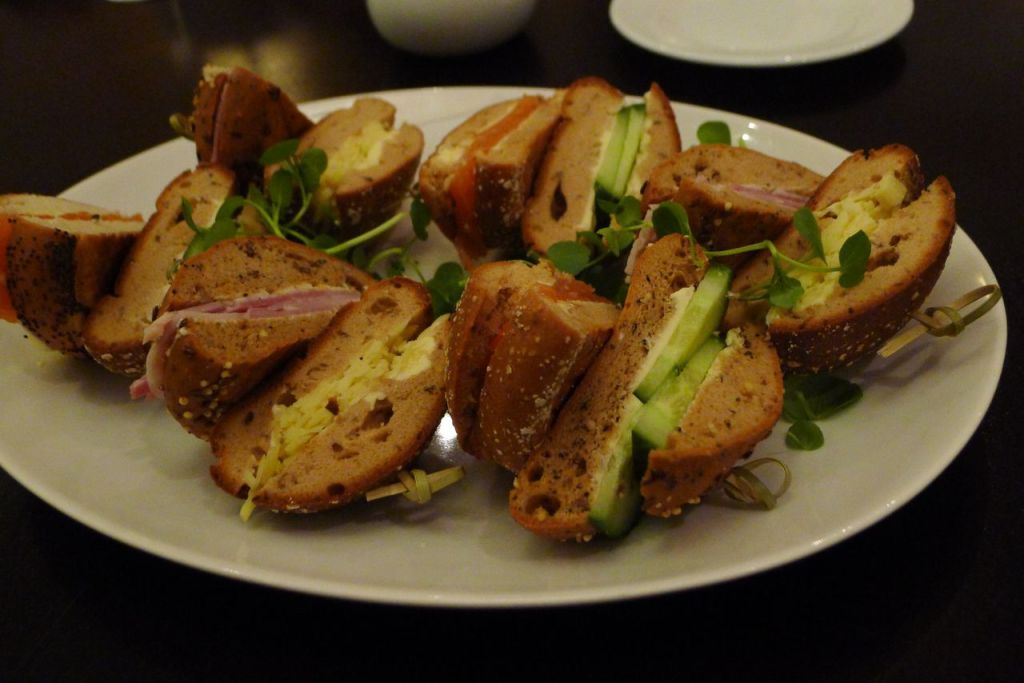 I am not sure that any of us could wait to try the incredible selection of sweet treats that lay before us.  Apart from the Almondy tart, which had clearly been bought in, they looked as though they might have been home made and were certainly layed out in a mannor that made them look incredibly special.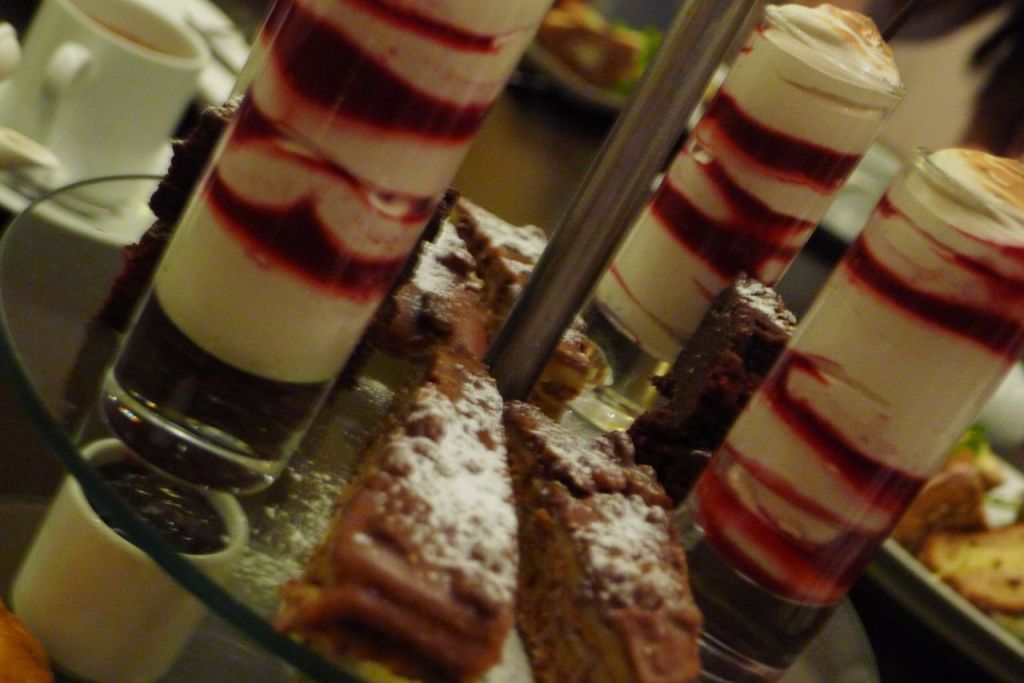 The chocolate and raspberry brownie was dense and squidgy, just as a brownie should be, although strangely not all that chocolatey!  The cranberry and orange scone tasted delicious although looked a little 'flat' and was rather on the crumbly side (the chefs need to check out my recipe!). Nothing that a huge scoop of clotted cream and Dorset strawberry jam couldn't sort out as I set about scooping up the crumbs with a rather large dollop of both!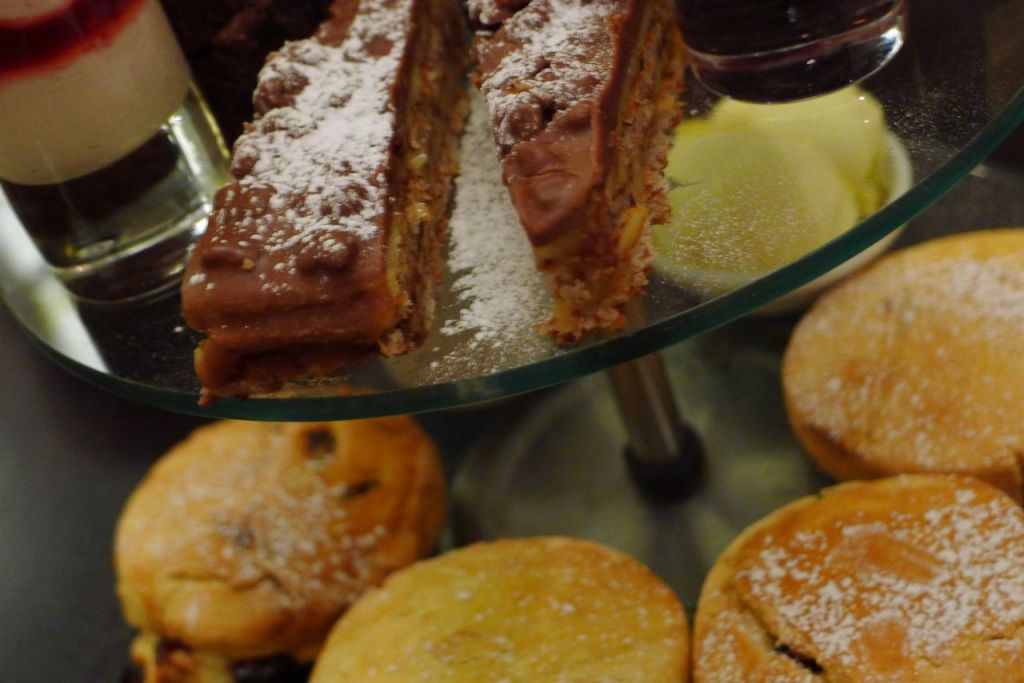 What was billed as blackberry, apple and vanilla panna cotta on the menu was in actual fact my idea of a dream pudding (which panna cotta is not!).  Italian meringue layered with raspberry coulis in tiny little glasses was to die for.  In fact at one point I wondered whether Vikki, sitting opposite me, had died and gone to heaven judging by the look on her face!  There are not the words to describe the sticky, dense, sweet yet not sickly smoothness that tantalised my taste buds.  Utterly irresistable.  In fact, so much so that I had to eat two!  And then felt sick!
The attention to detail and care that went into this afternoon tea was unbeatable.  Although clearly not all homemade, that was more than made up for by the incredible selection and beautiful presentation.  Anyway, who doesn't love Almondy?!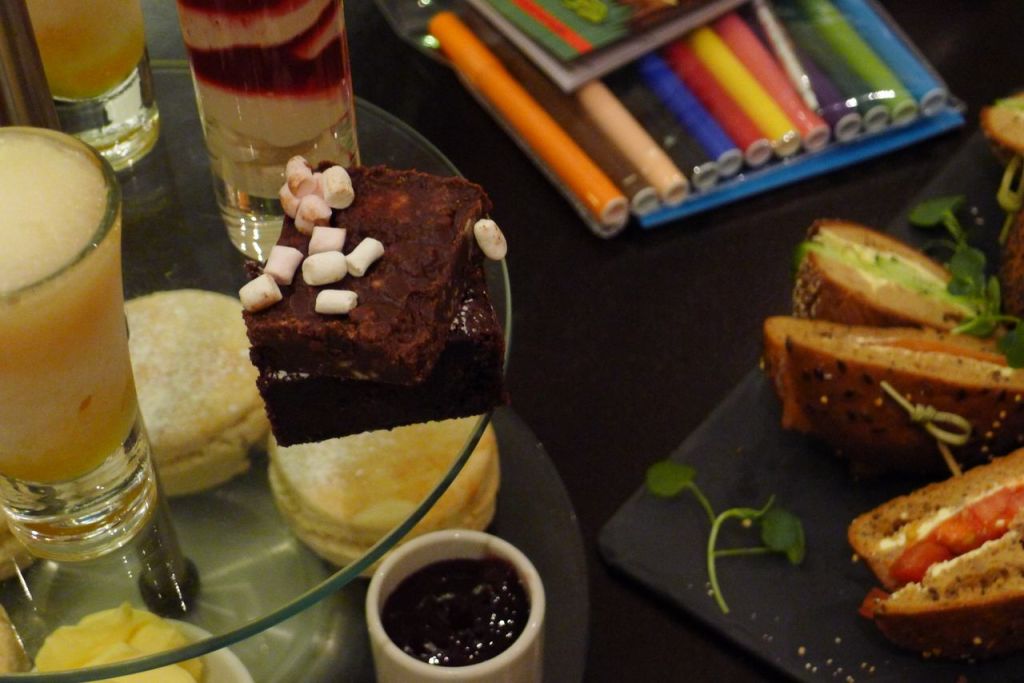 At a really reasonable £16 per head for the basic afternoon tea this is surely going to be something that people will travel for.  Now you can enjoy an afternoon tea with your friends and not feel like a second rate citizen.  I can assure you that head chef Matt Budden will look after you and make you feel like a king or queen.  And having spoken to him I am sure that he would happily try to cater for you whatever your needs, providing you give him ample warning.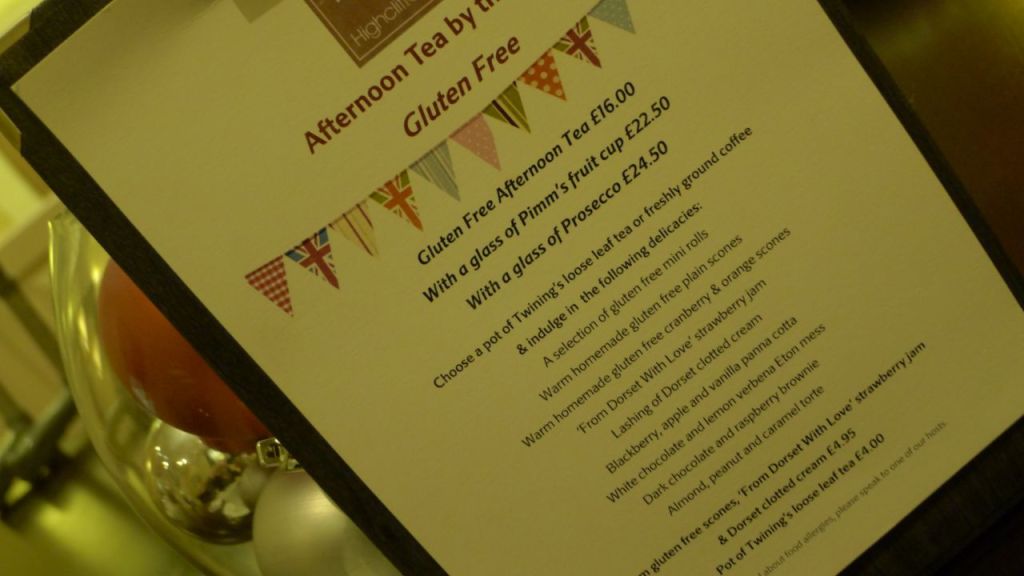 I will be dreaming about this tea for a long long time to come.
Although I might erase the bits where Pickle was whistling to get attention when other people were talking, or when he was moaning about being bored!  Roo on the other hand behaved impecibly, but that could have been due to the paracetamol!  Who knows!
All in all we were so well looked after at the Marriott, and from what Matt said, as a chain they take great pride in catering safely for those with restricted diets.
This morning when we went down for breakfast the waitress immediately said that she was aware that we were gluten-free and offered Roo some Nature's Path Chocco Munch, whose box had my name on it.  This was proof enough that they are doing something right!
Although the rest of the breakfast was a buffet, which always makes me rather nervous, they did have individually wrapped gluten-free rolls and slices of bread.  A wonderful touch even if the bread was as dry as a sponge!  Perhaps Warburtons or Genius would like to get in touch with the Marriott and strike a deal to supply individually wrapped rolls and bread?  It strikes me that there is a huge gap in the market and something that would make life easier for the catering sector, especially once the new food labelling legislation comes into force in a couple of weeks.
Anyway, we arrived home a few hours ago.  As soon as we stepped foot in the house 'babies' started to be played so perhaps Roo and Pickle did actually take something we said on board.
As I sit and write this in front of a roaring fire I can hear lots of shouting going on upstairs whilst Mr M attempts to get them washed and ready for bed.  Back to 'normality' then.  No more pretending that we are a 'normal' family!
For the purposes of carrying out this honest review we were given a nights accommodation along with breakfast and afternoon tea.