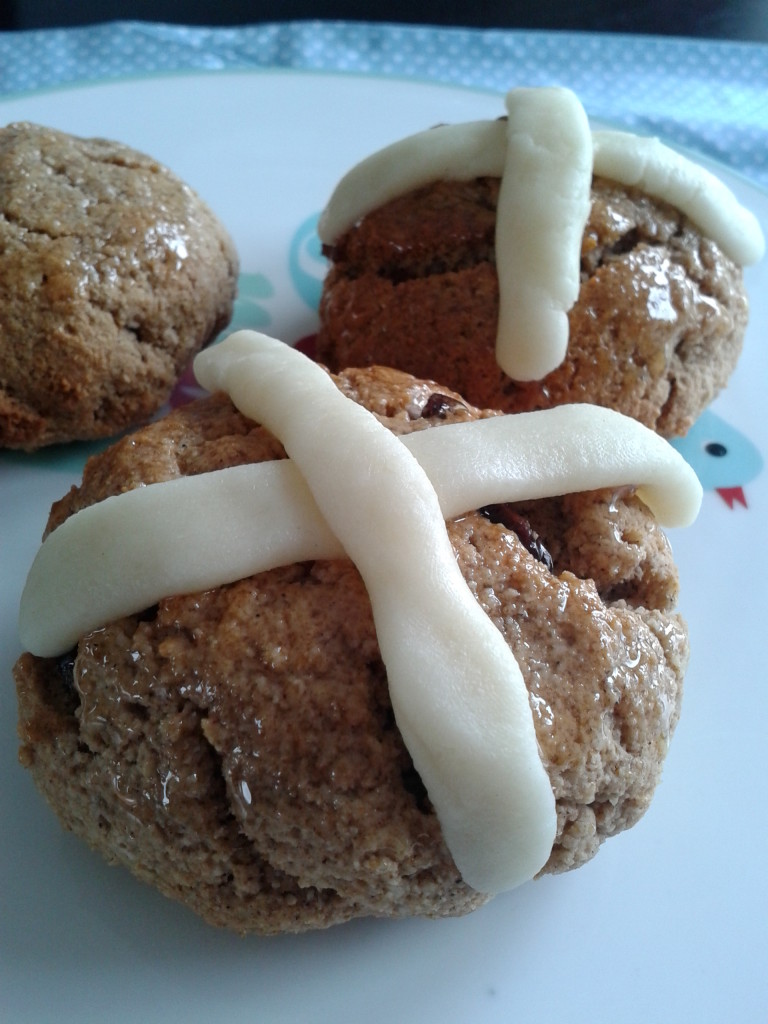 OK, so this post will have to be a quick one.  The sun is calling me loudly through the window; willing me to leave my computer and stick my head underneath it!  I am not going to argue with it…but first I have to share this recipe with you!  It is 'part 1' because I plan to do plenty of hot-cross bun experiments over the coming weeks…so keep your eyes peeled!
I cannot take credit for this one!  The credit needs to go to Vicky at Gluten Free SCD and Veggie.  She came up with a cracking little recipe for grain-free, gluten-free, dairy-free hot cross buns.  Of course, me being me, couldn't just make them!  No, I had to do a bit of fiddling…not much because her recipe is superb!  Anyway, this is what I did and I warn you now.  These will not hang around for long!  They are super addictive…but hey, they are almost healthy??!
Total cost = £4.06 or 68p per large bun (if making 6) – cost breakdown at bottom of post based on Tesco prices on 12/3/14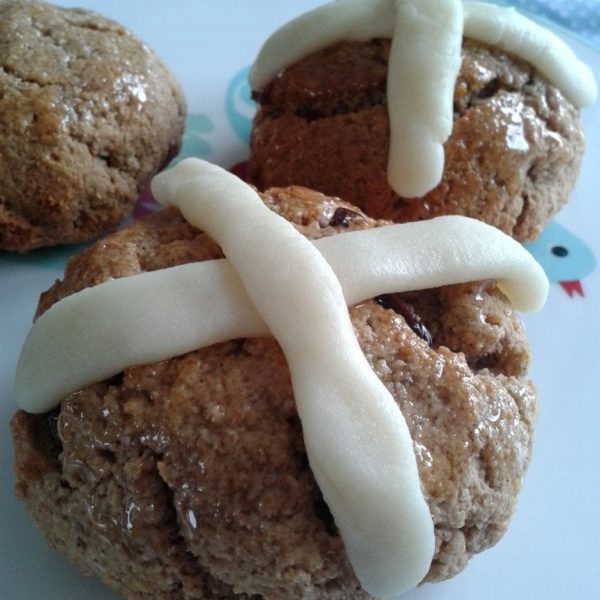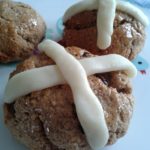 Gluten-free, Dairy-free Hot Cross Buns
Makes 6 - 12 buns Gluten-free, Dairy-free, Soya-free, Yeast-free
Ingredients
200

g

ground almonds

1

tsp

allspice

1

tsp

cinnamon

1/2

tsp

ground ginger

1/2

tsp

mixed spice

1

tsp

bicarbonate of soda

50

g

raisins

40

g

mixed peel

30

ml

manuka honey

or any honey you have, plus extra, warmed for glazing

2

medium eggs

beaten

30

g

coconut oil

melted

Approx. 100g ready-made marzipan

for the crosses
Method
Place all the dry ingredients in a bowl (including the fruit and peel) and give them a good mix.

Add the melted coconut oil, honey and beaten eggs

Give the mixture a good stir until it starts to come together, then give it a good squidge with your hands!

Divide the mixture into 6-12 balls (depending on the size you want your buns to be!) and place on lightly greased baking trays.

Place in a pre-heated oven at 180 degrees for 5 minutes, then reduce the heat to 150 degrees and bake for a further 15-25 minutes (depending on size).

While baking, make the crosses by rolling out the marzipan and cutting it into 5mm wide strips.

While still warm brush the buns with warmed honey, and add the marzipan strips to make crosses.
Cost breakdown, based on Tesco prices on 12/3/14:
Tesco ground almonds = £2.09 for 200g
Doves Farm self-raising flour = £1.70 per kg; 100g = 17p
Spices – I have allowed 30p for all of these
Tesco bicarbonate of soda = £1.08 per 200g; 5g = 3p
Tesco raisins = £2.99 per kg; 50g = 15p
Tesco mixed peel = 74p per 200g; 40g = 14p
Tesco everyday value honey = 99p per 340g; 30g = 9p
Tesco free range medium eggs = £138 for 6; 2 = 46p
Groovy Food Company coconut oil = £6 per 283ml; 30g = 64p (it is much cheaper to buy this on Amazon.  I buy this one)