Follow my blog with Bloglovin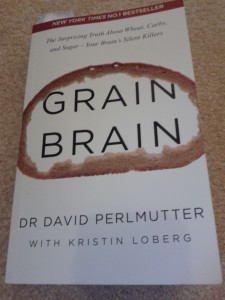 As many of you will know, I have been reading Grain Brain by Dr Perlmutter, an American neurologist who believes that gluten and carbohydrates are destroying our brains and causing many of the western world's illnesses.
He says, backed up by significant referenced studies, that our low-fat, high carbohydrate diet is what is leading the western world towards an obesity and diabetes epidemic.  He also cites numerous studies that link gluten with many illnesses ranging from Alzheimer's to ADHD to bi-polar and anxiety.
It has got me thinking a lot about the way that we see food in the western world and it seems to me that the majority of us have some kind of obsession with food; whether it be because we are on a diet to lose weight, whether we avoid certain foods because they make us ill (or we think they do) or whether we are dreaming about our next meal or 'food fix'.  One way or other, most of us spend an unhealthy amount of time thinking about food…
And this way of thinking about food is relatively new in our existence.  It is a fairly new phenomenon that food is abundant and readily available.  Food is now something that we enjoy, something that brings us together, that defines nations, but also something that can make us ill.
It is this latter point that Dr Perlmutter brings into the spotlight.  As he points out, genetically we are not very different from the hunter gathers of our past, unyet we have access to foods that are nothing like those that we ate then.  Wheat is one such example.  Through agriculture this grain has changed significantly during the last 50 years resulting in a grain that contains gluten that is less tolerable than that found in grains just a few decades ago.
It is this change to our diet, from high fat, low carbohydrate to low-fat, high carbohydrate, in a relatively short period of time, that he says is creating all kinds of problems for us…and you only have to look at the state of our health to see his point.
At times I found the book rather hard to read…both in its technicality (and given I have a degree in biochemistry and genetics it may be pretty tricky for others without a science background) and in what it was suggesting.  The section that outlines studies that link schizophrenia in an individual to the mothers sensitivity to gluten was particularly alarming given that I am sensitive to gluten.  Parts like that I will choose to forget and take with a pinch of salt!
However, although hard to read, it is certainly worth doing so.  It is hard to ignore such a huge amount of evidence about what gluten and carbs does to the body so, in the interests of science, and you, my lovely readers, I thought I would try to follow some of the guidelines that he provides regarding diet.
He suggests eating a high fat (including high cholesterol products) and thereby a high protein diet that excludes all grains (gluten or non-gluten containing), legumes, processed sugar, carbohydrates, low fat food, margarine and most vegetable oils and soya products but includes plenty of vegetables and low sugar fruit.
I rarely eat gluten, so that was a pretty easy start.  I cut down (not completely, because I couldn't get to grips with that) on carbohydrates; things like rice, pasta, gluten-free bread etc, to once a day and I upped my intake of 'good' fats, such as avocados, nuts, cheese, eggs, olive oil, coconut oil and seeds.
For the first few days I felt hungry.  I guess my body was adapting to the lack of carbohydrates.  After that I felt fine…but no different!  I guess my brain may have been thanking me but I have no obvious physical or mental ailments to improve.
What I found particularly difficult was getting to grips with what I could eat.  Breakfast is a great example.  If you cannot have cereal, muesli, porridge, toast or pancakes what can you have?  I certainly wasn't going to be following Dr Perlmutter's suggestions of scrambled eggs with stir fried vegetables or half an avocado drizzled with olive oil with 2 poached eggs topped with salsa!!!  YUCK!  Instead, I adapted my breakfast pancake recipe removing all but a couple of tablespoons of flour thereby upping the fat and protein content.  I found this worked perfectly!
So, will I stick to the guidelines?  Yes and no.  I believe in 'everything in moderation' and don't see that a diet promoting too much of one thing can possibly be good.  However, saying that, it makes sense to me that eating too much carbohydrate is a bad thing.  I know that I crave sugar and since cutting down on carbohydrates (and sugar) I have not craved it quite so much.
Equally, I see first hand the effects of gluten on my daughter if she is accidentally glutened, and I feel the effects on myself, in the gut, skin and brain (I get very tired)…so I have no problem in not eating that!  I also hate using margarine or anything that has been 'manufactured' so would happily eat more natural products like butter.  But if I fancy a cake or a huge bar of milk chocolate I won't be depriving myself of them!  I will just be trying not to have them every day like I used to!
Overall, I found the book enlightening and I would recommend it to anyone who had physical or mental health problems that they had never got to the bottom of.  Having said that, many of you lovely readers have multiple allergies and intolerances and for you this diet would be impossible.  Equally, if you are vegetarian or vegan, don't even bother to pick the book up because you would barely be able to eat anything!  Read a book that extols the virtues of living a vegetable-filled life instead…there are plenty of those!
So, it is like everything in life.  Assimilate information and use it how you feel is best for you and your family.  We are eating a bit less carbohydrate and no gluten so with any luck we might just avoid any huge mental or physical illnesses in the future!  Having said that, next year there will be a book out that suggests a diet with no gluten and carbohydrate will cause you to drop dead tomorrow!  It is best not to take anything too seriously…
If you would like to buy a copy of the book, it is priced at £9.65 and if you buy it from Amazon by clicking this link I will get a few pennies for referring you (which will enable me to continue with this site).
Although I received this book free from the publisher please be assured that this did not affect my review in any way.