I am truly delighted to be able to publish this interview!
Rachel Berliner is one of my heroines. Someone I really admire. Not only did she start a company with a new-born baby, but she and her husband turned it into the incredibly successful international business that it now is.
With more and more gluten-free lines being added all the time, they are passionate about helping out their 'allergy customers' as you will see from the interview.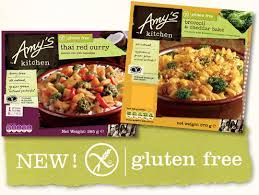 If you haven't yet tried any of their products or a skeptical about them then I urge you to give them a go.
As you will know by now, I am not a fan of ready meals preferring to make things from scratch.
However, these really are fantastic for those nights you want to have off, or holidays you have planned…or even just because you fancy something different!
I hope you enjoy the interview.
I would love to know what your views are on Amy's Kitchen products.
Let me know in the comments section below.
You started the company with a strong organic, natural ethos in 1987 when Amy was born. How did you manage to start a company whilst looking after a new baby? I am in awe!
We were so small in the beginning that we worked from home – our office was in our barn so I could be a stay–at–home mom, able to nurse Amy and work.
My mother was also very involved with the company and helped out with Amy.
When Amy started school, the business was growing and I was able to give it more time.
Amy's Kitchen has always been a labour of love.
Our passion for what we're doing sustains us through the challenges, including raising a child while growing a business.
And this has always been a family business.
Our family and friends have been really important from the very beginning – they've helped with everything from sourcing, recipe development, sales, and consumer relations.
When did you introduce your gluten-free range and why? Why is producing food for those with special dietary requirements important to you?
One thing that's always been important to me is reading letters from our fans.
Early on, I began hearing from hundreds of coeliac adults and parents of coeliac children who missed their mac and cheese.
I especially felt for these children and their parents.
We took our recipe for mac and cheese and replaced the pasta with a good rice pasta noodle.
We didn't expect our Rice Mac & Cheese to be so popular, but it is.
And it was just the beginning.
That was back in 2001.
Next, many letters came in requesting more gluten-free versions of our most popular foods – pizzas, lasagnas, and burritos.
I know these are the comfort foods we all love, so we made gluten-free versions of them.
We launched our first gluten-free rice crust pizza in 2003.
It's a very special crust that our chefs have perfected.
We start from scratch, and it takes three days to make a batch.
Little did we know this would impact us so personally.
When Amy was 18 she had a reaction to an antibiotic and couldn't eat gluten, and then I tested gluten intolerant.
But because we had made these gluten-free dishes, she and I could have all the foods we were used to!
And now I hear from our customers: "Thank you – I thought my life was over" and "I'd thought I'd never eat my favorite foods again."
Often they say they were depressed and "you've saved my life!"
This is what keeps me going.
I read the letters and then I start to cry!
I recently tried one of your products for the first time and was surprised at how delicious it was (I am not a fan of ready meals!). I noticed on the packaging that you have the crossed grain symbol but also have a warning that the products are manufactured where there is wheat. Could you explain to my readers what this labelling actually means? Is it safe for coeliac or not?
This is something we're very serious about, so we take a lot of care when we're handling allergens, including gluten.
In our kitchens, we have many checks and systems to prevent cross-contact. (If someone is interested in seeing those, they can email us at [email protected] for the full list.)
We do analysis for gluten in our in-house allergen lab with the best available technology.
Each batch of a gluten-free product is tested to ensure it complies with the Food Allergen Labeling Consumer Protection Act (FALCPA) and Codex Alimentarius definitions of Gluten Free.
So, even though we do, at times, use gluten in the kitchens, we're confident that our gluten-free food is appropriate for people on a gluten-free diet.
I notice that your packaging does not always look the same, for example your two gluten-free burritos look very different. Is there some reason for this?
When we first came onto shelves in the UK we did not have the UK packaging ready for everything, but we've been transitioning them.
All of our packaging has the same look now, and you should start seeing that in the stores soon.
What are your future plans for Amy's Kitchen?
There are always new foods being created in our kitchens.
We have two really exciting new dishes coming up.
Our Chinese Noodles & Veggies is a delicious pasta dish with a creamy cashew sauce.
We also have a Breakfast Sandwich with Veggie Sausage.
I'm very excited about that one.
It has a tender gluten-free bun, scrambled tofu patty, veggie sausage patty, and a special sauce.
Everything in it is made from scratch – we even make our own tofu for the tofu patty.
Both of these new items are vegan and gluten-free, and they're really nice new options for free from diets.
As people taste them, we're also finding that, regardless of their diets, people just love these.
Which of your meals is your favourite?
It's hard to have one favourite – I've been so involved in creating them all, so each one is special to me.
If I had to pick, I'd say my top three are the Manhattan Veggie Burger, Broccoli & Cheddar Bake, and Cream of Mushroom Soup.
It does make me happy to have the Lentil Soup available.
This is the recipe I used to make for Amy when she was little.
She was a bit of a picky eater, but this is one thing that she loved.
She's grown up now and has her own home, but wherever she is, I know she can enjoy her favourite Lentil Soup.
And I hope it's comforting and nourishing for many other people, too!
How do you come up with and test your recipes? As I always say in my interviews, if you ever need a recipe developer or taste tester then The Free From Fairy and her little helpers would be more than willing to work with you!
Some of our meals are based on old family recipes.
Our very special enchilada sauce is a recipe that goes back many generations in our chef's family.
The Lentil Soup is the same recipe I used to make for Amy when she was a little girl.
Other recipes were developed by our Amy's Kitchen chefs, inspired by suggestions from our fans.
With any new recipe, we have many rounds of taste-testing with myself and Andy and many people on our team.
There are many versions of a recipe before we get it just right.
We taste a lot of samples!
I have shared this with: