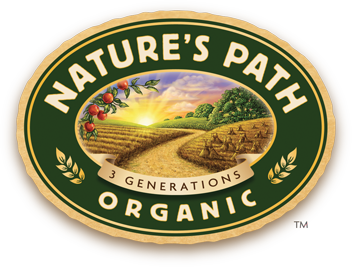 A few weeks ago I had one of my usual sleepless nights. In the middle of the night I had a fabulous idea…why not interview some of the people and brands that I feel are leading the way in the world of freefrom food?
I woke up filled with enthusiasm and started writing down the list of people I wanted to contact…
…then I saw gluten free b's interview with Nature's Path.
Another piece of paper was recklessly scrunched up and tossed in the bin, to join the million other 'fabulous ideas' I've had! (I'm certainly not short of ideas…just the conviction behind them)!
So with the list torn up, the idea dismissed, I was surprised to be approached by Nature's Path UK asking if I would like to do an interview!
In our house we are big fans of Natures Path gluten-free O's (called 'little O's' by our kids). They are a 'special' cereal that allows our daughter to feel that she too can have something special for breakfast, rather than just corn flakes and rice crispies. Since finding them, we have also discovered how amazing the maple sunrise is, and this gets reserved for holidays and Saturday morning treats!
When I was approached about interviewing the brand I was very excited. They had been on my list of interviewees as the only brand that truly caters for children's freefrom breakfasts.
Because of this I thought it would be a great opportunity to ask some questions compiled by my daughter, with some help from me…
The questions were put to Ian Hills, Head of UK Marketing for Nature's Path:
What prompted the start of the company all those years ago?
Arran Stephen's determination to take his father's organic only philosophy to a wider, mainstream audience – inspired by the quote ' Always leave the soil better than you found it.'
Does the path in your logo really exist, and if so where is it?
Tad metaphorical in truth underpinning our 'at one with nature' philosophy.
What was the inspiration behind the animals on some of your products and do they have names?
Harvey the hedgehog is our brand custodian for kids cereals (we wanted a popular Brit inhabitant) – his pals remain unnamed (for now!). Interestingly we are toying with the thought of updating our kids packaging at some point in the future (one of many ideas!!) and one notion is to get young consumers to help draw Harvey's next generation of woodland companions.
Your product range seems to have expanded recently, what plans, if any, do you have for more child-friendly breakfast cereals?
Kids offerings is very important indeed as we know from our research how many coeliac kids historically felt like second-class citizens at the breakfast table. Our vision was always to create gluten-free goodies with mainstream appeal as younger children often prefer to fit in rather than stand out!
Is there any way you can make your gluten-free O's with the ancient grains? That would make us super happy as we try not to consume too much rice…
Not at the mo – O's is our fastest growing kids line which would suggest it works in its current format.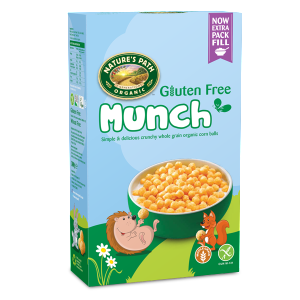 Why did you change the name of 'Gorilla Munch' to 'Gluten-Free Munch'? We liked the gorilla's!
We actually changed the name just to Munch. The gorilla packaging is a very interesting case study – the old packaging was loved and loathed in equal measure (a tad Marmite!). We wanted simplicity of message (Os, Munch…. you get the jist) although I'd stress that to this day all our kids lines continue to donate 1% of sales to the Dian Fossey (Gorillas in the Mist fame) Gorilla Fund, and her mission to save this most endangered of primates.
Why do you use barley malt extract in your millet rice? As a mother of a child with coeliac disease this makes me a little uneasy. Lots of coeliacs report having problems with barley malt extract even in very small quantities. Is there some other flavouring you could use?
Millet Rice isn't actually gluten-free (its wheat free) so isn't appropriate for coeliacs – hence no Coeliac UK logo sitting proudly on the pack (It's our one non-gluten-free offering that just happens to have a cult following throughout the independent health food sector).
The only issue we have with your products is their carbon footprint, being made in the USA. Do you have any plans to move production to the UK to cover the UK market?
That's indeed a quandary on the surface (although we sea freight wherever possible). Yes our long-term dream ( still a little way off) would be some local production. What we would point out is that any company committed to using the best available ingredients has to harvest around the world anyway and although our carbon footprint is very important to us, (reduction of packing, eco-friendly inks etc) unrivalled product quality is our top priority.
Do you need help developing great recipes using your products? If you do the Free From Fairy and her helpers would be delighted to be engaged!
Trialists are always employed pre-launch (so we have your details now!)
So there you have it…you never know the Free From Fairy might one day help Nature's Path develop recipes with their products. A dream job!!!