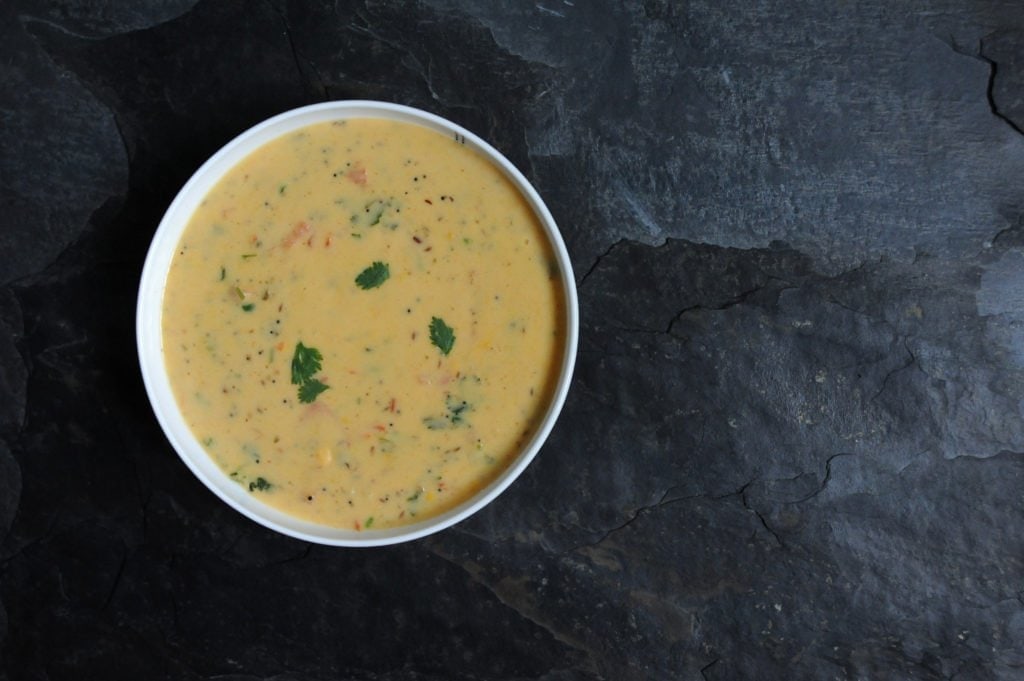 I met Anita at Food Matters Live, a conference and exhibition for those interested in the future of food.
We instantly hit it off, sharing a drink whilst talking about the things that we are passionate about; teaching people how to cook real food.
Anita specialises in creating vegan and vegetarian food that is influenced by her upbringing in Kenya and Gujarat. She loves teaching people how to cut down on waste and to cook inexpensive meals.
I'll hand over to her to explain what she does and at the end of the blog you'll find a discount code for one of her classes.
What prompted you to get into food and start your own business?
So where do I begin….
By profession, I am a qualified accountant with over 15 years in media, but the thought of turning my hobby and passion into a business has been with me since my daughter was born 9 years ago.
At the beginning of 2017, I decided to take the plunge to make my dream into a reality. I enrolled myself into Leiths School of Food and Wine on their 'How to be a Food Presenter' course.
Having worked in entertainment, I wanted to incorporate the buzz and thrill of entertainment with food, cooking and most importantly promoting healthy eating.
My passion for food, cooking and eating has been with me since I was a little nipper in Kenya. Both my parents are amazing cooks and being the eldest of four meant that I had the responsibility of helping my mum with the cooking.
I find cooking therapeutic and love the drama that comes with it, going to local markets, the feeling that you get when touching the veg, fruits, playing with spices, chopping, peeling, tasting…
Playing in the fields surrounded by trees and wildlife, plus seeing poverty around me, has made me very environmentally friendly.
I am a very strong believer in keeping our planet green, recycling and reusing where possible as I believe we have a moral and ethical responsibility to future generations.
I am also volunteer as a Food Revolution (FR) Ambassador as I want to promote healthy eating amongst kids to tackle child obesity.
I was lucky enough to host my first event as a FR Ambassador at Priestmead Primary School in Harrow. The two weeks that I held my workshop making breakfast wraps with kids from year 1 to year 5 were the most amazing fun-filled but yet insightful.
It made me realize how much sugar these kids have in their diet , also why providing free school meals is so important as so many of them don't even have breakfast.
My target for the coming years is work with other schools and to be one of the Super Ambassadors.
Promoting healthy eating amongst children is one of the causes close to my heart as I believe that by investing in a child you are investing in the future of the economy.
Hence, I set up my cookery school Anita's Kitchen to teach how to cook delicious, healthy food using wonky veg, and also to show how to reduce food waste by using whatever you have in your fridge or pantry.
All the recipes are focused on teaching simple, healthy balanced meals to suit a busy lifestyle.
What is your company's unique selling point? Why should my readers be interested in you?
Born in a vegetarian family like most Kutchi Gujarati's, our diet is mainly plant based, full of grains, lentils and dairy.
I teach very authentic Kutchi Gujarati Indian cooking heavily influenced by my Kenyan upbringing.
Also I want to challenge the misconception that being a vegan or vegetarian does not provide a balanced nutritious diet.
A lot of traditional recipes that I have grown up with combine the right balance of spices, proteins, vitamins, and minerals to ensure great health.
Most of my dishes tends to be a fusion of my favourite cuisines, African, Gujarati, Middle Eastern and Italian.
Living Green is second nature to me, but I know being a new vegan or vegetarian can be daunting. I want to pass down the traditional recipes I have grown up with and add a bit of my style and my own creations to all those who want to move towards a plant based diet, go meat free, reduce food waste or simply want to explore new flavours using spices.
What is your favourite food and why?
Tricky question for a Foodie. I love to try different cuisines, as I believe that food brings different cultures together.
My favourite cuisines are African Kenyan, Gujarati, Middle Eastern and Italian.
Now the why is a bit difficult?
I have been brought up eating Kenyan, Gujarati Indian dishes so it's in my food DNA.
I love Middle Eastern food for its simplicity and different spices that are used to create amazing dishes, and it's one of the most vegetarian friendly cuisines.
Finally, there's nothing more comforting than eating a pasta and pizza on a lazy day watching cricket.
Would you share your favourite recipe with us?
My winter warming comfort food.
Gujarati Kadhi (Yoghurt Curry)
 Ingredients
1 cup Greek yoghurt or natural yoghurt.
1 tablespoon besan – gram( chick pea) flour
Salt to taste
1/4 teaspoon turmeric powder
1 green chili
1 tomato diced
1/2 cm long ginger peeled and chopped
2 garlic cloves peeled and chopped
½ tsp sunflower oil
½ tsp mustard seeds
½ tsp cumin seeds
Couple of cloves
Small cinnamon stick
A pinch of hing (Asafoetida)
½ a lemon
Few curry leaves
 Method
In a pan take yoghurt and add the chickpea flour (besan) beat it.
Add water to adjust it to a little thicker batter consistency.
Now for tempering. Heat the oil up on low heat.
Add mustard seeds to it, once they crackle add cumin seed then hing, cloves, cinnamon stick and in the end curry leave.
Add salt, turmeric, green chili, ginger, garlic and tomato and squeeze the half a lemon. Mix well and add chickpea yoghurt mixture. Cook it on medium flame till the kadhi boils. Takes around 7-10 minutes. Keep stirring continuously. If you stop stirring then the solid and liquid separates. Boil for further 5 minutes.
 All you need is to tuck in with Rotlo or Moong Daal Khichri.
How can people book classes?
Group and Private Sessions
They are held in the serenity and comfort of my home kitchen in Harrow with a maximum group of 4.
Very hands-on, interactive, fun and relaxed cooking.  Our Groups sessions are very popular for birthdays, private cooking experience with group of friends, family's day out, new vegans or vegetarians or with someone who is just exploring having a meat free day.
1-1 sessions are tailored to suit your lifestyle and your love and hate of food. They are held in the comfort of your own home. All my classes are listed on my website.
School workshops
These are done as part of the school activity week and follow the national curriculum. Kids learn about healthy eating in a very interactive and fun way. We make simple recipes, include a lot of vegetables and fruits and learn about why it's important to have healthy diet.
Team building events
These are done at a venue. A competitive, fun, ready steady style cooking.
For school workshops and team building please contact me on [email protected]
A discount for readers
15% discount if you book a class for two or more people. Just email Anita at [email protected] with your class preference and she will send you a discount code to book online with.