I'm absolutely delighted to be resurrecting my 'Introducing…' blog series.
In the series my aim is to introduce you to small little UK companies that I love, whilst at the same time giving some hard-earned exposure to them.
I know only too well how difficult it is to be found when you're a small business, so it's my little way of helping out.
As Christmas is on its way it seemed appropriate to introduce you to a few little businesses that might just help with your Christmas shopping.
The first, is Belinda Clark Confectionary.
Belinda produces the most incredible, fluffy, handmade marshmallows.
OK, they are not exactly wholesome, but as a treat they are utterly delicious and far more wholesome than the vile packet varieties!
One lucky reader will get the chance to try them out for themselves. Belinda is kindly giving away a gift box containing two packets of each of her flavours.
But before we get to the giveaway, I'll hand you over to Belinda to tell you about her business and to share her favourite recipe with you…

What prompted you to get into food and start your own business?
 I have always been a keen cook, and I have a stack of cook books taller than me!
The business actually began when I tried a recipe for raspberry marshmallows that I saw in one of my old books. I thought they were amazing, and totally unlike anything I had tried before.
I took some in to work, and began to get requests, then did a little research and found out they were a real trend. Then began the marshmallow obsession. I discovered that you could flavour them with alcohol, dip them in chocolate, use spices, fruit powders….
I decided to go on a one day business course to see if I could turn my obsession in to a proper business. The advice basically boiled down to this – go and see if anyone wants to buy it! So I began making calls in my lunch hour and selling to shops.
By August 2014 I was too busy to do both my day job and run the business so I decided to take the plunge and become self-employed.
I have never done anything as exciting or scary in my life, and people still look at me a bit askance when they ask what I do and I say I make marshmallows.
 What is your company's unique selling point? Why should my readers be interested in you?
Most people have only ever tried the traditional pink and white marshmallows, which I still enjoy but they can be a little rubbery and sickly, and they are made mechanically using an 'extruder'.
Our marshmallows are completely different in terms of both taste and texture as they are full of flavour and much softer than the traditional fare. They are all hand-made using completely natural (and naturally gluten-free) ingredients.
We use freeze-dried fruit powders to flavour our Raspberry and Passion Fruit Marshmallows because it really packs a punch of flavour. Our Vanilla Marshmallows are made using only top-quality vanilla extract, and our Salted Caramel Marshmallows are made using French sea salt, butter and cream.  For our chocolate enrobed marshmallows we only use the finest Belgian chocolate.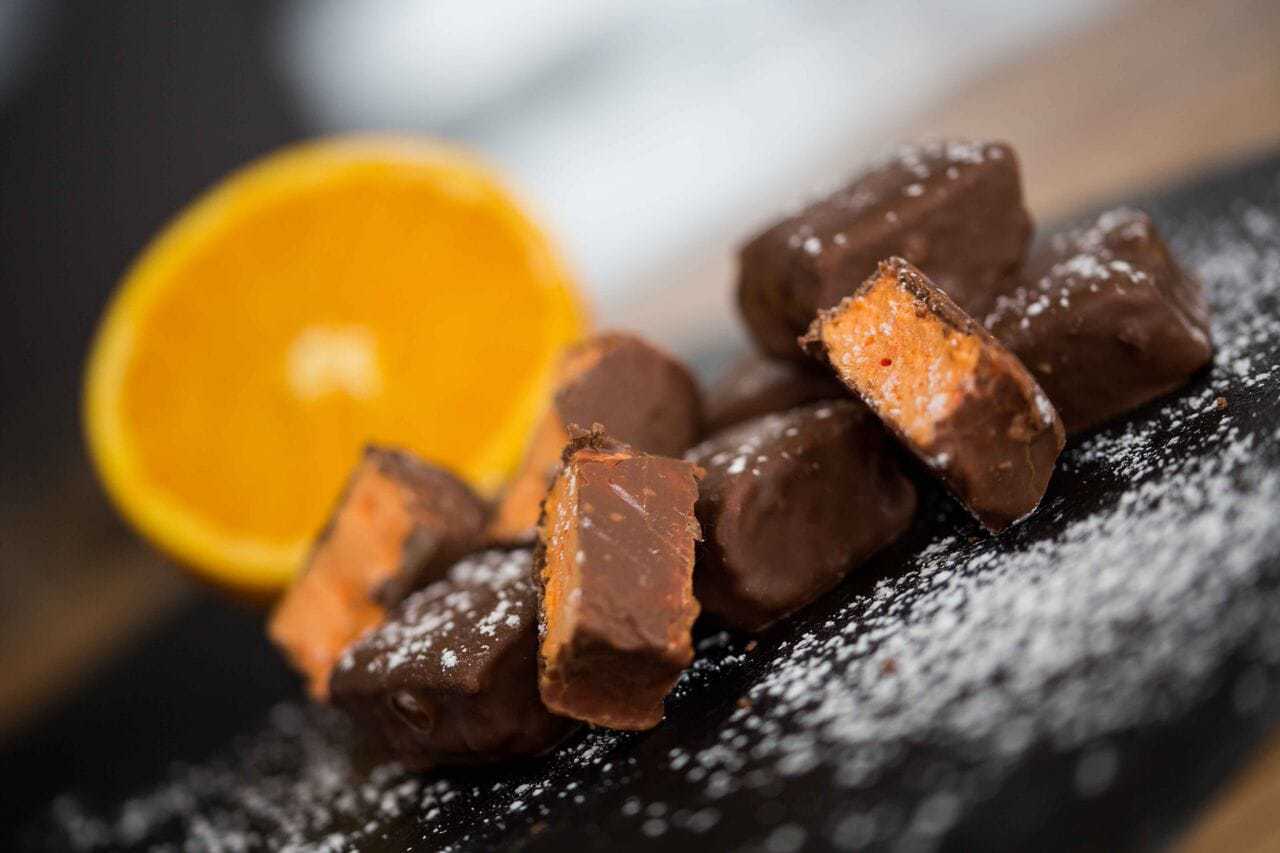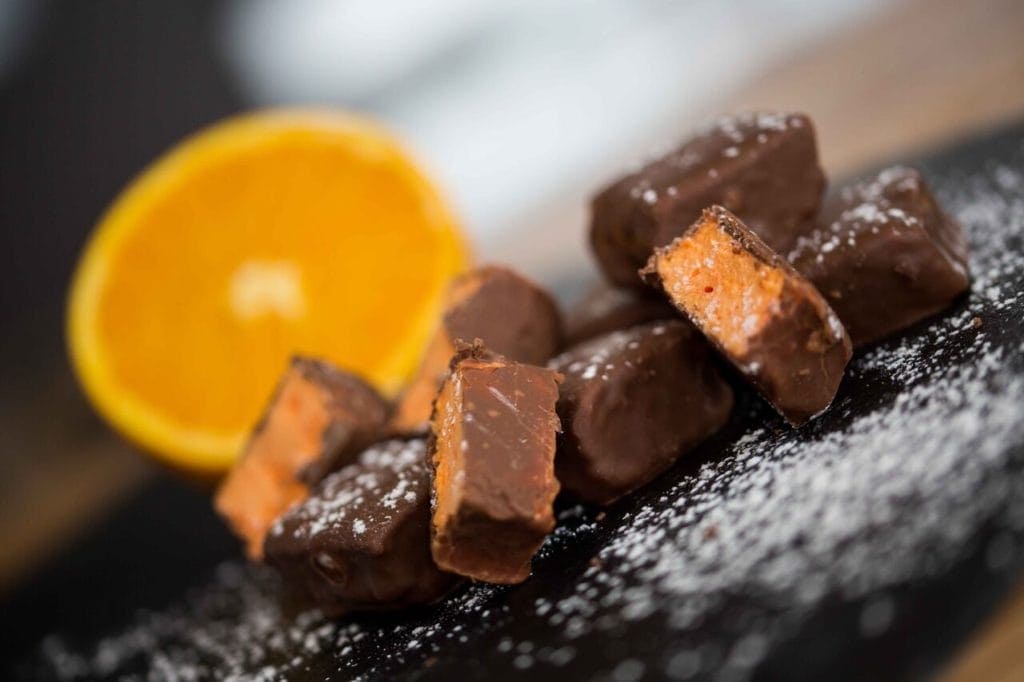 What is your favourite food and why?
A difficult question for me  as I love food and cooking!  If I had to live off one cuisine I think it would be Thai as I just love the combination of hot, sweet, salty and sour. If I had to choose an individual food it would have to be something sweet though – a really good crème brulee springs to mind….
Would you share your favourite recipe with us?
Happy to…
Passion Fruit Pavlova
Ingredients:
8 egg whites
450g of caster sugar
1 teaspoon cornflour
1 teaspoon of white wine vinegar
1 teaspoon of vanilla extract
600ml of double cream
Seeds and flesh of two passion fruits
2 bags of Passion Fruit Marshmallows (85gx2 – optional)
A pavlova is very simple, all you have to do is follow some basic golden rules and you'll be well on your way to delicious gooey meringue heaven.
Step 1 –  Make sure your bowl is super clean because any trace of fat in the bowl will stop your egg whites whisking up properly. One way to makes sure is to give it a wipe around on the inside with half a lemon.
Step 2 – Separate the eggs and put all the whites into your mixing bowl.
Step 3 – Weigh out your sugar (16oz / 450g)
Step 4 – Whisk egg whites on high, until stiff foamy peaks form.
Step 5 – Now, its time to preheat your oven to 180 degrees Celsius (gas mark 4)
Another thing that you can do upfront is prepare a large baking tray. by lining with a sheet of grease proof paper.
Step 6 – Add the sugar to the whisked egg whites two tablespoons at a time, whisking well between each addition, until the sugar is completely incorporated and you have a smooth, stiff, shiny mixture.
Step 7 – Add a level teaspoon of cornflour, a level tea spoon of vinegar and a level teaspoon of vanilla extract and whisk until it's completely incorporated.
Step 8 – Dollop your mixture onto your lined tray. You can do it in any shape that you like (I prefer a circle).
Step 9 – Put it in the oven and immediately reduce the temperature to 150 degrees celcius, gas mark 2 and bake for 1h 15m – 1h 30m. Until well risen, golden and cracked on the top.
Step 10 –  Turn the oven off, open the door and leave the door ajar while the Pavlova cools down.
Step 11: Whip the double cream into soft peaks, spread lasciviously all over your meringue base (pretend you're nigella Lawson)
Step 12: Drizzle your passion fruit pulp and seeds all over and if using add your Passion Fruit Marshmallowsw.
After thoughts:
I have made it with granulated sugar, but it's slightly grainy and doesn't fluff up as much! Obviously you can change the flavours – add some jam, fresh fruit or top it with ice cream!
Where can people buy your products?
We are sole supplier of marshmallows to Fortnum & Mason. You can also find us on Ocado, as well as a wide range of independent shops and cafes across the country. From time to time I appear on QVC (often with an exclusive flavour) and you can also buy via our website at www.belindaclark.co.uk.
I now work with a partner to produce the bulk of the marshmallows as I can't keep up but I still make for Fortnum & Mason every week. Marshmallows are the first of what I hope will be a truly exceptional range of confectionery.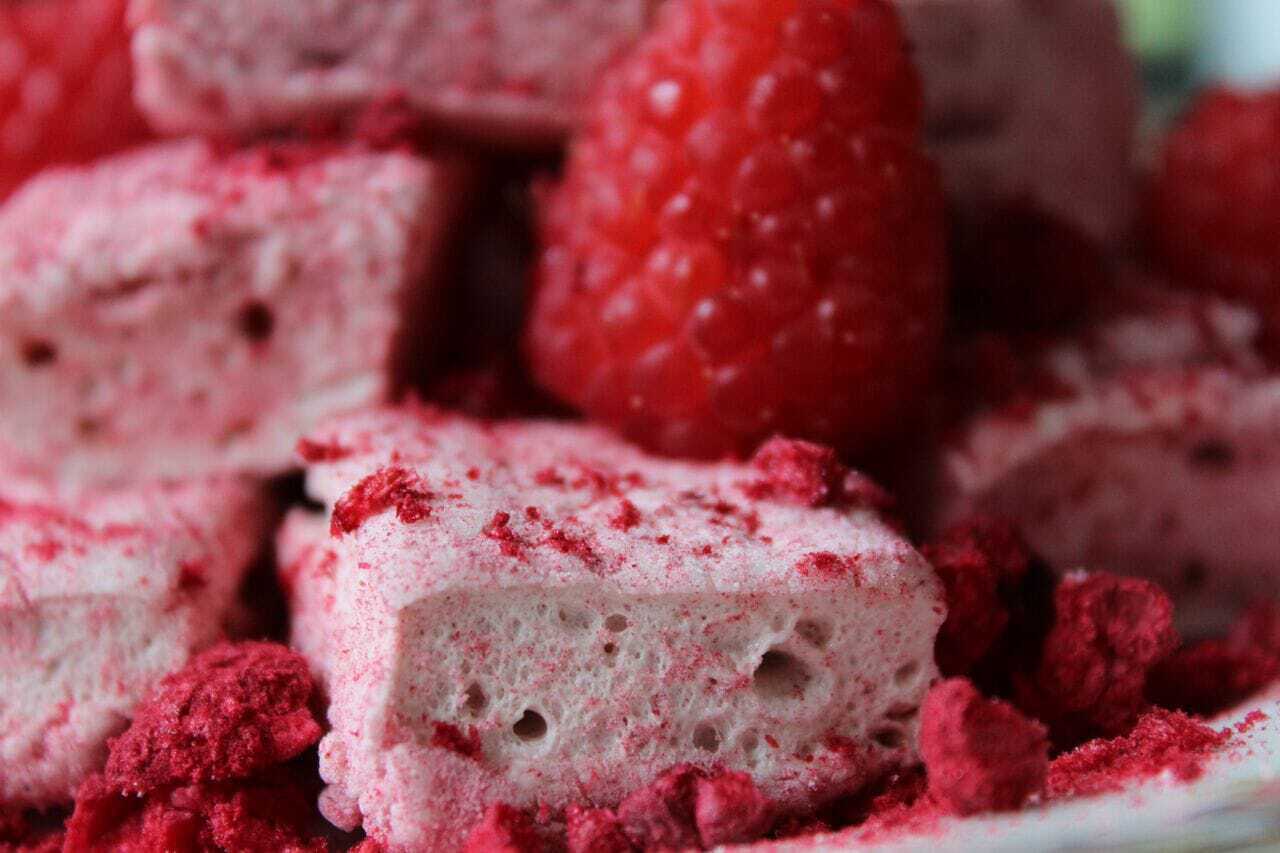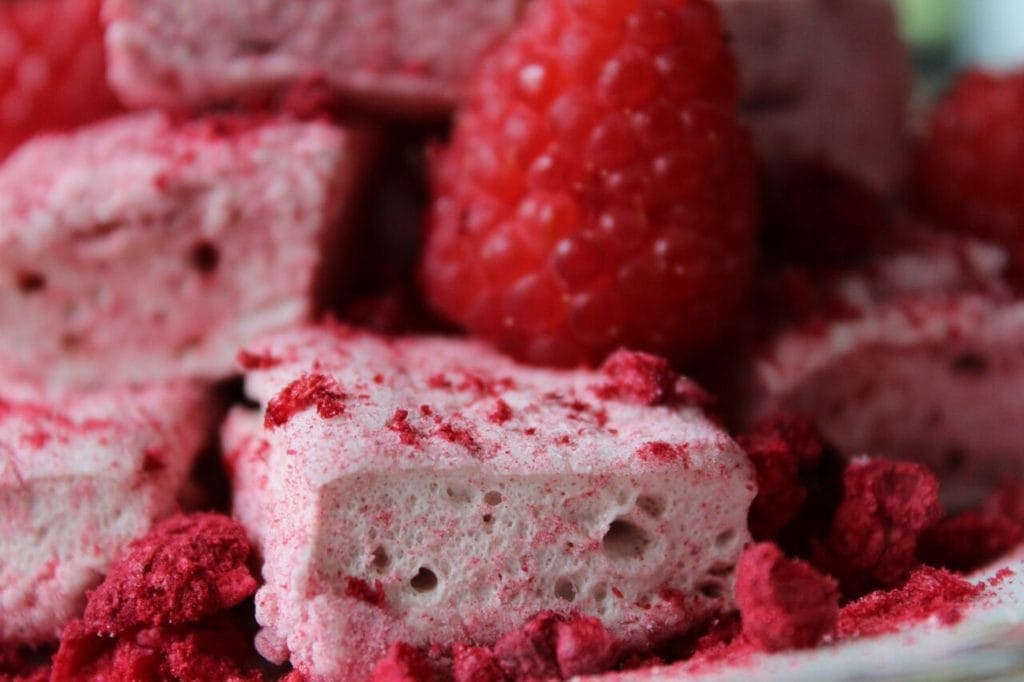 Enter the giveaway
In order to be in for a chance of winning this fabulous prize all you need to do is log in using your Facebook account or email address in the box below and follow the instructions. You have until midnight on Tuesday 2 January to enter. The more ways you enter the more chances you have of winning.
If you're new to entering competitions using Rafflecopter then you might find this guide helpful.
The giveaway is only open to UK mainland residents over the age of 18. No cash alternatives will be given. The winner will be picked at random and emailed to request a postal address. You will have one week to supply an address before another winner is picked. The prize will be fulfilled by Belinda Clark directly. 
All entries will be added to the Belinda Clark and Free From Fairy mailing list which you can unsubscribe to at any time.
I was sent some of Belinda's products for the purposes of carrying out this post.