As part of my summer series introducing wonderful free-from bloggers and brands to you, today I would like to introduce Galia from Choc Chick.
In addition to telling us all about her wonderful company, she has agreed to give two of my readers the chance to win a Choc Chicos chocolate set and a Choc Chick Starter Kit.
I cannot tell you how delicious homemade chocolates are made using her products so don't miss out on the chance of winning one of these fab kits!
And what a perfect way to entertain the kids too…Roo and Pickle loved making their kit as you can see…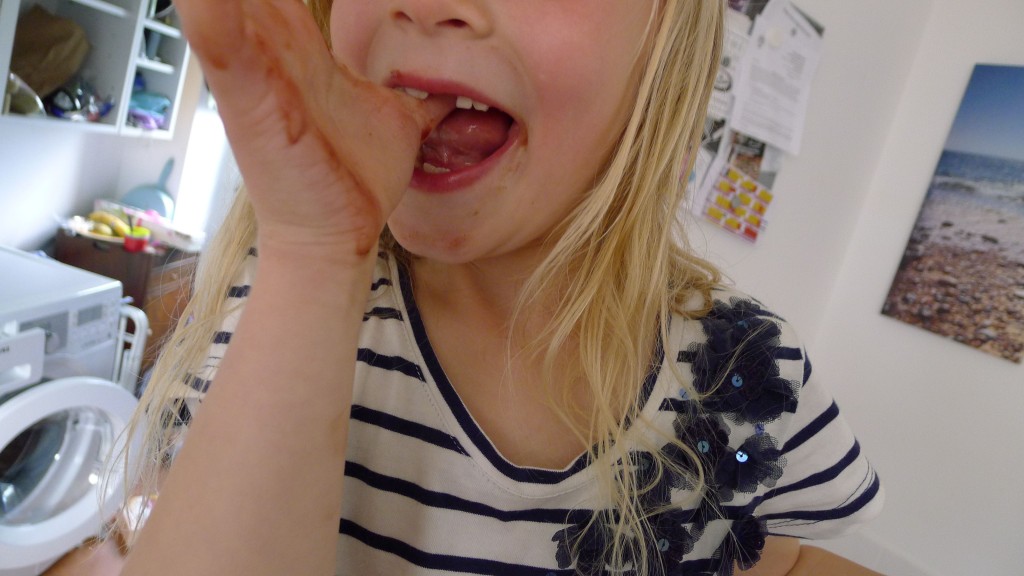 Hello, I'm Galia and I'm a chocoholic!
I always feel I should introduce myself like that as chocolate has been a huge part of my life.
I was born in Argentina and my family moved a lot during my childhood. So far I've lived in 6 different countries across three continents and have been very happily settled in the UK for 14 years (the longest I've lived anywhere!).
The one constant though has always been chocolate, from my mother making chocolate for birthdays and celebrations to becoming very overweight through over consumption.
Chocolate has always been my default in any occasion, I'd reach for a bar of chocolate to celebrate and to commiserate and it always seemed to make me feel better, but then I'd start feeling guilty as the initial rush wore off.
But in 2008 I discovered that you can make delicious chocolates yourself that are high in cocoa content (almost 100% cocoa!) and free from dairy, processed sugars, gluten, soya additives and guilt!
Raw chocolate made from minimally processed or raw cacao powder and raw cacao butter is the simplest way to enjoy chocolate that is actually good for us (natural cacao is high in antioxidant Flavanols, magnesium, vitamins B, C and E and essential heart healthy fat).
After months of developing raw chocolate recipes and drinking the cacao powder in little CHOC Shots (1tsp raw cacao powder in an espresso cup with warm water), I started to feel the benefits.
I found I had a lot more energy, felt happier and even lost weight (26 Lbs so far!). The best part is that I no longer craved other chocolates and started to reduce my sugar intake.
This was simply too amazing a discovery to keep to myself.
At the time, raw cacao ingredients were very expensive and difficult to source and there were very few recipes or tips available online.
So, I decided this was my true calling.
I left my job and created a range of raw chocolate making kits that contain all the raw cacao ingredients (organic and ethically sourced from cooperatives in Ecuador) needed as well as a natural sweetener made from fruit (Sweet Freedom), little baking cases and my simple recipes.
I set up my online shop www.chocchick.com in 2009 and by 2010 my CHOC Chick Kits and organic raw cacao powder and organic raw cacao butter were stocked in John Lewis Food Halls and Whole Foods Market.
Since then my business has grown tremendously, my products are now stocked in Holland & Barrett and in over 200 delis, farm shops and independent retailers in the UK, Europe and USA.
I feel incredibly blessed that my love of chocolate enabled me to transform my life in every way and hope to continue with my aim to enable anyone who loves chocolate to make delicious raw chocolates that are free from dairy, gluten, processed sugars, additives and guilt!
Now you've heard from Galia I'm guessing you might like to try it!
Just pop your details in the box below to be in for a chance of winning one of the two kits on offer.
The more details you enter the more chances you have of winning.
The competition is only open to UK residents who are over 18 years of age…and please, no robots.
The winners will be informed by email and will have 5 days to claim their prize.
Choc Chick will send the prizes out directly to the winners. Good luck!