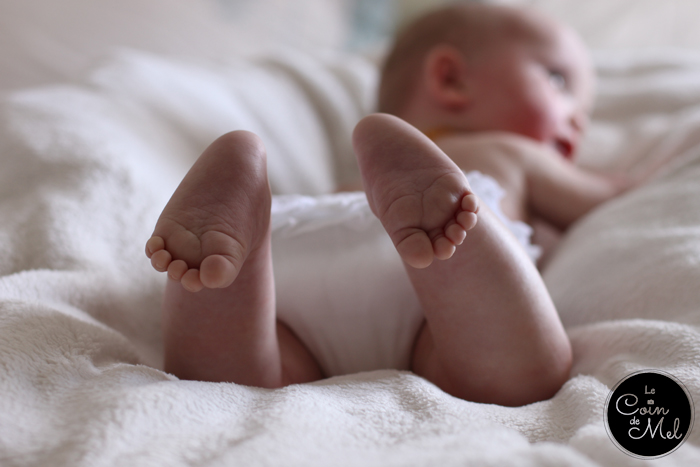 Through my blogging I have been lucky enough to meet some fabulous people who both inspire and support me when it comes to dealing with our food restrictions.
One such person is a lady called Mel who runs the blog Le Coin de Mel.  Not only does she have four children (which in my mind is incredible in itself to still remain sane!), one of them has multiple food allergies…and she still takes it all in her stride, managing to fit in work as well!
Anyway, she agreed to write a guest post for me introducing herself to you all.  If you don't already know her then go and say hello…
Hi, I am Mel, a mum-of-four. I have a lovely family:  hubby is my rock, my children dote on each other (most of the time) and we are all really excited at the moment as our new baby girl was born on Monday. Life does not get any better.
Until Jumpy reacted to wheat when she was six months old in May last year and was rushed to A&E, we knew nothing about allergies. After blood tests were carried out, it turned out she was allergic to all nuts, seeds, pulses, wheat, eggs, cow's milk protein and possibly soya as well. Finding out Jumpy had a wide range of life-threatening allergies was a huge shock for me and I would lie if I did not admit to being terrified about it all, especially since this was all so alien to me.
It might sound odd, but the diagnosis of allergy also gave me some sense of relief. I could finally pinpoint what was causing the awful eczema, insomnia and swelling my baby had been suffering from since I had started weaning her. I also had a list of foods to exclude from her diet rather than guesstimating, compulsively writing a food diary and taking photos after every meal, comparing the photos constantly to see what might be making the rashes worse.
I am very lucky to have an incredibly laid-back husband who can diffuse situations, and the fact he does not tend to panic in stressful situations enables me to take a step back, too. Without him, I think I would make a big thing about her allergies rather than accepting them as being part of our everyday life.
It has only been a year since diagnosis and Jumpy is still very young (19 months), but so far, we have tried our very best not to overreact or make her feel different in any way. We do not get panicky in her presence when people start eating peanut butter near her or drop a few breadcrumbs on the floor. Let's just say the handheld hoover gets a lot of use after the older two have been eating cake, bread or anything with nuts in. Cross-contamination is always a risk but we are determined not to isolate our little girl or make her feel different in any way.
Going out can be tricky as you have to be incredibly vigilant but if we were forever scared, we would end up not doing anything. We still go to playgroups and I make sure she goes nowhere near the play dough table (wheat) and keep her close to me when biscuits are being handed out half-way, as little ones tend to drop their biscuits or crumbs on the floor (flour, dairy, eggs… you name it, she is allergic to pretty much every ingredient in biscuits).
Being prepared helps. I never go out without her allergy kit (Epipen, antihistamines, creams and 'action plan'); there is always a zippy bag full of 'emergency' food and formula in my handbag so if we ever decide to be spontaneous and go out for food, we can be!
At times her skin just flares up pretty badly and we are not sure what caused it; it might be preservatives in food, lack of caution on our part, poorly labelled food or pollen, but we now have creams, ointments and medicine that can help reduce the symptoms and that is reassuring as it makes it all manageable.
I started blogging a few months ago to share ideas and tips, 'free from' recipes and I also use the blog as a creative space where I post photos, write about fun activities, cooking and crafts we get up to with the children. I sometimes ramble a bit as well.
That is how Vicki and I 'met' virtually and started sharing tips and life experiences. It has been great finding a friend in Vicki. What our children are experiencing might be very different but both of them are on exclusion diets and we have to adapt our cooking to cater for their needs and avoid life-threatening situations. That creates strong bonds.
I have always been a keen cook, but when we found out about her extensive range of allergies, I had to cook pretty much everything from scratch for Jumpy, even stock or ice cream. It was really difficult to start with when I went back to work or when we were going on holidays. Things have got easier and easier as we have found some 'cheats' we could use, brands that cater for her range of allergies and staple foods we could buy in the shops. There is actually quite a lot she can eat without me having to make huge changes in the recipes.
Until a few weeks ago, I had no idea about all the groups on social media out there and felt rather isolated. I do not want any mum to feel like I did: lost and scared for my baby. Chatting to other people in similar situations might not be what helps your child the most, but it will certainly make you feel better, and to be a decent parent, you have to be well yourself.
According to Allergy UK, "Allergy is widespread and affects approximately one in four of the population in the UK at some time in their lives. Each year the numbers are increasing with as many as half of all those affected being children."
If you have a minute, come and say hello on my little blog, Le Coin de Mel. I would love to hear your story, share tips and recipes with you.
I shared this post with Lets Talk Mommy linky: