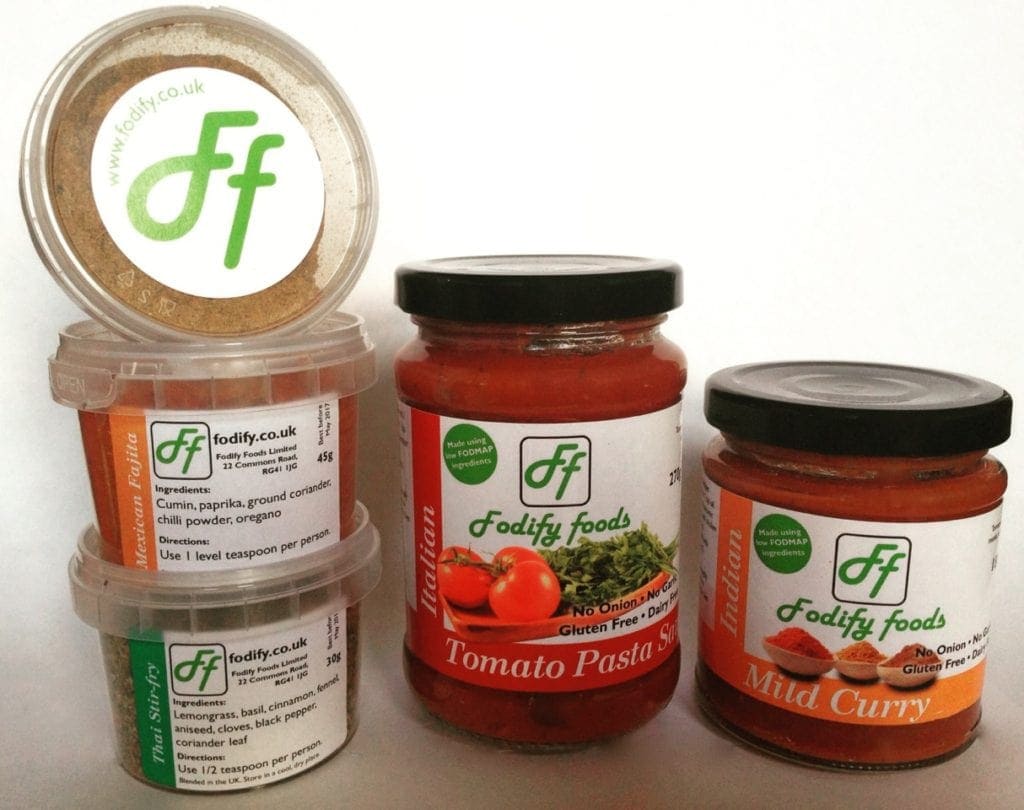 Today I would like to introduce you to the two ladies behind Fodify Foods.
I met Janet and Hannah at the Allergy & Free From Show and discovered their sauces and spice blends that are suitable for those with IBS and following the low FODMAP diet.
They have been kind enough to answer some questions that I posed to them and are also giving one lucky reader the chance to win a selection of all of their products (pictured above). I can vouch for the fact that they are extremely tasty and do not contain any nasty ingredients!
What prompted you to start your business?
What it boils down to is that we both love food! We met whilst at university studying nutrition and dietetics in London. We hit it off straight away and one of the things we bonded over a love of great food and gin. Our careers took us to different areas of the country, but we have both spent time helping patients with irritable bowel syndrome and felt there was more to do in that area. We separately undertook training on the low FODMAP diet as it was an interesting and relatively new area that showed a lot of promise for helping IBS sufferers. A year ago we met for a coffee and were surprised at just how similar our experiences had been. One thing that struck a chord was the distinct lack of food products low in FODMAPs; onion and garlic are prolific in many foods especially where you wouldn't expect them. Many of our patients would mention that finding suitable and versatile products such as cooking sauces would make the challenging diet that little bit easier. Before we knew it, Fodify was born! We set up as a company in September 2015 and things have progressed very quickly since then!
What is your company's unique selling point?
We are the first UK company set up to produce foods made using only low FODMAP ingredients. We launched our two sauces (Tomato Pasta and Mild Curry) at the Free From Festival in May 2016. The thing that sets us apart is not only that we are both dietitians but that we have personal experience of following the low FODMAP diet and know how challenging it can be. We therefore have a vested interest in creating products that are still full of flavour without the need for any onion or garlic.
What is your favourite food and why?
Without hesitating, our favourite food is curry! It has become a British staple and there are so many varieties to enjoy and share. We have fond memories of our uni days sampling curry off Brick Lane. Janet's favourite is a classic chicken tikka masala whereas I love a lamb saag (spinach). Unfortunately we are no longer able to tolerate our favourite foods, as they always contain lots of onion and garlic, which we are both pretty sensitive to. In fact that's part of why we made it our mission to make a tasty curry sauce in our core range. Our mild curry is a great base sauce for a range of curries including a tikka Tikka masala style curry by adding some coconut milk or with a handful of spinach into a lamb saag. We had to be sure our products were delicious!
Would you share your favourite recipe with us?
Moroccan Vegetable Couscous
A great option for a packed lunch, or as a side to a main meal. This recipe is low FODMAP, as well as gluten free, dairy free, refined sugar free and vegan. Most of all, it is delicious! You can also vary the vegetables to include your favourites. Although it contains chickpeas, these are allowed on the low FODMAP diet up to a serving size of 42g (according to the Monash app).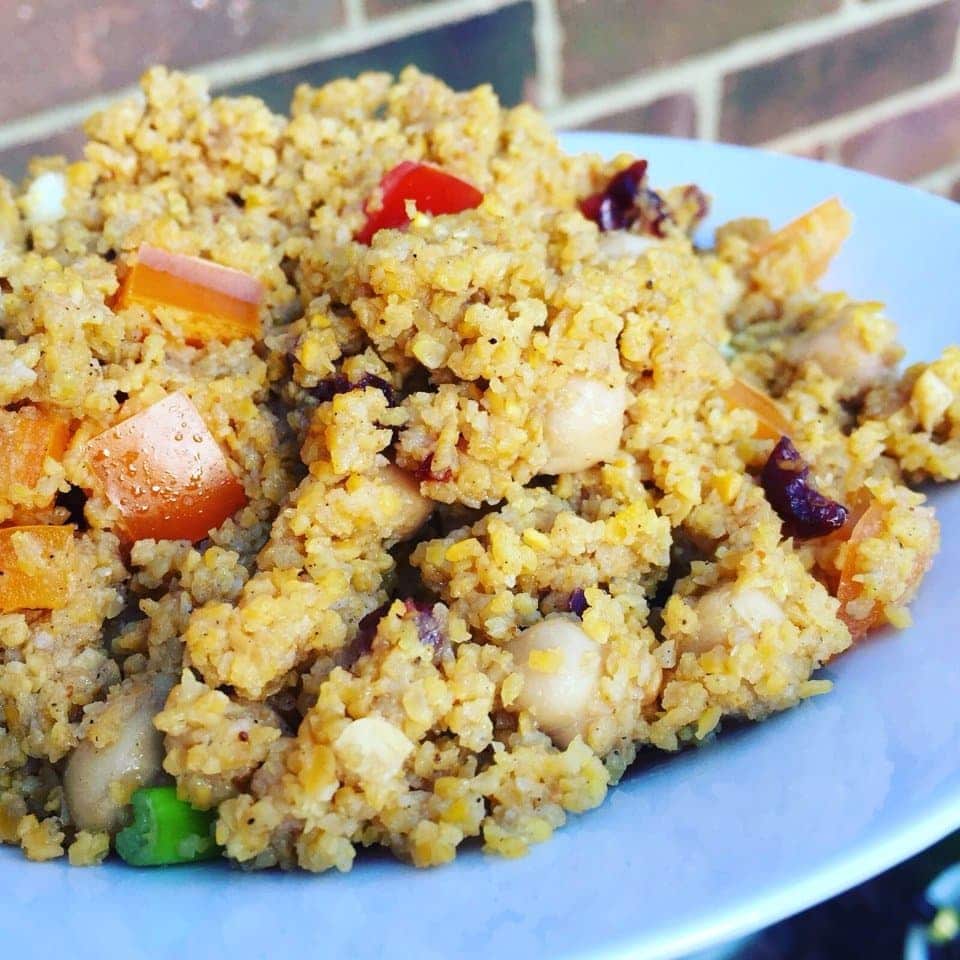 (Serves 3)
Ingredients
150g maize couscous
1 tbsp garlic oil
½ pepper
2 tomatoes
Green tips of 4 spring onions
120g tinned chickpeas, drained weight
2tbsp dried cranberries
1tsp Fodify Moroccan Spice Mix
1tbsp balsamic vinegar
Salt and pepper
Method
Make up maize couscous as instructed on the packet and leave to cool
Add the garlic oil to the couscous and mix thoroughly
Finely chop the pepper, tomatoes and spring onion tips.
Add the chopped vegetables, chickpeas and dried cranberries and mix well.
Add Fodify Moroccan Spice, balsamic vinegar and season with salt and pepper.
Mix well and serve.
Where can people buy your products?
Our sauces and spice mixes are available in our online store: fodify.co.uk/shop
So, if you have a sensitive tummy (or not) and would like to get your hands on these lovely spice mixes and sauces, just fill out your details below. The more sections you fill out, the more chances you have of winning.
As always my giveaways are only for people over the age of 18 and living in the UK (sorry). The winner will be picked at random by a computer programme and will be contacted by email. They will have 1 week to respond with their postal address before another winner is picked. The prize will be fulfilled by Fodify Foods.
I shared this with