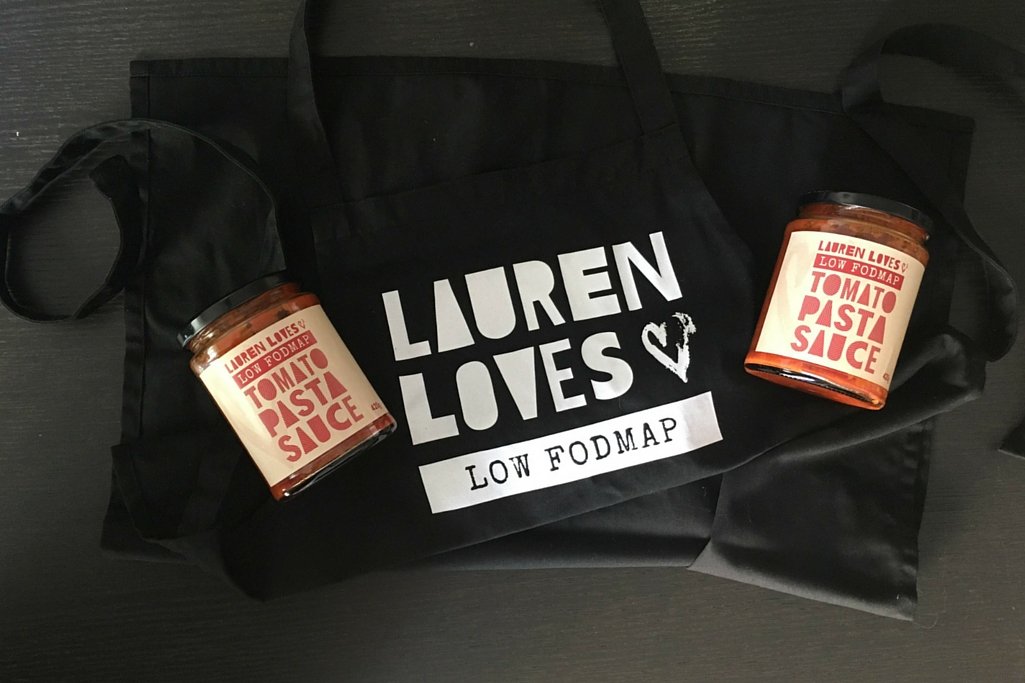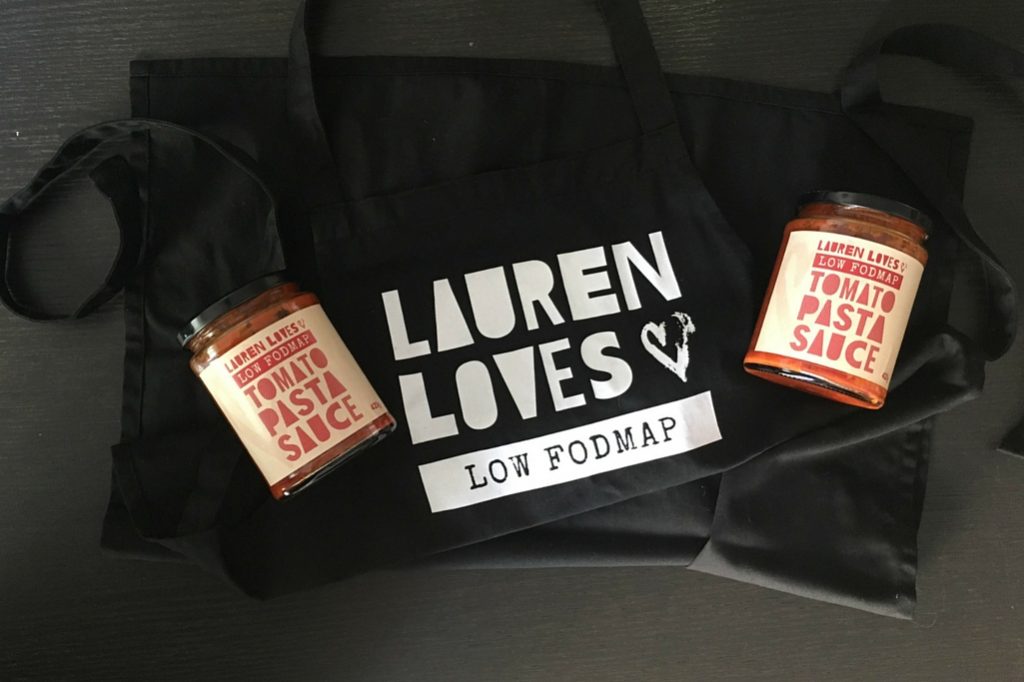 Today I would like to introduce you to Lauren, the inspirational lady behind a new low FODMAP brand called Lauren Loves. At the end of the post you will be able to enter a giveaway where one lucky winner will get to try out two of Lauren's sauces along with receiving a Lauren Loves apron.
You my see a theme emerging in my 'Introducing' series this summer. There are a lot of people doing low FODMAP foods. The reason I chose them is because following a low FODMAP diet is incredibly difficult (I've done it).
However, many people in this country and abroad are being put on the low FODMAP diet to help alleviate their symptoms caused by irritable bowel syndrome (IBS), a little understood condition that can be completely debilitating at its worst.
People who are trying to make the lives of IBS sufferers easier must be applauded because in my experience following any kind of diet can be miserable, especially one so complicated and restricted as the low FODMAP diet.
Having said that many people find great relief by following the diet so it is certainly one to try under the guidance of a dietician if you do suffer with digestive problems.
Anyway, without further ado I will hand over to Lauren to tell you more about her business…
What prompted you to start your business?
My boyfriend was diagnosed with IBS about 5 years ago, so I know just how difficult starting out on the low FODMAP diet can be. Everything we set out to do with Lauren Loves is underpinned by the fact that we are on a serious mission to take the stress out of eating with IBS. Overall, we want to help people feel better and live their lives better, every day.
My initial goal is to produce a low FODMAP 'starter kit' to guide people at this early stage of the diet, with products, recipes and alternative ingredients to help minimise stress. Which, coincidentally, is a massive trigger for IBS!
What is your company's unique selling point?
Same big flavours, unexpected sources!
We wanted to educate people that you can still eat the same dishes and taste the same flavours that you always have done, things like Indian and Thai curries, and pasta dishes, you just need to know where to find FODMAP friendly ingredient options to use in place of things like onion and garlic. So many people following low FODMAP resort to eating a piece of meat and two safe vegetables every day, because it's the easiest option, but where's the fun in that?!
I was also really clear on branding strategy from the off – I didn't want us to look like a 'medical' brand, or something that your kids wouldn't want to eat because it's low FODMAP. Lauren Loves is something you're never going to be embarrassed to have in your shopping basket, and it's something your whole family can enjoy without compromising on taste.
What is your favourite food and why?
You can't beat pie & mash! One day I'll hopefully be able to bring out a range of FODMAP friendly pies, so that they're no longer a food to be avoided.
Would you share your favourite recipe with us?
One of my favourite recipes is actually really simple – Salmon in a bag! You essentially throw all of the ingredients into a piece of foil, fold it up like a bag and steam (or if you don't have a steamer, the oven works too) for 15-20 minutes. You can vary the amount of the individual ingredients based on your tastes – salmon, ginger, fresh chilli, lime zest and juice, pak choi and soy sauce. It's great with jasmine rice.
Where can people buy your products?
We're currently available at Eagles in Deddington, Oxfordshire and we will shortly be available at The Grocery on Kingsland Road in East London, and G&D Free in Bristol. If you unfortunately don't live in these areas, we'll have our online shop open over the next month or so and we're working hard to partner with more retailers across the UK. The best place to keep up to date is on our Facebook page.
In the meantime if you would like to try out Lauren's tomato pasta sauce and win a branded apron then fill out your details below. The more sections you will out the more chance you will have of winning.
The giveaway is only open to UK residents over the age of 18. The winner will be picked at random by a computer programme and will be contacted by email. They will have 7 days to provide their postal address after which time another winner will be picked. The prize will be fulfilled by Lauren Loves.