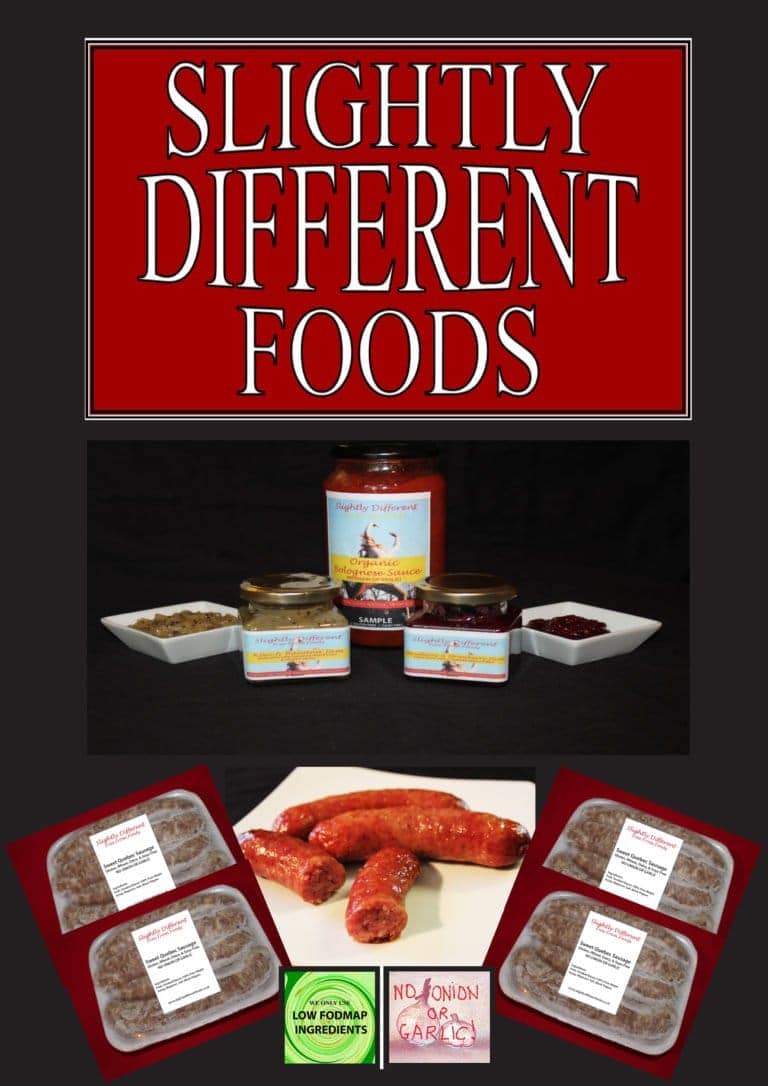 Today I would like to introduce you to Sonia from Slightly Different Foods. She is going to tell you why her food is 'slightly different' and is also giving you the opportunity to win the products shown in the photo above!
I met Sonia at the Allergy & Free From Show and was blown away by the sweet quebec sausages that she was selling, made from low FODMAP ingredients (if you don't know what FODMAP's are and you suffer from IBS then follow this link for more information).
As a small company in it's early stages I wanted her to tell you about the company so I asked her some questions and this is what she had to say…
What prompted you to start your business?
Being a single parent on benefits I had the idea to start a business several years ago called 'Slightly Different Catering' offering a venue, cooked food or cold buffet, along with entertainment. It was a complete package for children's parties and I intended to work with the local council to provide it to the community.
Everything was set in place and the business went live, but being a single mother, I just couldn't commit to the demand that was expected of me, or the expense. I was also fearful of losing my benefits.
The business was put on hold, as providing a stable home for my children was more important than making money and giving a service to customers and their children. I had a burning business idea inside of me that was bursting to get out, but I was waiting for the right moment. This obviously wasn't my time to shine.
Eight or so years later, after working for a small chain of family run fish and chip shops, to fall in line with my children's upbringing, I learnt the inside and outs of running a food business and I knew my time was coming.
The moment came when I had been to the doctors after experiencing a lot of pain. My body was changing. I don't know if the bulimia I had suffered from in my younger days had contributed to these symptoms, but I had totally lost control over the shape of my body. I was putting on weight and it didn't matter how many times I went to gym during the week – the symptoms that I was suffering were unexplainable. I was sent away from the doctor with a box of tablets and the diagnosis of IBS.
After a year of research I found out about FODMAP's and I decided to produce foods that would be enjoyable to not only myself but to everyone.
I found that I couldn't eat the naughty foods that I craved but I now create low FODMAP ones with my partner in our business unit. We have backing and funding from Reigate & Banstead Council and have had very positive feedback about our products from customers. We have also had interest from the Coeliac Society which is part of the direction we are aiming for.
What is your company's unique selling point?
Our unique selling point is that our foods are not only are gluten, wheat, lactose, dairy and soya free, but they are also low fructose and most importantly, they are onion and garlic free.
We only use Low FODMAP ingredients and our mission is to provide what the majority of food intolerant consumers want, being one myself.
What is your favourite food and why?
Now there's a question! My favourite food!
Good old fashioned English roast dinner, quiche, pastries and all the products that a lot of food intolerant people crave. Many are not too healthy, but we still crave them and many of us still eat them. That's where Slightly Different Foods excel. We are here to fulfil cravings, based on my cravings and those of other food intolerant people I have asked. Following a healthy nutritious diet is the way forward but we all still crave the occasional treat. With our food products we try to give a balance, offering a wide range to suit everyone.
Would you share your favourite recipe with us?
Of course! My favourite recipe would have to be a puff pastry pie or pasty. I couldn't find a gluten free recipe that offered me what I was looking for in taste and texture, so we created a GF short crust pastry that tastes very similar to a normal one, which we now manufacture.
Where can people buy your products?
Our products are available at Coeliac UK events in West Sussex; we will soon be setting up our website for online ordering. Customers can also contact us direct by email ([email protected]) to buy our products, for deliveries however there may be a delivery charge, depending on location.
We will be offering free deliveries in two areas to start: the London area and around Surrey and West Sussex. There will also be a pickup service, where customers can come to us direct. All of this will be set up within the next few months.
If you have any other suggestions they will be appreciated as we are there to deliver our products to customers.
Giveaway!
If you would like the opportunity to try out some of Slightly Different Foods sweet quebec sausages (four packets) and jams (blueberry and strawberry and kiwi and banana) then fill out the box below. The more sections you enter the more chances you have of winning.
The giveaway is only open to UK residents over the age of 18. The winner will be picked randomly by a computer programme and emailed for their postal address. If the postal address is not provided within 7 days another winner will be picked. The prize will be fulfilled by Slightly Different Foods.