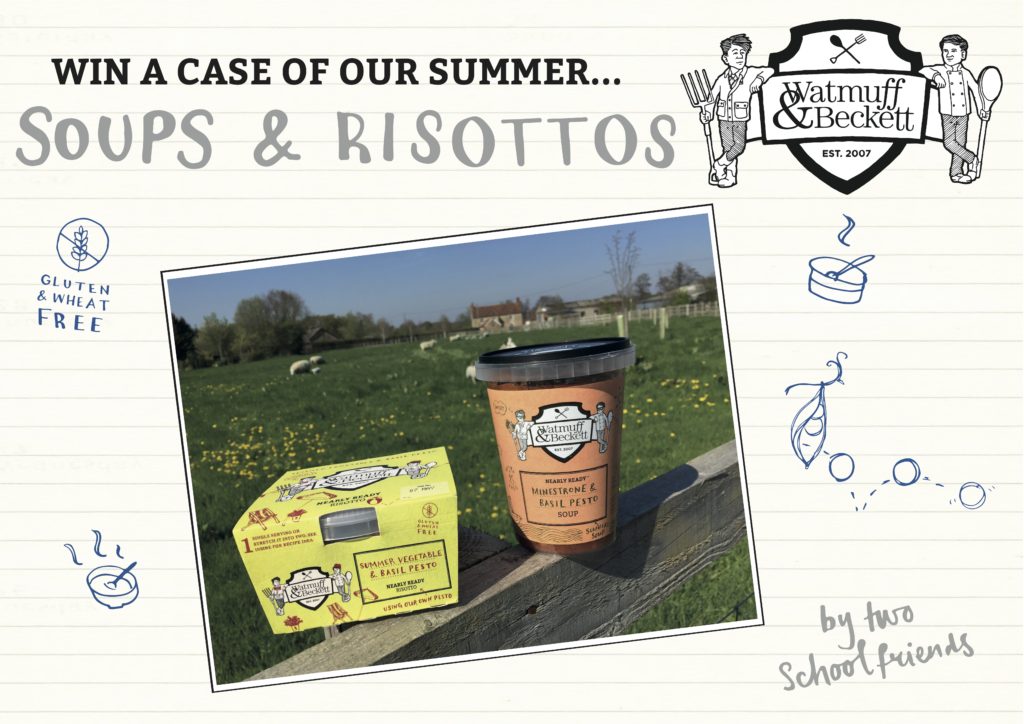 If you are a regular subscriber to my newsletter you may have already heard about Watmuff & Beckett; they featured in my 'Find Of The Week' back in May.
I discovered the Watmuff element (also know as Andrew!) of Watmuff and Beckett on my Class PR course and was inspired by their story and wonderful gluten-free soups and risottos.
In general I hate ready meals but these cannot be considered a ready meal. Developed by the Beckett element (Michael) of the duo who is a trained chef and has worked in Michelin starred restaurants, these 'ready meals' are exceptional.
I won't tell you any more but I'll leave it up to Michael to fill you in with the details of how the business came about.
At the bottom of the post you will have a chance of winning some of their goodies. All you have to do is fill out your details; the more ways you enter the more chance you have of winning!
Over to Michael…
What prompted you to get into food and start your own business?
My passion for food developed from an early age and was encouraged by my parents, both of whom were very good cooks. I started cooking in restaurants at the age of 16 whilst attending Westminster Kingsway College in London and once my course finished I ended up at Michelin starred Putney Bridge Restaurant. There I learnt to respect the ingredients used and also the importance of sourcing regional produce to get the best & freshest ingredients available. If the produce was not up to standard it was simply returned and the dish was either taken off the menu or a new one was created; there was no compromise on quality. From there I took a short break and then started working as a private chef for a family based in London but travelling between various cities throughout the world. The joke at W&B HQ is that Watmuff took me a way from a life of travel by private jet & parties in Monaco to an industrial estate just outside Bath! After five years of working for the family and some rough planning with Watmuff we both decided to leave our respective jobs to take the plunge with our new venture. The reason for starting the business was simple, to create amazing soups and Risottos for the consumer but with an emphasis on UK produce and using the best ingredients available.
What is your company's unique selling point? Why should my readers be interested in you?
In the current food industry, which is heavily driven by price and volume, we will always aim to work with UK producers & growers where possible. Where we source from outside the UK, such as Carnaroli rice for the risottos, we endeavour to buy direct from point of origin to ensure that the highest standards are adhered to. We believe it is important for the consumer to know where their product comes from and that the ingredients used are of the highest integrity. With the introduction of our Perfect Pea & Fresh Mint Soup, which is the first chilled soup to attain Red Tractor status, we will continue to develop soups with a focus on UK produce. Because of the simplicity of our recipes all of our products are naturally Gluten & Wheat free and in most cases dairy free. We believe it is important to keep the recipe as simple as possible and to let the flavour of the ingredients shine through.
What is your favourite food and why (apart from soup and risotto)?
This is a difficult question, I love all food!! If pressed, at this moment in time and as a general cuisine, it would be Vietnamese or Thai (I can't even decide on a favourite cuisine). The punchy aromatic flavours, the lightness of the dishes and the balance of herbs and spices can't be beaten. Combined with the healthiness of the dishes it is almost perfect! Although I am sure by next month this will have changed to French, then Italian the month after…………
Would you share your favourite recipe with us?
Yes of course! It is for mushroom risotto…
Serves 4
1l vegetable stock
240g Carnaroli rice
120g chestnut mushrooms, sliced
120ml white wine
40g dried porcini mushroom
40g Parmesan
2 tbsp olive oil
2 medium shallots, chopped
2 cloves garlic, crushed
Half lemon, zest & juice
2 tbsp mascarpone
Flat leaf parsley, roughly chopped for serving
1) In a bowl, pour 100ml boiling water over the dried porcini. Leave to soak for 20 minutes, drain and add the liquor to the vegetable stock. Slice the porcini.
2) Add the olive oil to a shallow saucepan and heat over a medium temperature. Add shallots & garlic and gently cook for 5 minutes. Add the chestnut & porcini mushrooms, season with salt & black pepper and cook for a further 6 minutes until softening.
3) Add the Carnaroli rice and cook for 1 minute. Pour over white wine and cook to nothing so the alcohol evaporates. Keep the pan over the medium heat and add a quarter of the vegetable stock. Simmer, stirring often until the rice has absorbed the stock.
4) Add a similar amount of stock again and continue to stir, the rice should be starting to plump up and the risotto becoming silky in texture.
5) Continue slowly adding the final half of the stock whilst stirring until the rice is cooked. The total cooking time from adding the rice should be around 13 minutes. If the rice requires a little longer, add a splash of water and continue to cook.
6) Remove the pan from the heat and stir in the mascarpone, lemon juice & zest and half the parmesan. Cover and leave to rest for a minute.
7) Give a final stir and divide equally amongst four bowls and scatter each portion with the parsley and remaining Parmesan.
Where can people buy your products?
Our products are stocked throughout the UK and include Wholefoods, Selfridges, Asda & Ocado. Please check out our website for a full list of stores near you and for regular updates on where we are stocked!
Enter the giveaway…
Fill out your details in the box below for a chance to win a case of Watmuff and Beckett summer soups and risottos (3 packets of each). The more ways you enter the more chances you have of winning.
As always my giveaways are only for people over the age of 18 and living in the UK (sorry). The winner will be picked at random by a computer programme and will be contacted by email. They will have 1 week to respond with their postal address before another winner is picked. The prize will be fulfilled by Schar.