Today I want to share something a little different. It's something I find hard to fully understand or articulate but something so profound that I want to tell you about it. I've discovered my innate health and everything, yet nothing, has changed.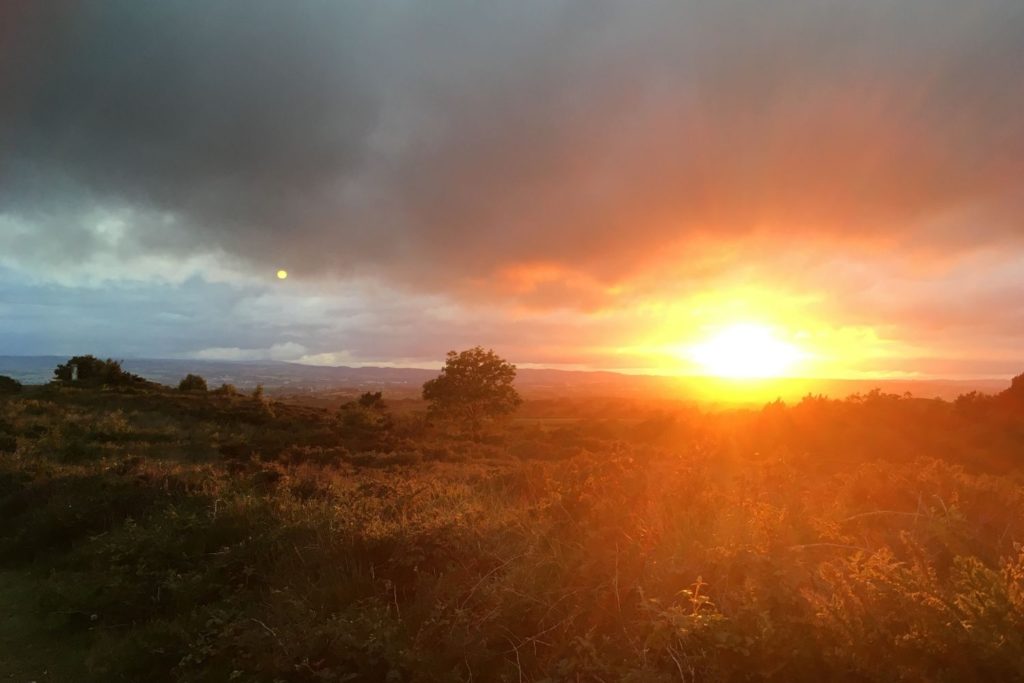 This morning was like most others.
I got up, took the dog for a walk, made breakfast and packed lunches.
I walked around the house picking up wet towels from beds and dirty clothes strewn across floors.
But something was different.
Rather than feeling cross and taken for granted I felt light, peaceful and happy.
Rather than be grumpy about getting wet while walking the dog, I walked with a smile on the face.
So everything was the same, and yet everything was different.
How so?
Well this is where you're going to have to bear with me as I try to explain what has so radically changed my life.
Rather than attributing things in the outside world as the cause of my suffering, I've seen clearly that the suffering comes from within.
Now let me explain, before you start questioning my sanity.
For as long as I can remember I've been a worrier. I vividly recall being a small child and creeping downstairs to sit on mum's lap because I couldn't sleep. I couldn't sleep because I'd be worrying about school; a spelling test or friends or…anything really.
The worrying stayed with me as I grew up. It reared its big and ugly head in much more serious ways when I was at university. I think it was during my final year when I stopped sleeping.
My heart was racing so fast, and the adrenaline pumping so furiously through my body that I had no chance of rest. Of course I was exhausted. Mentally exhausted, physically ready for action.
This went on for months. The doctors ignored me. Sent me away with no advice or support.
It was only when my mum came to the rescue and took me to her doctor that things changed. They prescribed me beta blockers which acted to slow my heart, in turn reducing the adrenaline and allowing me to rest. I was such a mess I have no idea how I got through that period of my life.
Except now, I do understand. Because I always had innate health. I was born with it. I was born calm, peaceful and without thought.
As I grew up I started to learn. I learnt what things were called. That my body was part of me. I learned that if I touched something hot it hurt and that grass gave me hayfever.
I attributed those physical, outside things, to the pain or suffering and therefore avoided them. And thus I (wrongly) learnt that things outside of me always caused my pain/suffering.
But what I didn't learn was that my thoughts caused me pain and suffering.  A different kind of pain and suffering. A much more dangerous type.
I thought I was crap at maths. I couldn't avoid maths so I just spent a lot of time worrying about maths. A lot of time stuck in my head with negative thoughts about me and maths. Feeling useless.
I didn't have loads of friends. I spent a lot of time thinking about that. Thinking about what that meant about me. Beating myself up about being 'square', about nobody liking me. Feeling lonely and rejected.
And those thoughts and feelings (and beliefs that formed) created my experience of life. I avoided maths as far as I could and chose A level subjects that didn't require maths ability. I was quiet, kept myself to myself, and avoided social situations.
And that's just a tiny snippet of the thoughts I had while growing up…
But you can hopefully see what I'm illustrating here.
And before I go any further I also want to point out that all of this was out of my control. I didn't choose the thoughts that came into my head. Nor the accompanying feelings which created my experience of the outside world.
What I did do though, because I didn't know any other way, was to listen to those thoughts and to act on the feelings.
And I've done this all my life.
I've limited my life because I've believed my thoughts. As if thoughts were the thing that guided my life. I've listened to them telling me I'm not good enough. That I'll never be a success. That I'm a dreadful mum and daughter. That I could do better. That nobody will buy it so why bother. That nobody likes me.
And I can guarantee that you know what I'm talking about because as humans we are all the same. We all think and we are all aware of our experience of life.
But as I got older I was never clearly aware of my own innate health. My own inner wisdom. My intuition, whatever you want to call it. The quiet knowing that gently guides you away from danger. That lets you know the right thing to do. That keeps you going through university despite the odds.
But the crazy thing is, is that our gentle wisdom is clouded by the noisy thinking. And for most of our lives, as we get busier and busier, we don't hear it. We become detached from it. We forget that as a child we were carefree, guided by what we knew to be best.
And that wisdom, innate health, whatever you want to call it, never went anywhere.
We all have it, and we can never be broken, whatever labels we might have. Whether we've been labelled depressed, anxious, stressed or anything else. Underneath the thinking. The loud, busy head telling us we're not enough. There is the space in which anything is possible.
Let's put it another way.
When we cut ourselves, we know to leave it alone to heal. We know that the physical body will heal.
However, when we are anxious, have negative thoughts or anything else in our mind, we pick. We don't leave it alone knowing that it will heal. We pick up a hammer and keep beating ourselves with it. A negative thought appears in our mind and rather than let it go, we chase after it. We hang on tight and build upon it.
Or we get in there and try to manage it (if you're in to self development).
I've been there. Tried most things.
I became an NLP Practitioner so that I could manage my thoughts. Change them. Make them more positive or make the negative ones more quiet.
I've tried EFT (tapping) to manage my limiting beliefs. I've tried all kinds of things to control my mind; to control my thoughts.
And now, finally I see that it's all futile.
Because when you see thought for what it really is, just formless energy passing through us, you no longer have to mange it or control it.
Thoughts will do what they do when left alone. They will come and they will go. And as they do, our experience of life ebbs and flows. One moment we'll be happy, the next we'll be sad. Just as thoughts come and go, so do our feelings and how we feel about life. It's all part of being human and all of it is wonderful.
So now when I see a wet towel on a bed, rather than get angry (although I still do sometimes, after all I AM human) I just pick it up and hang it up. I don't engage in the thought that the child that left it there was lazy, will make a dreadful partner later in life (blah blah).  Instead I know that whoever left it there was caught up in their thoughts. And later, I'll gently let the offending child know that wet towels belong on towel rails. No shouting. No anger. Just gentle loving kindness. Happier for everyone.
And that's how my life has changed without anything changing.
If you're interested to know more and you're in Devon join my monthly meet up here to explore this further. Contact me via email or visit my Facebook page, Free From Limits where I share this understanding.
Alternatively check out Nicola from A Little Peace of Mind. I am training with her to become a coach in this field. She has a tonne of free resources that all point to the same thing. That we are not broken, we've just innocently misunderstood how our world is created.
Pin this blog and share it with your friends…