At the weekend I had the pleasure of entertaining some friends, one of which is on the low FODMAP diet, is a vegetarian and is also diabetic.
Being pretty used to catering for restricted diets I set about designing a menu that everyone could have without highlighting the person with the special diet.
This is something that is very close to my heart because Roo, being a coeliac and also being intolerant to dairy (and previously being allergic to eggs) does not like to be highlighted as different.
OK, she is 7, but in reality who likes to be different whether you are a child or an adult?  Nobody likes eating out and a fuss being made because there are foods they have to avoid.
Anyway, I thought it might be useful to share the menu with you so here it is…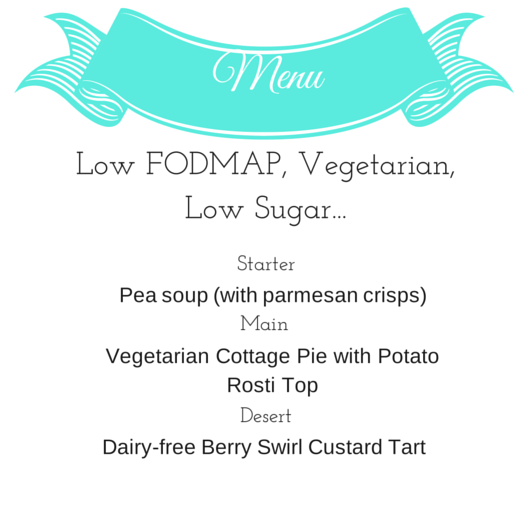 Of course the person in question was unable to have the parmesan crisps but apart from that we all had the same.
In case you are interested I used a BBC Good Food recipe for the pea soup.
I used my cottage pie recipe but used quorn mince rather than meat mince.  I used to cook with quorn all the time but since being strictly gluten-free with Roo we can no longer eat it because it warns that it 'may contain traces of gluten'.
Having had it again for the first time in a good few years I have to say I am not sad that we can't eat it!  It was strangely sweet (so not sure it was ideal)!!   I think if I made a vegetarian version of this again I would use soya mince which is also ok for the low FODMAP diet.
Finally, the dairy-free berry swirl custart tart is a recipe I have developed for Natures Path.  It will be unveiled on their website sometime in the new year!
Have you had to cater for anybody on a restricted diet at a dinner party?  What did you do?