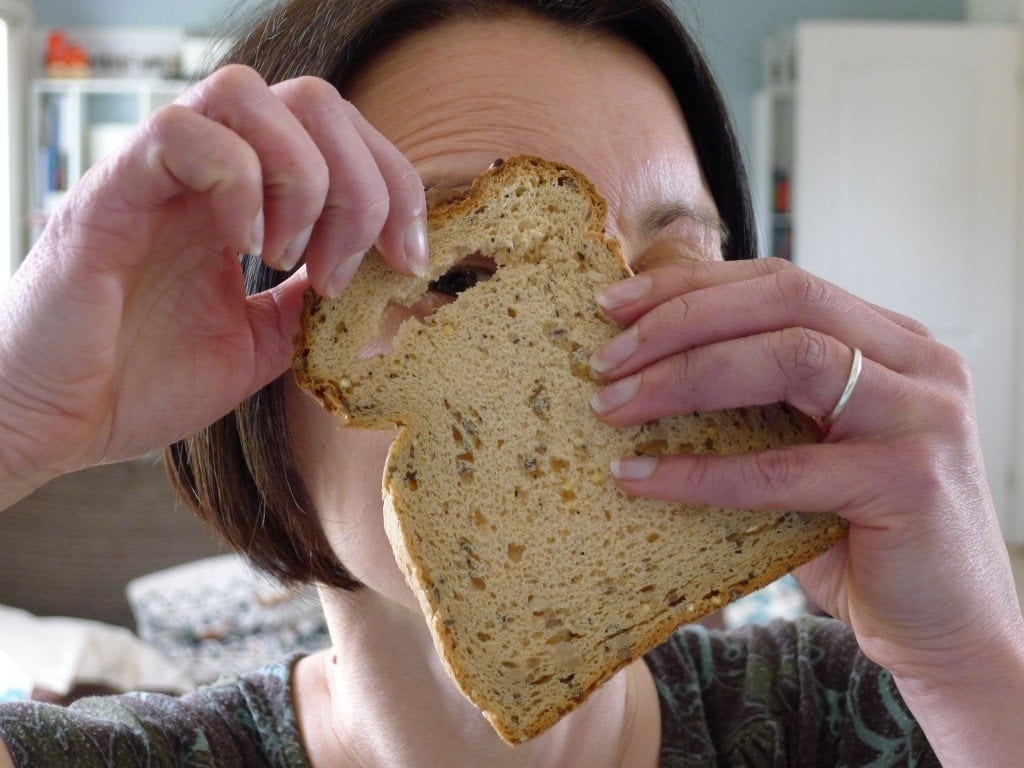 Yesterday some of you will have seen my disgruntled comment on Facebook and/or Twitter…
"OK. I am annoyed. Why do companies like Newburn Bakehouse by Warburtons keep bringing out new ‪#‎glutenfree‬ bread ranges when they haven't fixed the problems that exist with their current range? I am loosing patience with trying to make sandwiches with gluten-free bread that falls apart. Time to start regularly making my own. Anyone else feel like this or have you found a brand of gluten-free bread that doesn't fall apart?! Please tell me if you have!"
And a shorter, but similar Tweet!
Many of you shared your thoughts and preferences for gluten-free bread and a huge amount of you agreed that bringing out new ranges was not what we wanted…but that we just wanted decent, cheap (!), healthy bread that didn't fall apart the minute it was handled!
I can't tell you the amount of mornings that I have attempted to make sandwiches for Roo in the morning only to be left in a grumpy mood because the bread has disintegrated before reaching the lunchbox.
It has become a bit of a joke in the house; if I don't hear Mr M swearing under his breath as he makes his lunch I know he isn't having a bread based lunch!
I am sure I will be able to blame any swear words being uttered by the children on gluten-free bread!!!
And about the price thing. With so many people turning gluten-free out of preference and the market growing at an incredible rate…when are the prices going to come down?!
I know what you are going to say! Make your own and stop your whingeing! Fair enough but being unable to eat yeast and currently off grains and sugar due to following the specific carbohydrate diet to try to eradicate IBS and candida…making bread is the last thing I want to do! The smell drives me wild, let alone having to look longingly at a proper loaf of bread that doesn't fall apart when you touch it!
I don't have a complete beef with shop bought bread. Clearly it has its place for many of us who do not have the time or inclination (or will power) to bake our own.
I just think that companies should perfect a loaf before trying to lure more people into buying their products by launching more imperfect products. I am not suggesting the new Warburton's loaves are imperfect, just that their existing ones are!
And why am I focussed on Warburton's? Well because they produce the only gluten-free bread that I will consider buying for my family.
It is much lower in sugar and fat than many of its competitors; it is dairy-free, fortified with calcium and most importantly for me, doesn't rely heavily on rice flour. OK the flours that are in there are not great or nutritious (although there are many nutritious gluten-free flours out there, for example teff, gram, sourghum, buckwheat…the list goes on) but it works for me in terms of avoiding rice and allowing Roo an occasional sandwich (yes, occasional! She certainly doesn't eat bought bread every day…I prefer to make crackers or send her to school with corn cakes).
And in case you don't know why I try to avoid rice for my family, then it is due to the arsenic contained within it. If you want to read more about that you can here, here, here and here.
For the mainstream population it isn't an issue. People probably only consume rice a few times a week.
For a coeliac or someone avoiding gluten (and dairy) that figure can rise to eating it three times a day…very easily.
Next time you are in your kitchen take a look at your gluten-free products and calculate how many times you eat rice in a day without realising it.
If you are feeding it to kids you should be particularly aware of this issue in my opinion because their body weight is less and therefore the proportion of arsenic consumed is more important. I won't go on about it, but just urge you to do some research!
As you will know from my last recipe book update, things have progressed rather slowly as I have adapted to my new diet. However, things are picking up again and I have created quite a few recipes in the last few weeks, many of which I can eat too meaning that they will have wide appeal to people avoiding all kinds of foodstuffs!
So to keep you interested this is what I have been creating:
Have a great weekend and if you have any further comments on the gluten-free bread issue I would love to hear them below!!! Perhaps a petition is in order!
I shared this with the wonderful link up: