I met Ceri from Natural Kitchen Adventures for the first time at my inaugural blogging conference.
I was terrified; surrounded by bloggers who all seemed to know each other and knew what they were doing. In reality I'm sure that wasn't the case at all but that was how it felt.
Then I saw Ceri who also looked like a rabbit in headlights and we started talking about saponins in quinoa (!). I knew right there and then that Ceri would be a friend for life, and would be the author of a blog that I would admire.
At the time, Ceri had just come back from California where she had studied to become a natural chef. It seemed like the dream experience and course, something that I would love to have done if life hadn't provided me with my wonderful family…
Since that day I have followed Ceri as she has grown into a successful cookery teacher, recipe creator and resident chef for many yoga retreats in London. She is passionate about eating with the seasons and creates the most wonderful nutritious recipes.
When she contacted me last week to tell me that she had launched a recipe app for iPhone I was very excited. Not only are the recipes gluten-free but they are also accompanied by a season by season produce guide and most look really quick and simple.
The app also has an interactive shopping list feature which allows you to organise your favourite recipes, and has step by step instructions for each recipe that you can tick off as you progress.
One recipe that particularly attracted my attention was this flatbread recipe that is served with tumeric eggs and sautéed veg. Tumeric has amazing anti-inflammatory properties and I like to incorporate it into as many dishes as possible. Ceri has very kindly allowed me to post the recipe here to give you a taste of what you can find on her app.
If you'd like to download the app for more recipes like this, it is available on iTunes for £2.29. I'd love to know what you think of it or whether you have tried any of Ceri's recipes before…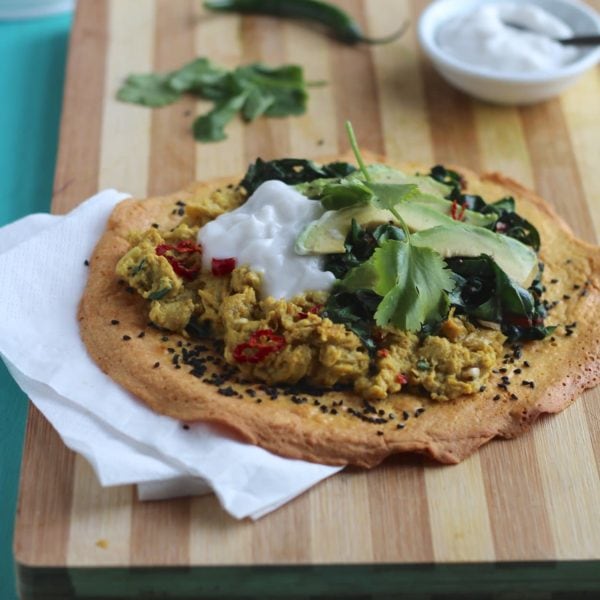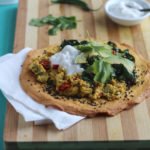 Nigella Seed Gram Flour Flatbread with Tumeric Eggs and Sautéed Veg
Gluten-free, Dairy-free, Nut-free, Soya-free, Vegetarian
Ingredients
Flatbread:

80

g

gram flour

160

mls water

¼

tsp

salt

1

tsp

nigella seeds

Chard:

2

clove

garlic minced

1

tsp

mustard seeds

1/2

tsp

minced green chilli

4 to 6

leaves

chard

shredded

Eggs:

4

eggs

2

tbsp

coconut yoghurt

½

tsp

turmeric

½

tsp

cumin

½

tsp

salt

Dish:

2

tbsp

coconut yoghurt

1/2

avocado sliced

1

handful coriander

1

pinch

red or green chilli

ghee
Method
Prepare the flatbread batter by mixing the gram flour with the water and salt until all the flour dissolves into a thick batter. Cover and leave to sit at room temperature for a minimum 30 mins, ideally over night.

When ready to cook pre-heat the oven to 180°C, and warm a medium frying pan on the heat. Add 1/2 tsp ghee (clarified butter) or coconut oil to the pan and pour in half of the batter. Swirl around the pan, and then put back on the heat. Cook for 2 or so minutes until the bottom is firm and browning up. Flip over and cook for another few minutes. When browned on both sides slide off onto a lined baking sheet and make your second flatbread.

Brush the melted ghee onto one side of both of the flatbreads, sprinkle with the Nigella seeds (or fennel or cumin seeds) and slide into the oven to cook through and crisp up for 15 minutes.

Meanwhile continue with the rest of the dish. Add some ghee to a larger frying pan, and sauté the garlic and chilli for 30 seconds before adding the mustard seeds, then the chard. Cook for a few minutes until softened, remove to a side plate to keep warm.

Whisk the eggs together with the optional coconut yoghurt, turmeric, cumin and salt, and add more ghee to the pan if needed after taking out the chard. Cook the eggs to a loose scrambled consistency.

When the flatbread is ready plate up with the eggs and chard piled high, and top with avocado, more coconut yoghurt, coriander and a few specks of extra chilli for colour.
I liked this to Free From Friday's over on Le Coin De Mel's blog.