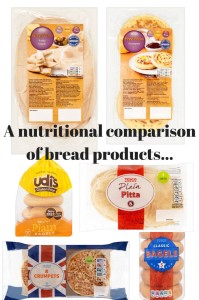 This week we have had my sister and her two children staying with us…which also meant gluten coming into the house for the first time in a while!
It reminded me of how tricky it is to cater for those with food allergies/intolerances whilst feeding those that don't have them. I was forever washing my hands and wiping surfaces down with baby wipes (so as not to contaminate my usual cleaning cloth). Consequently I have very sore hands!
One thing that was particularly interesting was being able to compare gluten-free products against their gluten-containing counterparts. Once again, I was shocked and astounded at how 'bad' gluten-free products are for you.
If you have gone gluten-free and replaced your bread products with the gluten-free alternatives the chances are you will have noticed some weight gain. If you have ever wondered why then I thought I would show you in black and white how in most gluten-free products the fat content can be up to 5 times higher per 100g, and sugar and salt up to twice as high. If this isn't motivation to make or find alternatives then I don't know what is!
What is also interesting about this information is that it highlights that the protein content of gluten-free bread products is consistently lower than their gluten-containing counterparts…which may also explain why they don't fill you up as much.
And that is just the bread products. I have left the sweet products for another blog post…
[table id=1 /]
Who would have known that gluten-containing crumpets contain so much sugar?!
If you are on a gluten-free diet I would suggest replacing some bread products with things like homemade soups and salads with plenty of protein. These will keep you going for much much longer than these products and will be much healthier for you!
Let me know if you have any thoughts about this, or any top tips for avoiding bread products all together. I look forward to hearing from you!