My recipe for gluten free Victoria sponge cake never lets anyone down. It's very easy to make and tastes divine. The mixture can also be used to make other gluten and dairy free cakes by adding other flavours.
This post contains Affiliate links. As an Amazon Associate I earn from qualifying purchases.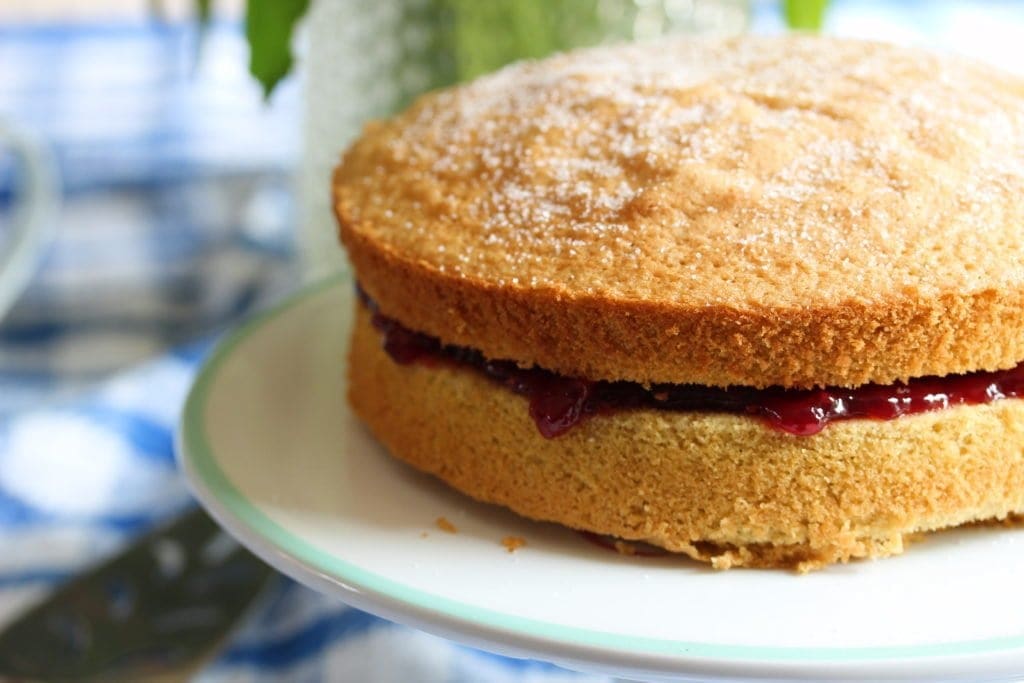 Yet again, the gluten free diet is being bashed as being 'bad for your health.'
This time suggesting that those following it potentially miss out on the protective affect on the heart that whole grains have.
The large study was carried out over a long time period in the USA and was reported in the British Medical Journal.
The study concluded that "avoidance of gluten may result in reduced consumption of beneficial whole grains, which may affect cardiovascular risk. The promotion of gluten-free diets among people without celiac disease should not be encouraged."
Once again, it is assuming that everyone on a gluten-free diet eats highly processed products.
However, there are lots of gluten free whole grains to chose from.
What gluten free whole grains are there?
There are so many wonderful gluten free whole grains.
Examples include teff, quinoa, sorghum and buckwheat (to name a few).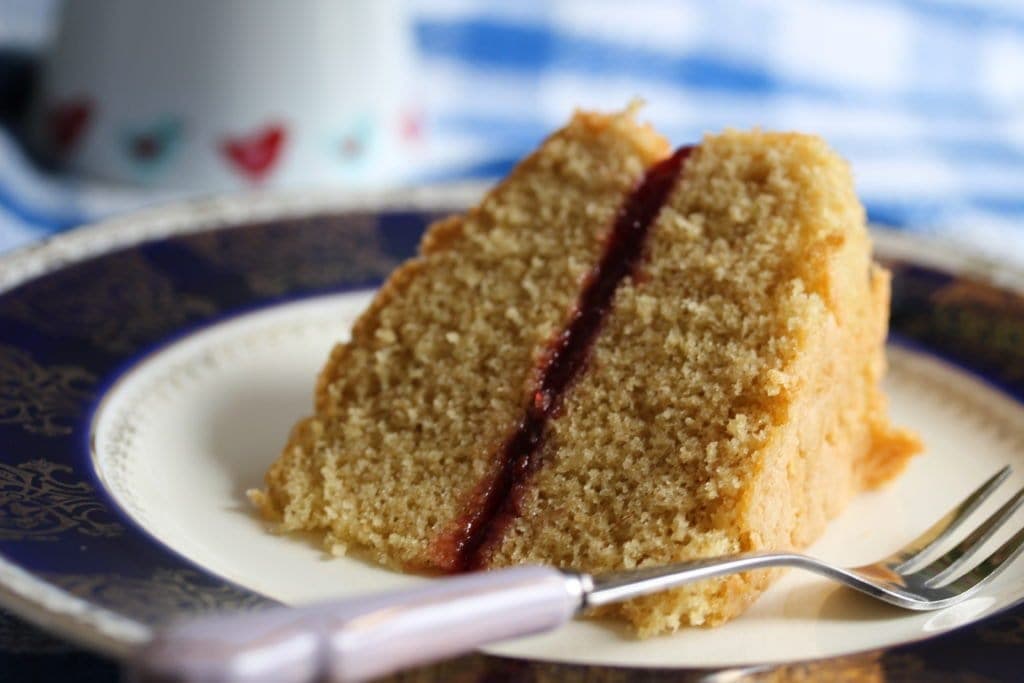 I have shown, through the development of my flour blends, that cooking and baking with wholegrain gluten free flours is easy.
Therefore this advice would seem ridiculous.
Rather than tell people to avoid the gluten free diet, they should be advising people to eat the fabulous gluten free whole grains that exist.
Anyway, off my soap box and on to my recipe.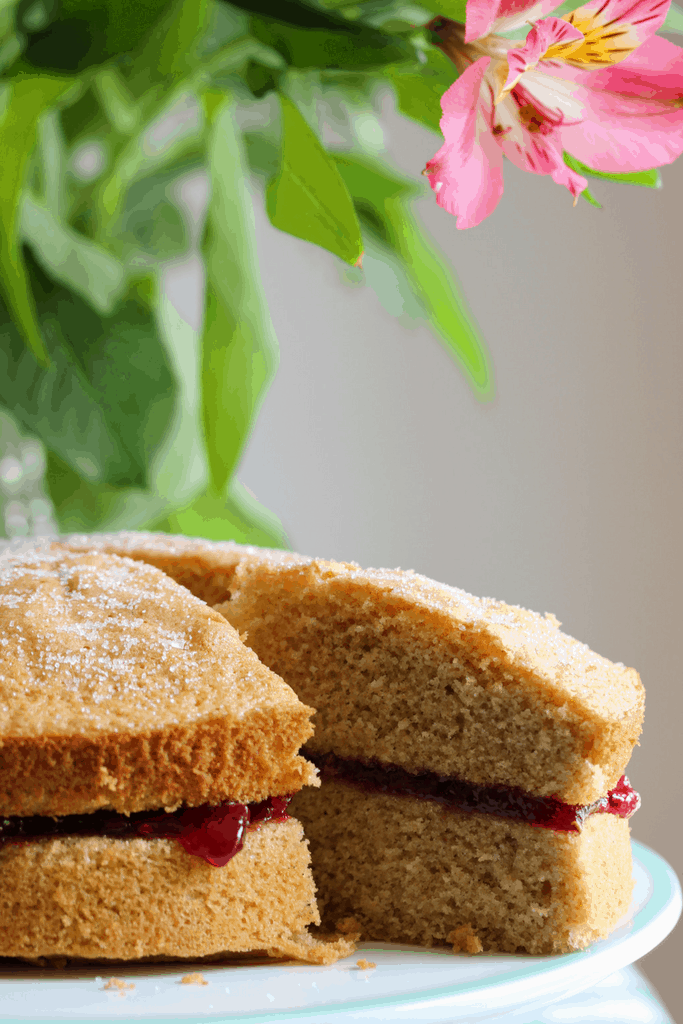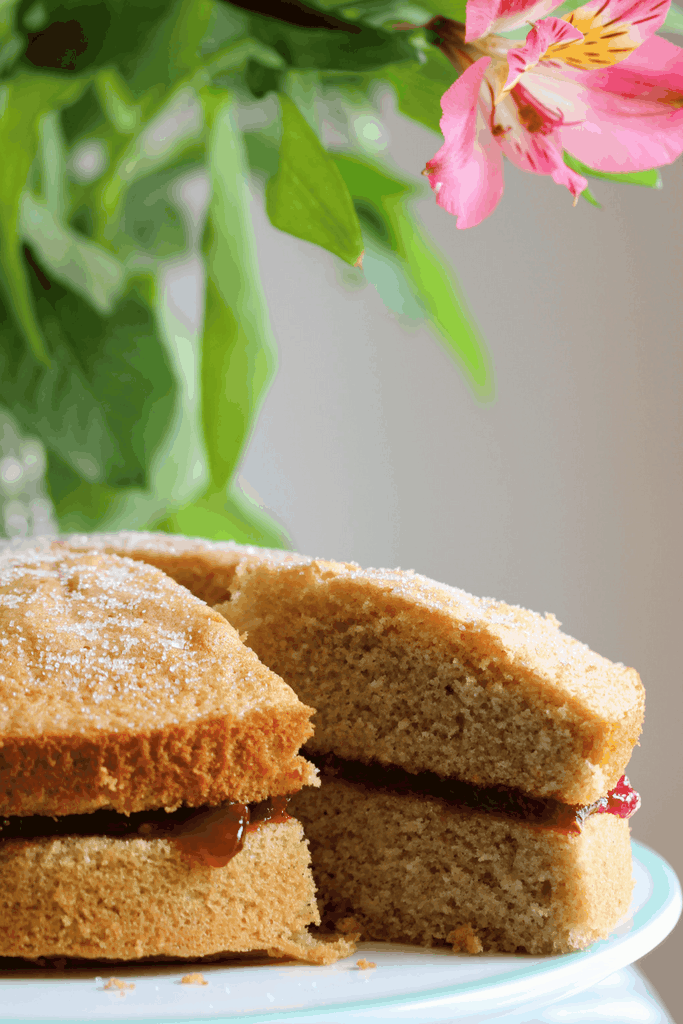 How do you make gluten free Victoria sponge cake?
Gluten free Victoria sponge is a recipe that has been requested so many times I've lost count.
It's so simple I've never shared it, despite making it all the time.
I use it as the basis of most of my gluten free, dairy free sponge cakes, flavoured whatever way I like. If you're interested to know more about that then head to my post called 'The Secret To Great Gluten Free Cakes'
I always make my Victoria sponge with just a simple jam filling. You can of course use buttercream or whipped cream as well. If you wanted to make a dairy free icing you could use my vegan icing without margarine recipe. Alternatively you could make a 'butter' icing with margarine following this recipe.
The only difference between making a gluten free Victoria sponge and a 'normal' one is the flour you use. It's important to read this article: 'What Is A Gluten Free Flour Blend?' before you start baking. It will save you lots of money on ingredients wasted on less than perfect results.
For this recipe I use my wholegrain gluten free flour blend, for the reasons outlined above. You can buy it from my shop here.
It's very easy to work with and requires no additional ingredients when it comes to cake making. Just use it in place of wheat flour in your favourite cake recipes.
If you're still worried about gluten free cake making then you can watch me make it. I made it live on Facebook yesterday and you can see a recording of that here.
It was all a little chaotic but it shows how easy it is to make if you need that little extra push to do it.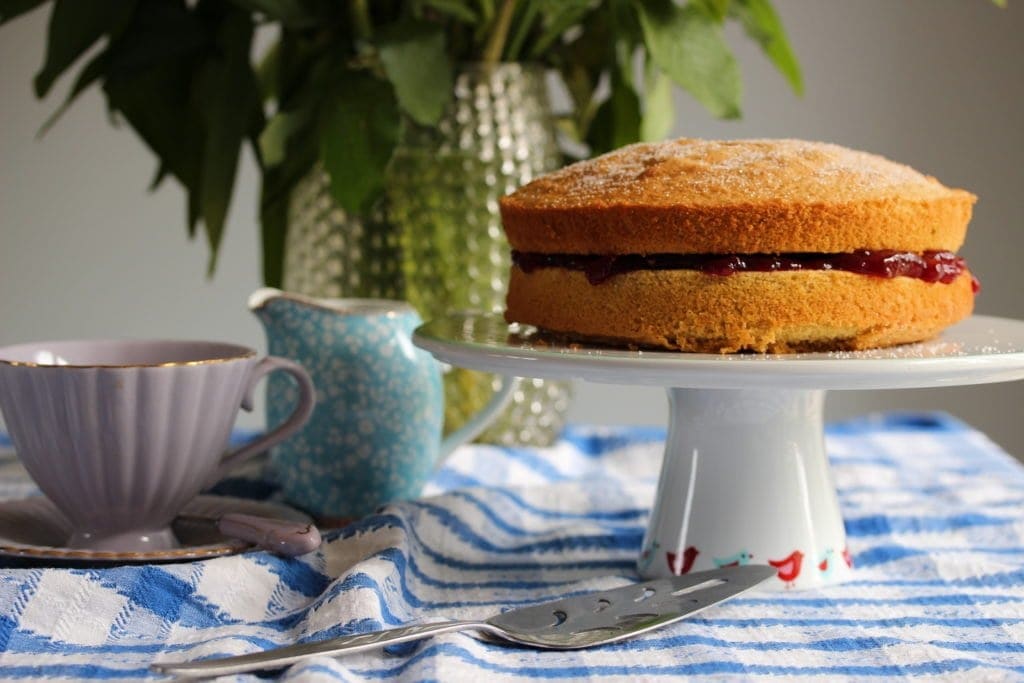 Do you need special equipment to make the cake?
The short answer is no. You could make this cake with just a bowl, a whisk, some elbow grease and some round cake tins. And of course an oven.
I personally prefer making cakes the easy way with a bit of equipment.
I always used to make cakes with a handheld electric whisk like this one.
However, I was gifted a Sage stand mixer a few years ago and have never looked back. It's a brilliant machine with various attachments for whisking, beating and more. It makes light work of cake making and it means you can get on with tidying up while it does the job of mixing!
Since this recipe is an all in one cake recipe, you just load the ingredients into the bowl and set it beating with the K beater attachment. The best thing about this machine is that the beater has a scraper edge to it meaning you don't have to stop so often to scrape the mixture off the sides of the bowl.
Once the mixture has combined it's a simple case of dividing it between two 18cm cake tins and putting them in the oven.
If you love this recipe then sign up for my free gluten free recipe booklet below. You'll get recipes for scones, pastry, pizza, Yorkshire puddings and more. You'll also get my weekly newsletter with recipe inspiration.
Pin the recipe for gluten free Victoria sponge so you don't lose it: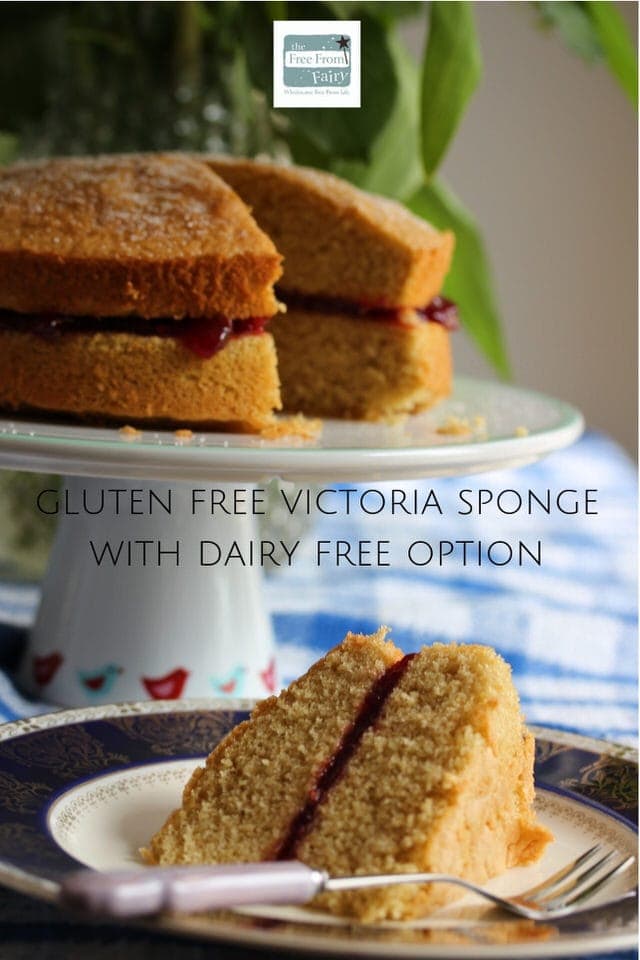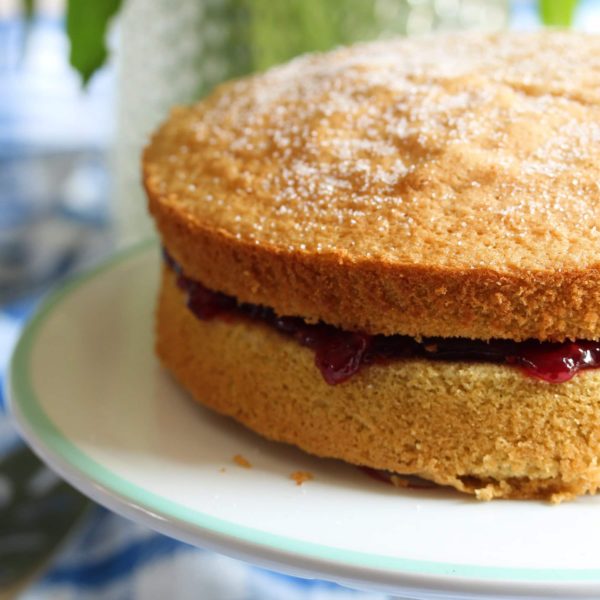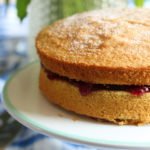 Perfect Gluten Free Victoria Sponge Cake (Dairy Free Options)
Gluten-Free, Dairy-Free, Nut-Free, Soya-Free (check margarine)
Ingredients
150

g

butter

softened - or dairy free margarine

150

g

white sugar

3

eggs

medium size, free range or organic

175

g

Free From Fairy self-raising flour

OR 175g FFF plain flour plus 1 3/4 tsp baking powder

1

tsp

vanilla extract

4

tbsp

jam of your choice
Method
Turn your oven on to 180 degrees C/160 degree fan/ gas mark 4

Line and grease 2 18cm round cake tins (I use re-usable baking paper for the bottom of my tins. You can find a link to that on my 'Vicki recommends' page

Place all the ingredients except the jam into a large bowl or the bowl of a stand mixer (you can sift the flour is you want to, but I don't usually)

Beat well until you have a smooth batter (you could do this with a wooden spoon, electric whisk or stand mixer)

Divide the batter into the two tins and smooth to the edges of the tin giving an even layer of batter

Bake in the pre-heated oven for 15-25 minutes depending on your oven. When it's done it will be soft to the touch but not sloppy!

Allow to cool in the tins before turning out onto a wire rack and leaving to cool completely

Finally, spread jam across one cake before topping with the other cake
Recipe Notes
Nutrition facts are for guidance only.
Nutrition Facts
Perfect Gluten Free Victoria Sponge Cake (Dairy Free Options)
Amount Per Serving
Calories 314
Calories from Fat 153
% Daily Value*
Fat 17g26%
Cholesterol 61mg20%
Sodium 200mg9%
Potassium 58mg2%
Carbohydrates 35g12%
Protein 3g6%
Vitamin A 760IU15%
Calcium 18mg2%
Iron 0.7mg4%
* Percent Daily Values are based on a 2000 calorie diet.