Update – 2018: I've perfected gluten free puff pastry! You'll find the recipe in my ebook here.
This morning Pickle got into bed with me and, snuggling up close for a cuddle he said "do you know who my bestest, best, best friend in the world is?"
I threw out a few guesses until he stopped me and said "no…it's you!"
What a lovely start to the day, and that followed a lovely evening spent in the pub with some wonderful friends following a very successful research and baking session in the day.
For those of you who have visited before, you will know that I am now focusing my efforts on creating a recipe book.  But me being me, cannot possibly just chuck out some recipes and get it printed.  Oh no!
I spent all of yesterday morning researching more about the qualities of different gluten-free flours, along with considering their availability and cost.
We avoid rice, so I am attempting to develop a flour blend that is free from rice, since there are none on the market that I can buy (apart from some by Bobs Red Mill).  I am also attempting to make it work (!!) whilst also being made from flours that you can get hold of (either on prescription…for those of you that are coeliac…or in supermarkets/health food shops).
(Update: you can now buy my wholegrain rice free gluten free flour blend here).
Well, I have discovered that the latter is harder than I thought it would be!  So I have decided as a compromise to make sure that all the recipes work with Doves flour as well as my flour blend…that way they should be accessible to everyone (I hate nothing more than a gluten-free cook book that has tonnes of ingredients that I can't easily get hold of!).
This morning I have spent ringing around companies quizzing them about the credentials of their flours!!  I have been shocked to discover that many companies label their flours as gluten-free on their websites, but when you actually give them a call, they tell you that they can't guarantee they are free from contamination (so they could have been processed with gluten-containing grains).  This is an example:
Tapioca
Tapioca comes from the cassava plant and has been used for centuries in cr …
This basically leaves very few 'brands' that can be trusted…and consequently makes the whole process very,very expensive!
Indeed when I got to the checkout of the one online shop that I could buy guaranteed gluten-free flours from (Healthy Supplies), the bill came to over £18 for 3 kilograms of flour!!!!  Compare that Tesco Value plain flour coming in at 90p for 3 kilograms!
At which point I decided that we would just have to stop eating anything made from flour, which is tricky when you have kids that want bread, pasta, cakes etc.  Perhaps it is time to embrace the paleo diet!
Or we could just start eating rice again.  But that isn't going to happen any time soon…at least not for the kids!  Since arsenic accumulates in the body and they are only small I will still continue to limit their rice intake.
Thus this recipe book is going to be very, very costly to me!
But hey!  Let's look on the bright side.  I think I have nailed my first flour blend for cakes, biscuits and pastry.
And I have definitely nailed the gluten free puff pastry which was infinitely better with my flour blend than with the Doves one…although the Doves flour still made a mighty fine product (at a lot lower cost…!).
Look how high the gluten free puff pastry rose in the oven, and that was on top of a liquid vegetable and lentil filling!  I just cannot wait to wrap some lovely sausage meat inside for a long-awaited crispy, flaky gluten-free sausage roll!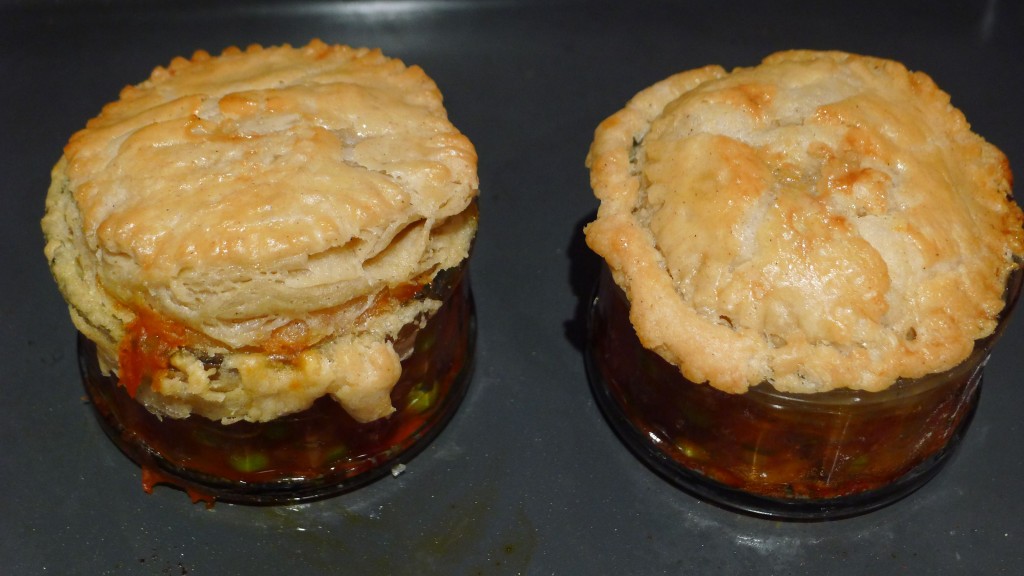 Yes, I do get very exited about very sad little things, but this recipe for gluten free puff pastry is genius! And it doesn't involve spending hours in the kitchen folding, rolling and chilling the dough. Surely that is enough to persuade you to buy the ebook that contains the recipe.
Don't forget to tell me what you would like to see in the book, what you find helpful in your existing books and what you find unhelpful or annoying.  After all, I want this recipe book to be one that is a collaboration between you and me…
You can either leave a comment below or contact me on any of the social media channels listed to your right.  I can't wait to hear from you!
I have linked this post to: