Apparently yesterday was the autumn school census day in the UK, a day when figures such as school meal uptake is monitored to determine funding for the school.
I found this out after a chat with a school teacher friend and suddenly I understood what the 'special menu' of bangers and mash was all about yesterday…to try to encourage more kids to eat a school meal!
Anyway, this knowledge has instigated a blog post that has been brewing in me for the last few weeks…and is going to burst out right now!
School meals; on the face of it a great thing.  Particularly free school meals for all children in key stage one.
A hot, nutritionally balanced, healthy meal eaten at lunch time to provide ample energy and prevent the post-lunch carbohydrate-induced coma (sorry, slump) that is often experienced from a packed lunch containing bread (sandwiches), crisps and sweet treat (with the obligatory piece of fruit and vegetable stick that the child does not eat!).
Alas this is not the case in Devon, where an increasingly large number of primary schools are being supplied food by Devon Norse.  There I have gone and done it…I have named them (and hopefully shamed them) because in my view the food they provide is, on the whole, woefully inadequate.
Just going on the menu alone (and not on the feedback I get from the kids about the lack, some days, of vegetables or a fruit salad pudding option – yes an option – and how many kids choose fruit over cake?) I would not consider many of the options to fulfil good nutritional guidelines.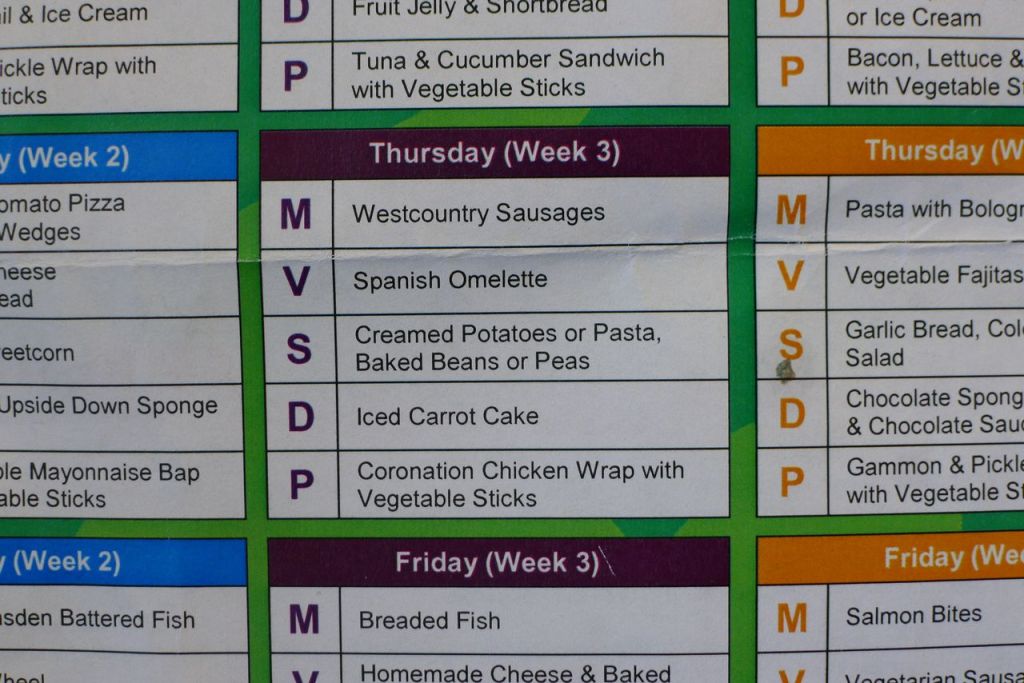 Take sausages or spanish omelette served with mashed potatoes or pasta (pasta???!!!), baked beans or peas.  How does that fit with the notion that 1/3 of your plate should consist of fruit or vegetables, 1/3 of protein and dairy products and 1/3 of (ideally whole grain) starchy carbohydrates?  OK, so they get iced carrot cake for pudding that day.  I assume that is logged as contributing to the fruit and veg intake and dairy intake (if the icing is actually made with cream cheese as it should be for carrot cake), but really?!
If they go for the sausage option they get one portion of vegetable, not counting the questionable amount in a piece of carrot cake; and no fruit at all.
And that could be the only 'real' meal that child gets all day.  So they get one portion of fruit and veg and no whole grain carbohydrates unless they choose the beans over the peas?!
OK, the rant is not over yet!  If you are still with me then well done!
At my kid's school all children get to choose from a main meal option, a vegetarian main meal option, a jacket potato and a packed lunch option.
Yes, you read that right.  A packed lunch option, that consists of a filled bread product, vegetable sticks (that I am told can just be a couple of slices of tomato and or cucumber in the sandwich) and the pudding of the day (which for about half the menu has no fruit involved as far as I can tell – eg. chocolate sponge and chocolate sauce, homemade jammy dodger, homemade cookies or toffee crisp crunch).
Now, correct me if I am wrong but my understanding of the School Food Plan (that instigated the government to provide free school meals to all kids in key stage 1) was that the improvements seen in kids health, attainment, concentration etc during the free school meal trials was down to them having a nutritionally balanced, healthy, hot meal at lunchtime; that being the reason for the policy in the first place.
It was argued that most packed lunches (99%) do not meet the nutritional standards for schools that currently apply.  So how is it that children in key stage 1 are being offered a packed lunch option which frankly, is no better nutritionally, than any parent could provide (and arguably worse than a lot of parents provide around here!)?  And worse still, the tax payer is footing the bill!
I understand that there is a balance between getting the children to eat the meals and being nutritious but isn't it our duty to try and educate children (particularly at primary age) how to eat healthily?
To get them to try wholemeal bread, pasta, rice etc as an alternative to the white varieties?  Surely that is part of the point in school meals?
To get kids to try food out with their peers that at home they may reject; to get teachers to set a good example and encourage good, healthy eating habits, rewarding children who at least try something they have never tried before?  Or for eating all their vegetables when they don't really like them??  Or even, (heaven's above) suggest that fruit is a pudding at lunch time?!
You may ask what I am doing about all this?  Well, for those of you who have stuck with me for a while, you will know that a year ago I offered to work with Devon Norse, particularly with the aim of making their menus more inclusive to those with food allergies/intolerances etc (I won't even start on that topic this time!!!!).  After an initial positive meeting I never heard another thing despite emails and phone calls.
So, a trip to the head teachers office it is!  Not that I expect much change to take place since, like most primary schools, our school has no kitchen of its own and is therefore reliant upon outside catering companies such as Devon Norse…but one can only try!
What is your experience of school catering?  Does your school or catering company do better than this and how are they faring with providing meals for those with restricted diets?  Please let me know by leaving a comment below :).