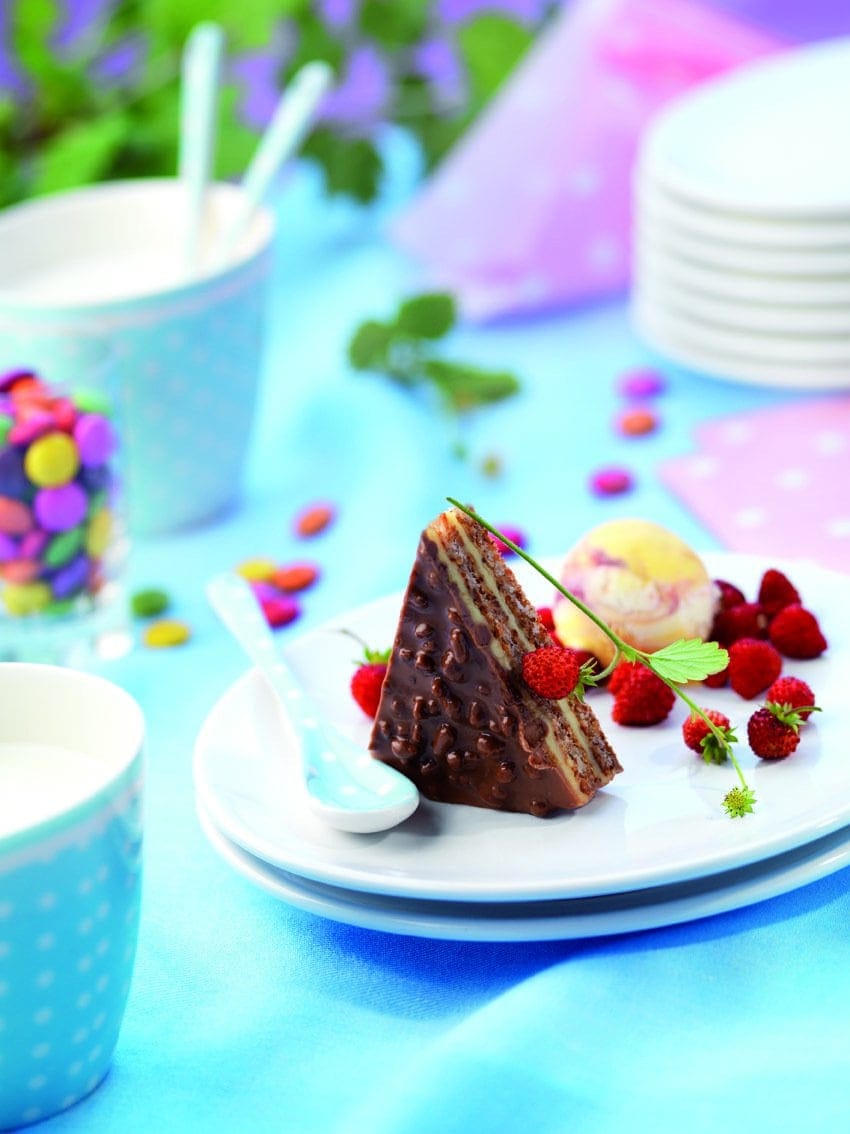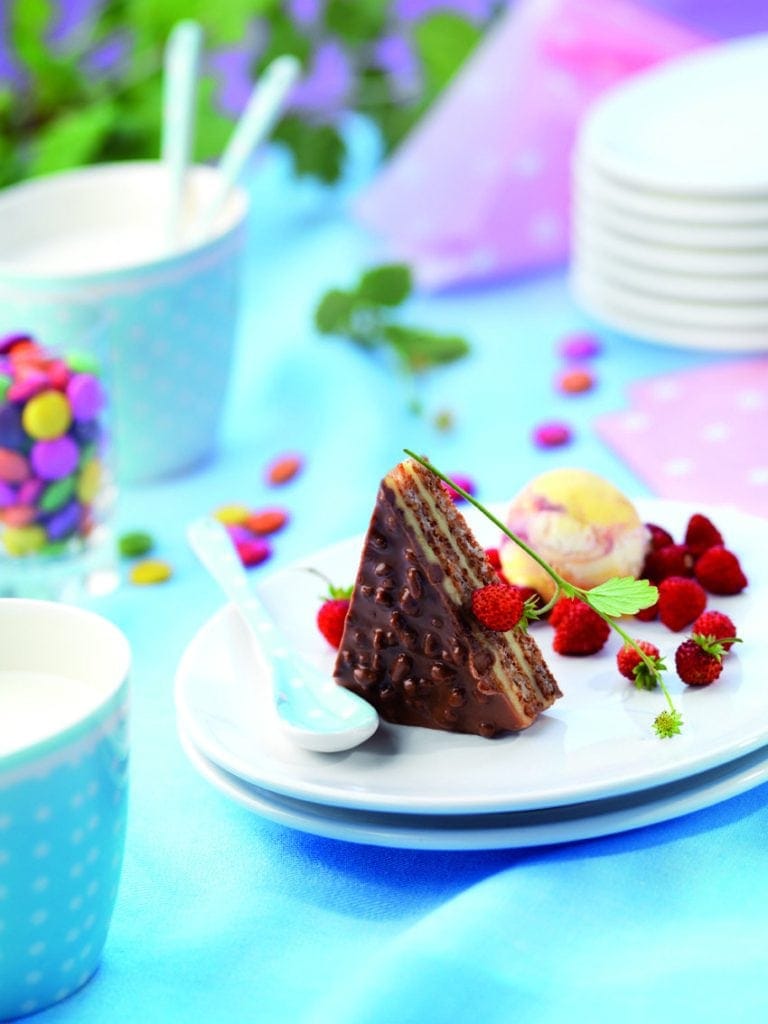 As it's the 15th year anniversary of Almondy Daim, Almondy have teamed up with me to provide you with the story behind the products (I never knew it was so interesting) along with the opportunity for one reader to win four delicious cakes and other goodies to the value of £40. So here is the story behind those fabulous cakes…
In 1982 two young Swedes, Kent and Lennart were about to fulfil their dream to sail around the world.
However, as they were putting the finishing touches to their yacht a chance encounter with a mouth-watering tart changed everything. Kent and Lennart were so struck by its magical taste that they used their money to buy a small 70m² bakery in central Gothenburg called Mandel Bageriet, (which means Almond Bakery) along with the rights to the recipe for this traditional Swedish almond based tart which dated back to 1890.
News of the fantastically delicious almond tårta soon spread around Gothenburg forcing Kent and Lennart to move to bigger premises and by 1985, just three short years after they started, Mandelbageriet's tårtor were available across Sweden through several large restaurant wholesalers.
The company's fortunes continued to flourish and in 1989 the decision was taken to invest a phenomenal £3 million in building a bespoke 'tårta factory' just outside Gothenburg. For a business with a turnover of just under £2 million this move raised a few eyebrows and fears that it would be no 'happy ending' and yet Kent and Lennart were convinced it was the right and necessary step to take. When, in 1991 the new 'state of the tart' factory opened, Mandelbageriet employed 12 employees and it had a maximum capacity of 12,000 tårtor a day!
Throughout the 90s the popularity of the almond tarts continued to grow; Germany became a huge market justifying its own sales company in Hamburg and in 1998 IKEA began to sell this traditional Swedish treat in its stores around the world. However, with the start of the new century came a new era for the business and a new name.
Mandelbageriet is tricky for non-Swedish speakers to say and so to assist its flourishing export market the easier to pronounce and more descriptive name for the cakes, Almondy was adopted. In 2001 Almondy DAIM tårta was launched, combining the brittle caramel and smooth chocolate of the DAIM bar with the delicious almond base. It took the market by storm and 15 years on it remains Almondy's best seller around the world.
Yet again Almondy had outgrown its factory and so in 2004 a new building project began on a 8,400m² site on an old airfield in Torslanda, outside Gothenburg. The new bakery opened in April 2005 with a capacity to make 150,000 tårtor a day.
While UK consumers had been able to experience Almondy through the food store in IKEA, in 2005 a dedicated sales team was appointed to promote the brand in the UK; the Almondy range very quickly began to grace the shelves of Tesco and other UK retailers. The two most popular varieties being Almondy DAIM and Almondy Toblerone which was launched in 2011.
Today the Almondy bakery employs over 100 people all with a passion for baking irresistibly good tårta. And they get a lot of practice – 17 million cakes are made every year and enjoyed by 100 million people around the world. The company now exports to 52 countries, with the UK being only second behind Germany as Almondy's most important export market; we in the UK consume 1.7 million Almondy cakes alone! Despite the scale of the business it remains committed to using the finest ingredients while constantly working on developing new and exciting cakes with innovative toppings. Almondy currently has a range of 10 different cakes all of which are gluten free, use no colourings or preservatives and are suitable for those following vegetarian, kosher and halal diets.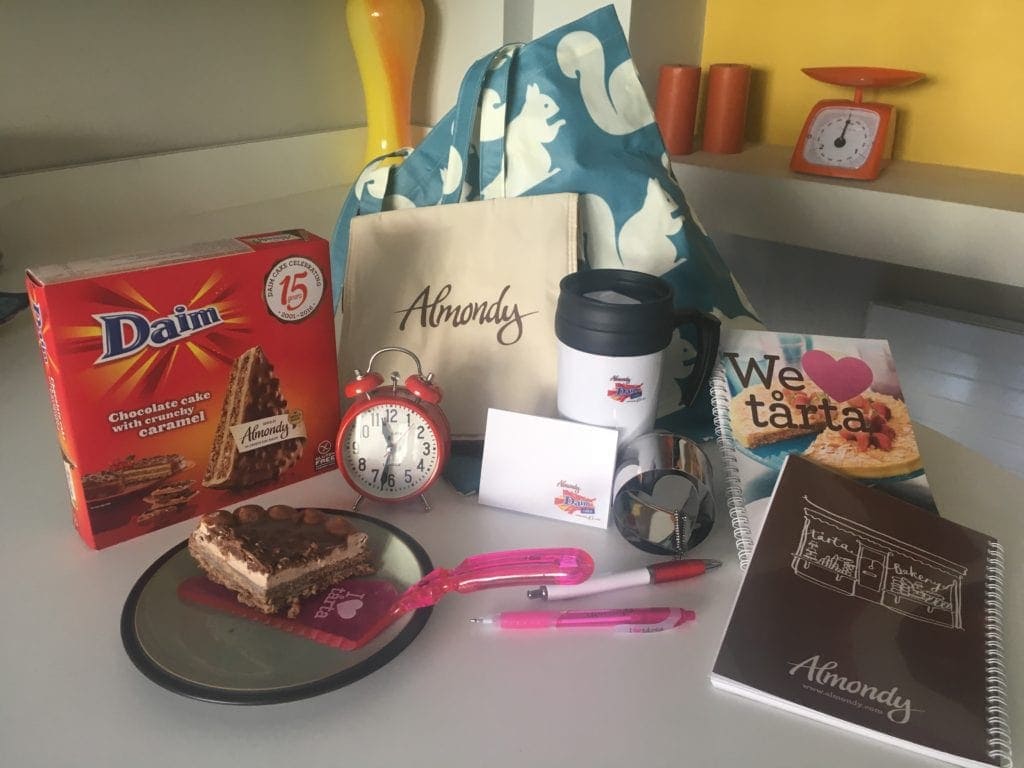 So now you know the story behind the cake I'm sure you want to get your hands on some! Enter your details below to be in for a chance of winning the fabulous selection photographed at the top of the post. In addition you will receive four Almondy cakes! The more sections you fill out the greater the chance you have of winning. Good luck.
As always my giveaways are only for people over the age of 18 and living in the UK (sorry). The winner will be picked at random by a computer programme and will be contacted by email. They will have 1 week to respond with their postal address before another winner is picked. The prize will be fulfilled by Almondy.