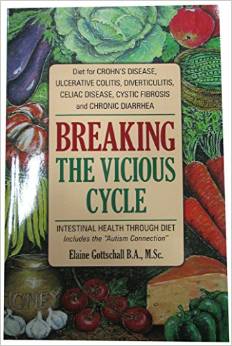 The Winner – no need for chicken soup for breakfast!!!!
I wanted to write a quick update about my diet choice…quick because I have so many things to catch up on having had a 'foggy head', lethargy and headache all day yesterday.
So, yesterday was the first day of my first ever diet!  I have done 'diets' of sorts before…ie. removing wheat to see if it had an impact on my health etc, but never actually followed a strict diet.
If you follow my blog then you will know that last week I was having the dilemma of which diet to follow to try and eradicate my ongoing problems with IBS and candida.  In the end, after a huge amount of reading, research and agonising I decided on the Specific Carbohydrate Diet (SCD for short).
I won't go into too much detail other than to say that it has been successfully used to treat a wide range of problems from autism to IBS to crohns disease for many many years.
It basically involves cutting out all complex carbohydrates (therefore sugar, starch and grains) and eating lots of easy to digest protein (mainly meat and fish), vegetables and fruit (although I won't be doing that bit because I am strictly cutting out sugar to try and beat the candida on the head!), along with nuts, seeds and some beans and pulses towards the latter end of the diet.
You may be wondering why I chose it over the GAPS diet (which I talked about last week), the FODMAP diet or any other diet that is supposed to help with tummy issues.
Well, having done the reading it seemed to make sense to me.  Simply put, the reason for cutting out the complex carbohydrates is to prevent any undigested molecules from ending up as food for a host of unhelpful bacteria and yeasts that may be perpetuating the patient's condition.  The diet therefore focuses on simple carbohydrates (monosaccharides) that are easily digested and do not have a chance to become food for the nasty bugs lurking in the stomach and intestines.  The idea is that by doing this, and by consuming home made probiotics (in the form of fermented vegetables and fermented dairy products) the undesirable yeasts and bacteria die while beneficial ones are added. Over time, the gut should heal and the careful reintroduction of disallowed foods can begin.
The GAPS diet is based on the SCD diet but is a more recently developed diet.  I decided that I would rather go with the 'original', not least because you can eat some beans and lentils towards the end of the diet…which is important for a reformed vegetarian who is currently struggling with making and drinking a lot of meat stock and consuming mainly meat!!!
Another reason for choosing SCD was because it allowed eggs for breakfast right from the beginning.  For me, that was a deal breaker.  I could not eat chicken soup or chicken stock for breakfast.  Enough said!
So, how do I feel?
Well, today I thankfully feel a lot more 'alive' (and I have a flat tummy for the first time in a while)!  Yesterday, day one of the diet, felt very very tough!  I had a headache all day and just could not think straight.  On top of that I felt very light headed and extremely exhausted.  Despite that there were still things that I had to do (having not been well organised), like taking a trip to the local farm shop to find out if they sold local organic milk (they didn't) and finding a very specific pot of yogurt with which I could start making my own home made yoghurt from…
Picture me, feeling all smug having bought the 'right' milk and a pot of 'live' yoghurt (required to put the 'good' bacteria into my homemade yoghurt)…having heated the milk and added a little of the bought yoghurt.  Having found a thermos flask and rigged up a way of keeping it warm for 24 hours while the SCD approved version of yoghurt was being made…only to read that the yoghurt I had bought had the wrong bacterial cultures in it and that the one I needed was only sold in Sainsbury's (a trek from here!)!  Doubt then set in about my ability to follow the diet and I also realised that extracting said yoghurt from a narrow necked flask was going to be a problem!  Cue holding back tears whilst trying to work!!
It was at that point that I decided work was not going to happen.  I jumped in the car and drove to find an electric yoghurt maker and the correct yoghurt with which to start my homemade yoghurt with!
After all that, by the time Mr M came home I was practically fit to drop!
Today by contast, I have managed to get some work done, feed myself (eggs, meat and stock!), make some bread for Mr M and some crackers for Roo and Pickle.  I have not obsessed about making yoghurt or about how to clarify butter…in general I feel a lot calmer, although I still haven't been to the loo (did you need to know that?!).  I guess that isn't all that surprising since there isn't much to come through!!
It is an inevitable issue with me that making the decision was the toughest part.  Once I have decided something then everything generally falls into place and I relax and feel better!  Does anyone else do that?  It is really annoying, but I know that once I make a decision I will always follow through with it no matter what…so I guess the decision is really important to get right!
Anyway, I will keep you posted on how the diet is going.  With any luck I will benefit from it and then the tricky decision as to whether I should get Roo onto it will ensue! Cue lots more sleepless nights and worry!!!!
I shared this with: