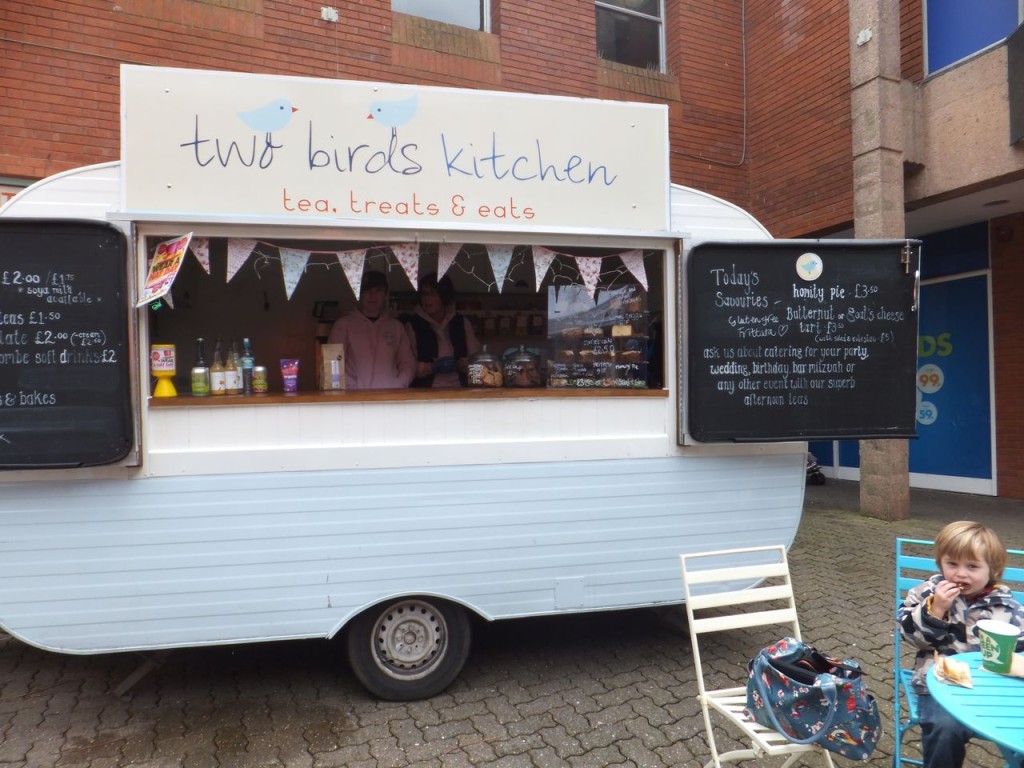 A few weeks ago I was contacted by Two Birds Kitchen, a pop-up tea room and kitchen dedicated to bringing fabulous food and drink to the West Country.
They were due to be bringing their pop-up experience to the Guildhall in Exeter on Friday, Saturday and Sundays and wondered if I would pop along and try out some of their gluten-free offerings.
Being a supporter of local food businesses and especially those that use local, good quality ingredients, I agreed that I would head over on their second day.
As it was a Saturday I had my little 4 year old in tow, so he got to give his opinion too!  The sun was shining and apart from a little bit of "my legs are tired, I need a carry", there was very little moaning from said little boy on the relatively long walk from the car to the Guildhall.
We were greated with smiles and little son got lots of attention so he was happy!
I chose to have a filter coffee and a slice of gluten-free lemon drizzle cake.  My son chose a carton of apple juice and a not gluten-free chocolate cookie.  He was magically quiet while I spoke to the owner…needless to say he enjoyed his selection!
My lemon cake was beautifully balanced in flavour and texture and being served slightly warm, was gorgeously moist too.  The only down side was the fact that it was stored in the same cabinet, on the same shelf, as the gluten-containing cakes.  Not a problem for someone just intolerant to a bit of gluten, but a major potential problem for coeliac customers who would not be able to eat this.  It was a shame because I had hoped to buy a slice to take home for my daugther to try.  Instead I popped to M&S and bought her a cake there!  Of course, I offered my advice about preparing and storing food for coeliacs so with any luck this will change and the offerings will be suitable for coeliacs in the future.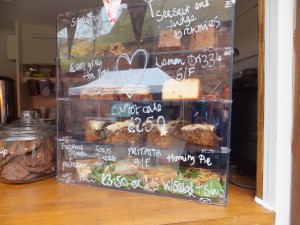 Along with the cake, they offered a fritatta that was both gluten-free and vegetarian (and stored in a separate container from the gluten-containing pies) and they aim to offer soup too.  All food is free-range and home-made, organic and seasonal where possible and all drinks are organic and locally sourced.
In all I was impressed with the range of food on offer from a tiny converted caravan!  At the moment I wouldn't take my daughter there for a treat given the way they store their food.  However, the owner did take on my advice and said she would do some additional reading around the legislation surrounding the term 'gluten-free'.  With any luck, I would be reassured sufficiently in the future to make a further visit.
Although I was provided with a free slice of cake and coffee, this did not affect my review in any way.